UK Comedy: FM – Series Info
Information on the radio station comedy FM, shown in the UK on ITV2

FM is a comedy series that started its run in the UK on ITV2 in February 2009. FM is set in a hip London radio station called Skin FM.
The series follows a group of fame-hungry friends who run a daily indie-inspired show as they attempt to pull together a daily show. They come face to face with demanding managers, pushy new bands, unreliable recording artists, Dom's relentless partying and boyband past, Jane's shambolic love life, as well as Lindsay's constant failure to pull, be cool or look hot in skinny jeans.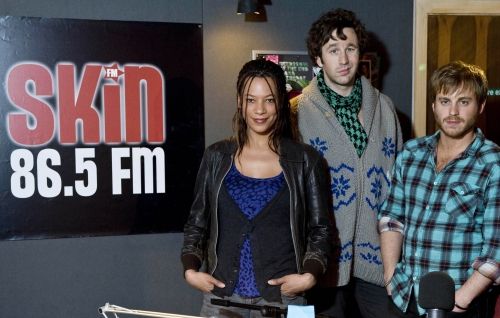 Two of the Radio and Telly team come from a local commercial radio background, and many of the real-life goings on at a small station are pretty comical, perhaps that's why setting a comedy in a radio station's such a good idea.
There have been a couple of other radio station-based comedies, notably The Kit Curran Radio Show, and the long-running US series WKRP in Cincinnati. There have also been a number of comedy movies, such as Good Morning Vietnam, FM, and new for 2009, The Boat That Rocked.
The latest radio-based comedy, FM, stars Chris O'Dowd from The IT Crowd, Kevin Bishop (from Star Stories) and Nina Sosanya (from Teachers).
The series centres around on-air presenter Lindsay Carol (played by Chris O'Dowd) as he struggles to fit in with the rest of the younger and more hip presenters on Skin FM. He co-hosts a new music show with fellow radio presenter Dom Cox (Kevin Bishop).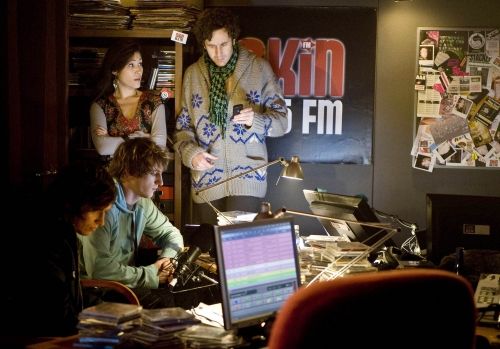 Tempering the two on-air jocks, is the show's producer Jane Edwards. It's her job to pull the show together and battle with the on-air and off-air personalities.
In a push to get more people to dip in and try with ITV comedy, each episode of FM features a performance from an up-and-coming band, as if they're appearing live on the radio station. Guests employed to attract TV viewers include: The Charlatans, The Wombats and Ladyhawke. There are also some great guest appearances too, including Toyah Wilcox, Konnie Huq, Tim Westwood and Justin Hawkins, plus a cameo from Marianne Faithfull.
It's a mixed bag of a show, and it wasn't quite the show we were hoping for, as it seems not to be 100% sure of who it's aimed at – however, for anyone who's spent any time at a radio station, some of the scenarios will ring true, and it's not a bad watch.
FM – The Cast:
Lindsay Carol – Chris O'Dowd (IT Crowd, The Boat That Rocked)
Dom Cox – Kevin Bishop (Star Stories)
Jane Edwards – Nina Sosanya (Teachers)
Topher Kiepher – O-T Fagbenle (Little Miss Jocelyn)
Daisy the Receptionist – Ophelia Lovibond
Neil the Engineer – Oliver Lansley
Ades the Runner – Daniel Kaluuya
FM was written by Oliver Lansley and Ian Curtis. The series was produced by ITV Studios, for broadcast on ITV2.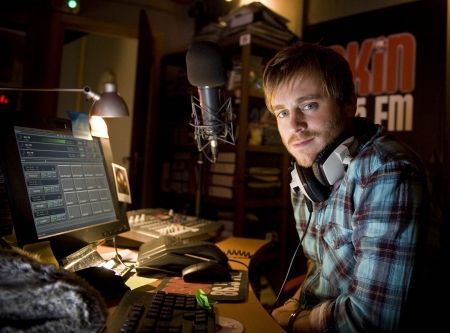 FM News:
Series 1 start: Wednesday, 25 February 2009, 10:30pm on ITV2 for six weeks.
Series 1 DVD: The DVD of the first series of FM became available from the 13th April 2009. It's at Amazon.co.uk and also available with free P and P from Play.com.
No news on a series 2…
If you've got any thoughts on this show, please post a message in our UK Comedy Forum
Links: