Kit Curran Radio Show Remembered
This page looks at the Kit Curran Radio Show – a Channel 4 sitcom from the 1980s focussing on Radio Newtown's star presenter – Kit Curran

ITV sitcom from the mid-eighties about an over-the-top commercial radio DJ, Kit Curran. The first series was mostly set in the studios of Radio New Town, and centred around various battles with Roland Simpson, the station manager.
Classic moments include the first episode's mission to drive out the 'new broom' Roland by convincing him that the station was run-down, riddled with asbestos, and with a severely speech-impaired newsreader.
Kit, a totally self-obsessed egomaniac, ended the series by failing to get a job on Radio 1. Preparing for the interview, he's deciding how to present himself at the interview. Les tells him to "just go as yourself". Kit's reply. "Yeah, but which myself shall I go as?"
Kit Curran Episode List

The Kit Curran Radio Show was originally broadcast on Channel 4 in April and May 1984. There were six episodes:
End of an Era – All change at Radio Newtown – A new boss is on the way, and Kit and the team try to sabotage his appointment
The New Broom – Mr Simpson's in charge, and changes are in the air. Kit's in for the chop, but can a sustained campaign save his job?
Bread and Circuses – Audience figures are falling. Can Kit save the day with a series of listener-grabbing initiatives?
P is for Positive – Kit goes all holistic and starts a self-help course… Another moneymaking scheme that goes wrong
Election Fever
The Big Break – A job's opened at BBC Radio 1. Can Kit land it? Meanwhile, Damian's asked to sit in on Kit's show
Kit Curran Radio Show Cast:
The series starred Denis Lawson as Kit Curren, with Paul Brooke as the overweight technical operator Les Toms, Clive Merrison as newsreader Damien Appleby, and Brian Wilde as Series 1's programme controller Roland Simpson.
Written by Andy Hamilton and Guy Jenkin, who went on to create another media sitcom, Drop the Dead Donkey.
Kit Curran Clips
The first episode of Kit Curran Radio Shiow can be found on YouTube. Here's a clip from the first episode of the Kit Curran Radio Show:
Kit Curran Radio Show Images: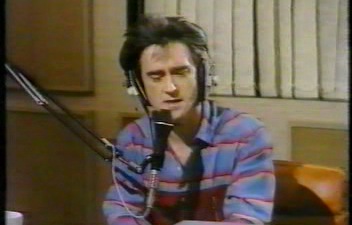 Kit, in full flow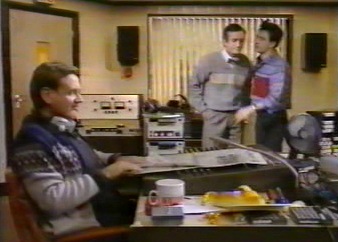 On air in the Radio Newtown studio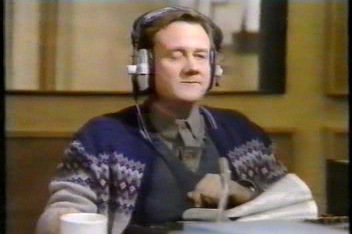 Studio Engineer, Les Tomms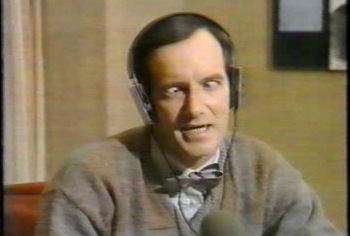 Damien Appleby's unique take on the news
Kit Curran Series 2:
The second series wasn't a patch on Series 1… sacked from Radio Newtown, Kit's turned into a radio pirate radio presenter broadcasting from an industrial park. Episodes mostly revolved around failed attempts to score with the owner of a fashion house in the next office.
The episides were as follows, and they originally aired in 1986:
One door closes – Radio Newtown closes down, and Kitseems fame and fortune in London
The Lucky Break – In need of fresh capital, Kit, Les and Damian found salvation in the form of a van
The Streets of Shame – Kit breaks into the world of tabloid media
A Sick Society – On a push to sell double glazing, a hoax call starts a riot
Blind Date – Rosebud Dream Date launches, and get gets on the BBC
Doctors can seriously damage your health – Holistic medicine could be the answer for Kit and crew
Funny moments – inciting a riot to avoid a raid, fake helicopter reports, "Radio Kit is now closing down!", and Damien Appleby's xylophone to create a news jingle.
More on Kit Curran
Click here for a brief MP3 extract of Series 1, Episode 1. Denis Lawson, the star of the series, also released the theme tune on vinyl " Ultra Fantastico" in 1984.
Kit Curran on DVD?
We'd love to see the Kit Curran Radio Show Series 1 make an appearance on DVD… Anyone know how we can get hold of a copy? Let us know
Related stuff: