Radio in Essex – Summary of Stations
This page provides details of the local radio stations in the county of Essex
FM Broadcast Radio Stations
BBC Essex

BBC local radio for the county of Essex started in November 1986. Based in studios in New London Road in Chelmsford, the presenter line-up includes: Ben Fryer & Sonia Watson (Breakfast), Sadie Nine, Tony Fisher, Dave Monk, Ray Clark, John Leech, Mark Punter, Peter Holmes and Rob Jelly. One of the station's most poulator shows is the BBC Essex Quest, broadcast on a Sunday, hosted by Eric Dixon, Liana Brodges and Barry Lewis. Former presenters have included Tim 'Timbo' Lloyd, the late John Hayes, Alison Hartley, Simon Baldock, Roger Buxton, Liz Mullen, Etholle George and Steve Scruton, .
The station has an additional studio in Colchester. The BBC Essex studio in Westcliff-on-Sea closed down some years ago.
Website: www.bbc.co.uk/england/essex/
Address: BBC Essex, PO Box 765, Chelmsford, Essex, CM2 9XB
Phone: 01245-616000. Studio: 01245-495050. Text: 07786-201035
Fax: 01245 492983
Email:essex@bbc.co.uk
How to listen: 103.5FM (Chelmsford), 95.3FM (Southend), DAB digital radio
---
Radio Essex

Radio Essex – Broadcasts from studios next to Adventure Island on Southend Seafront. The station rebranded to "Radio Essex" in 2015, incorporating Southend Radio and Chelmsford Radio. Current presenters include Chris Brooks and Abbie Norbury (Breakfast), Dave Gowland, Paul Lovett and Mikey Faulkner. Previous presenters have included Mike Porter, Tracie Young, James O'Neill, Ben Payne, Tracy Cooper, Nick Hull, Tim Murphy and Adrian Fox.
Phone: Office: 01702-455070. Studio: 01702-455060
Address: Icon Building, Western Esplanade, Southend-on-Sea, SS1 1EE
How to listen: 107.7 MHz (Chelmsford), 105.1FM (Southend), on DAB and online
---
Heart Essex (was Essex FM)

Until May 2019, HGeart Essex was broadcast from studios in Chelmsford. Heart Essex is now broadcast from studio in London and no longer has any local programmes. Launched in September 1981 as Essex Radio, the station was renamed to Essex FM in the 1990s, then rebranded to "Heart" along with over 30 other local radio stations. The re-brand to Heart took place on Monday 22nd June 2009 – Click here for a brief audio extract of the re-launch.
Until the closure of the local service in 2019., Martin Day hosted the station's breakfast show from 6 'til 10am, with Su and Alex. Other names on Heart Essex included Chris Skinner and Matt Mackay.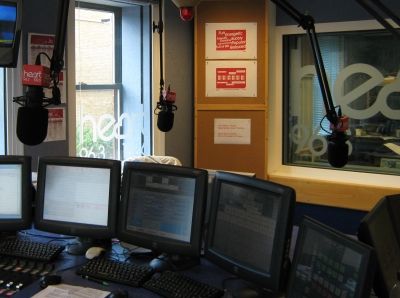 Heart Essex On-air studio in Glebe Road, Chelmsford
Way back in 1981, Essex Radio was owned by local businesses, including Keddies,HW Stone, Garons and nightclub TOTS. Many will remember the days when Essex Radio was "somewhere special", with presenters including Jon Scragg, Terry Davis, Dave Gregory, Keith Rogers, and local legend Tim "Timbo" Lloyd. See our Essex Radio Remembered page for some nostalgia.
The station was taken over by the Daily Mail newspaper group in the 90's, then by GWR, and now is owned by Global Radio. For 23 years, the station broadcast from studios two floors below ground at Clifftown Road, in Southend-on-Sea.
From October 2004, Essex FM started broadcasting from new studios in Glebe Road, Chelmsford, and in July 2010, Heart Essex expanded to take over smaller neighbouring stations Heart Colchester and Ten17.
Website: www.heartessex.co.uk
How to listen: 96.3FM (South Essex), 102.6FM (North Essex), 97.5FM (Southend relay) , 101.7FM (Harlow relay) , 96.1FM (Colchester) , Internet, DAB digital radio
Other links: Essex Radio Remembered
---
Dream 100 FM, North Essex

This 'incremental' station case on air to serve the Tendring area in October 1990. Part of the Tindle Radio group of stations. Presenters have included: Rob Chandler, Barry Lewis,  Graham Bannerman, Bill Rollins and Kevin Ford
Website: www.dream100.com
Phone: 01206 764466
Fax: 01206 715102
Address: Northgate House St. Peter's Street, Colchester Essex CO1 1HT
How to listen: 100.2FM
---
Phoenix FM, Brentwood

In 2006, Phoenix was awarded one of the new Community Radio licences, and started broadcasting on 23rd March 2007 on 98.0FM. Starting as a special event station for the Brentwood and Billericay area on a 28-day basis in 1996, the station has run a number of successful RSLs, with the most recent one being in February 2006.
Website: www.phoenixfm.com
Phone: 01277 849931 (Studio), 01277 849929 (Office)
Address: The Baytree Centre, Brentwood, Essex, CM14 4BX
Email: via phoenixfm.com/contact.php
How to listen: 98.0FM
---
Saint FM 94.7 / Maldon Community Radio

Community radio station run by volunteers serving Maldon and Burnham on Crouch. Went on-air in December 2007, and set to rebrand in 2019 to cover a wider area.
Website: www.saintfm.org.uk
Phone: 01621-785689
Address: St. Peter's High School, Southminster Road, Burnham-on-Crouch, Essex CM0 8QB
How to listen: 94.7FM and online.
---
107 Garrison FM, Colchester

Colchester Garrison FM won a licence to broadcast in December 2005, and started FM broadcasts in May 2006. It's a community station serving soldiers, their
families and Ministry of Defence civilians in Colchester.
Website: www.garrisonfm.com
Phone: 01206 816465
Address: 107 Garrison FM, c/o Londis, Homefield Road, Colchester CO2 9PF
How to listen: 107FM and online
---
Leisure FM – LFM East Braintree
Community radio station for east Braintree, Pattiswick, Coggeshall, Kelvedon, Marks Tey and surrounding area. The station started in July 2010.
Website: www.lfmradio.co.uk
Address: LFM, 24 Priors Way, Coggeshall, Essex CO6 1ITW
Phone: 01376 231074
How to listen: 107.4FM
---
Gateway 97.8, Basildon
Community station Gateway 97.8 station went on-air in September 2010, from studios in Basildon's Eastgate Centre, after winning a 5-year community radio station for Basildon and East Thurrock in February 2010.
Website: gateway987.com
Phone: 01268 833978
How to listen: 97.8FM and online
---
Funky SX
A community radio station that launched in Southend in 2016. The station broadcasts dance and urban music originally from the Westborough Academy in MacDonald Avenue, Westcliff-on-Sea, but now lists its address as Clifftown Road, Southend (former home to Essex Radio)
Website: www.funky.sx
Phone: 01268 833978
How to listen: 103.7M and online
---
Internet Radio Stations in Essex
Actual Radio
An Internet-based local station for Colchester. Breakfast show presented by Pete Chapman
How to listen: Via the actualradio.com
Website: actualradio.com
---
Hospital Radio in Essex
Essex has several hospital radio stations broadcasting to patients at local hospitals. The stations are run entirely by volunteers, with revenue generated by fund-raising activities. Here are details of the main stations:
---
Student Radio in Essex
At the University of Essex in Colchester, you'll find Red Radio. This campus radio station, broadcasts 24/7 during term times, on 1404 AM. More details at www.essexstudent.com/student_media/red/
---
Former Local Stations
Link FM, Havering
Community radio station for Havering that started regular broadcasts in April 2007, after various short-term broadcasts going back to 1992. The station closed on the 28th June 2010 after being unable to secure funding to continue broadcasts.
Address: St George's Church and Centre, Chippenham Road, Harold Hill, Romford RM3 8HX
Phone: 01708-342200
---
Ten-17 FM, Harlow
Ten17, serving Harlow, closed in July 2010, following a decision by Global Radio to merge the station into neighbouring Heart Essex . The transmitter on 101.7FM now broadcast Heart Essex, from studios in Chelmsford. In July 2010.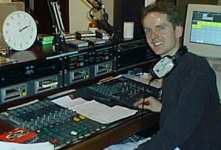 The local station for the Essex new town of Harlow started back May 1993, and was closely linked to Essex FM in Southend. Essex FM made use of the 101.7FM transmitter to rebroadcast its output, leaving Ten17 to broadcast a mere 3-hour evening show from local studios in Harlow. Clever use of split news facilities, and a temperamental split commercial cart machine system, meant that services from Harlow retained a local identity, and as time moved on, the station took on more hours, more staff, better studio equipment, and computerisation.
As of 2008, on-air presenters were: Wyatt, Tim Humphries, Freddie Scherer and Kevin Hughes. Former presenters include Gary Mulligan, Tony Williams and Vicky James. In 2010, the lineup included: Terry James, Steffan, Tim Humphries, Freddie Scherer, Tim Disney, Justin Walker, Jon Wyer, Rob Goldstone, Ivan D'Sa, Al Booth and Steve Reed.
---
Heart Colchester

Heart Colchester closed in July 2010, following a decision by parent company Global Radio to merge the station with neighbouring Heart Essex. The transmitter on 96.1FM now broadcasts Heart Essex from studios in Chelmsford.
Originally known as SGR Colchester when it launched in October 1993, the station renamed to Heart Colchester in January 2009, along with a number of other local radio stations owned by Global Radio.
---
DAB Digital Radio in Essex
DAB – Digital Audio Broadcasting, is available in Essex. With a DAB radio, you can receive a wider range of stations that you can with just FM, and you can receive stations normally only found on medium wave, in much better, stereo, quality. The choice of radio listening in Essex has now grown. For more details of DAB stations in Essex, and what you can receive on a digital radio in the county, go to our DAB in Essex page.
More radio choice for Essex

If you like your radio, maybe it's time to consider DAB – In parts of Essex, you can receive sixty channels of digital radio, including stations such as: BBC Radio 7 (comedy), Planet Rock, Traffic Radio, Fun Radio (for the under 10s), 1Xtra, Talk Sport, BBC Radio 5 Live, Breeze, Saga, BBC World Service.DAB radios start from around £40 (more). To see what's available in Essex, see our Essex DAB page. If you don't fancy DAB, there's also a stack of digital radio channels available on Freeview.
---
Radio Courses in Essex
South Essex College runs a weekend college course giving local listeners the opportunity to find out more about the radio industry, and radio in Essex. The course runs on Saturday mornings, in the new college building close to Southend Central station. If you'd like to know a little more about what goes into what goes on behind the scenes, find out more about Introduction to Radio.


---
Radio Links