RF Modulator Explained
On this page, we'll look at RF modulators and how they can help to connect some types of digital TV equipment.
What is an RF modulator?
RF stands for "Radio Frequency", but don't let that scare you. Some TV equipment is capable of "modulating" its output, which in simple terms turns the output of that piece of equipment into a TV channel that a TV set or recorder can tune into.
Let's take the example of a video recorder. Many recorders "modulate" their output, which means that if you connect a TV aerial from the video recorder, you can connect that aerial lead to the TV set, then "tune in" the TV set to the video recorder.
TV frequencies are in the range 21 to 68 UHF, and a modulated output can be set to one of these numbers.
Why would I want to use an RF modulator?
Two main reasons:
You want to connect a set-top box or recorder to a TV set that doesn't have a SCART socket.
You want to feed the output of a set-top box to another room in the house using aerial cable.
Where do I get an RF Modulator?
Some set-top boxes and recorders already contain an RF modulator (also known as a UHF modulator) – these include Sky boxes, BT Vision boxes (grey models only), Top Up TV boxes and many video recorders. If in doubt, check your equipment's manual.
If your equipment doesn't contain an RF modulator, you can buy a stand-alone RF modulator box, which connects to the equipment's SCART socket.
You can buy an RF Modulator box from Maplin Electronics and from TVcables.co.uk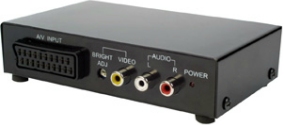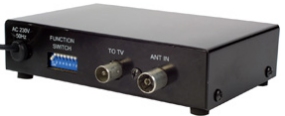 RF Modulator from Maplin Electronics (Front and Rear)
How do I use an RF Modulator
If your equipment has an RF modulator built-in, then you need to make sure it's turned on (from the on-screen menu), and it's programmed to a suitable channel number (the work on the standard TV 21 to 68 UHF channel numbers).
If you are using a stand-alone RF modulator box: into one end, you plug a SCART lead from your set-top box or recorder, and into the other end, you connect a standard co-ax aerial lead. You then need to set a channel number as per the supplied instructions.
Assuming that you have the RF modulator on and connected, connect using an aerial cable to the second TV, and then tune the second TV into the RF channel number that the modulator is set to (21 to 68 UHF) – You watch the output as if it were a TV channel
Alternatives
Many old video recorders have an RF modulator – you can use a video recorder as a "loopthrough" – connect your box to the input of a video recorder by SCART, tune the video in to the Line In / Aux, then connect the out of the video to the TV.

Looking for a cheap Freeview box that works on a TV that doesn't have a SCART socket? Consider the Icecrypt T5000 – a basic Freeview receiver box that has an RF-modulated output.