Watch TV In Other Rooms – Help and Advice
Useful information on how to get digital TV onto other TV sets in your home
Digital TV services available in the UK
How can I get TV in a second room?
Let's assume you have digital TV on the main telly in your house. This could be with a set-top box, or from a TV set that has Freeview built-in. If you don't yet have digital TV on your main TV set, see our Digital TV Options page.
To get digital TV into other rooms of your home, such as a bedroom or a kitchen, you have two options:
Connect from your existing set-top box to your second TV
Get a separate set-top box to connect to your second TV
Next, we'll explain both options:
Option 1: Connect your set-top box to a second TV set
This option will save you the expense of having to buy a second set-top box.
Normally, this will mean running an aerial cable from the output of your main set-top box, to the aerial input of your second TV set.
NOTE: There is one big drawback with this option – and that is that your second TV set will only be able to watch the output of the TV receiver in the main room. As an example, let's say you have a Sky Digital box in your lounge, and it's set to Sky One. If you connect an aerial cable to a second TV set, the second TV set will only be able to watch Sky One via that connection. Change channel on the main box, and the second TV changes channel too.
Connecting via aerial cable to a TV in a different room:

For this option to work, your set-top box must have an RF aerial output socket (to accept a plug like the one pictured). Also, the set-top box must have something called a modulated output (which means it can re-transmit a signal to a second TV set). Boxes from Sky Digital, Virgin Media and BT Vision (grey models) have these, as do some Freeview boxes.
Box not got an RF Output? You can buy an add-on "modulator" for under £30 that will convert a SCART socket into an RF out, or you can connect via an old video recorder – as many of these have modulated outputs. RF modulator advice. Otherwise, consider a wireless sender , or the second box option
Aerial Extension kits: To connect, you need to run a co-ax aerial cable from the back of your set-top box to the aerial input on your second TV set – you can get cables, connectors and extension kits from Maplin and Argos. See below for an example of an extension kit.
If you don't want to use a kit, you'll need a suitable length of co-ax cable, cleats to nail the cable to the skirting board and one co-ax aerial plug for each end, plus a way of splitting or boosting your existing aerial.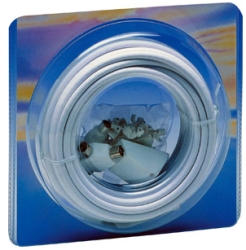 Pictured: TV aerial extension kits (15 or 25 metres) under £20 from Maplin.co.uk
Tuning in: Once you've made a connection, you need to tune the TV set into the output of the set-top box. You need to make sure that the set-top box modulator is turned on (Got Sky? See Sky FAQ).
Multiple TV sets? If you're feeding to lots of TV sets, or have a very long cable run, you may need either a splitter or booster (from Maplin) to allow you to split and amplify the aerial co-ax output without too much quality loss.
| | |
| --- | --- |
| Aerial Splitter. Handy for splitting a single aerial to feed two TV sets, or a TV and recorder. Available from www.maplin.co.uk | Aerial Booster with multiple outputs. Amplified for low signal strength areas, or if you get signal loss over a long cable run. Available from www.maplin.co.uk |
Got Sky Digital? Consider getting a Sky TV Link/Eye to allow you to change channels from the second room. They're available from Maplin or Argos. More on our Sky TV Link FAQ
Don't want to run cables?

If you'd rather not run cables, consider a wireless video sender – these connect to a spare SCART socket on your digital TV set-top box. Again, these can only transmit whatever channel your set-top box is tuned in to.
Wireless AV senders are available from Maplin.co.uk. See our Video Senders page for more on AV senders.
Option 2: Get a second box
Purchasing a second set-top box for the other room is normally the more expensive option, but it does give you the flexibility to watch a different digital TV channel in each room.
More on Digital TV: