SeeSaw TV – UK Internet TV Service Explored
We take a look at SeeSaw TV, the Internet-based digital TV service that launched in February 2010, and closed in October 2011. We look at what the service offered
What was SeeSaw TV?
SeeSaw TV launched on the 17th of February 2010, offering thousands of hours of TV content over the Internet.
SeeSaw TV started life as "Project Kangaroo", which was intended to be something along the lines of a commercial version of BBC iPlayer, in that TV shows from BBC, ITV and Channel 4's back catalogue would be made available either for free, or on a pay-to-view model. Project Kangaroo was killed by the UK Competition Commission in 2009, and elements of the work for Kangaroo have gone to form SeeSaw TV.
SeeSaw TV was "saved" by Criterion Capital Partners in the first half of 2011, after it look control from Arqiva, the company responsible for the network of UK TV and Radio transmitters.
Sadly, the service folded in October 2011, apparently as Criterion Capital Partners had failed to provide the required funding. Here's the message that appeared on the SeeSaw site announcing the closure.

What did SeeSaw TV offer?
SeeSaw offered TV shows from BBC Worldwide, Channel 4 and Five, as well as some ITV content.
SeeSaw offered 3,5000 hours of TV shows including The IT Crowd, Fifth Gear, Green Wing, The Apprentice, The Hustle, Dead Ringers, Queer as Folk, Doc Martin, , Fonejacker and Dr Who.  SeeSaw also offered catch-up TV from Channel 4, E4 and Five.
The plan for SeeSaw was for TV shows to be made available via the Internet either free, with in-line adverts, or on a pay-to-view basis.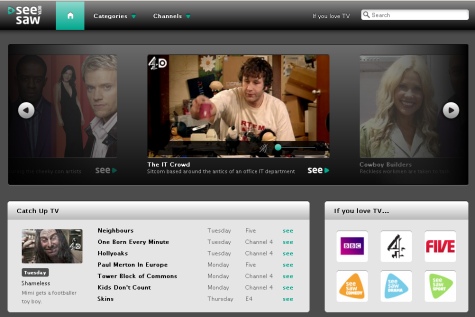 The Closure of SeeSaw
In June 2011, it looked like SeeSaw would be shutting as the service's owners Arqiva decided that they wanted to wind down the service.
As of July 2011, it looked like SeeSaw is set to continue, as it's been purchased by a firm called Criterion Capital Partners, who recently purchased the social network site Bebo. Full story
Sadly, in 2011, Arqiva announced that the deal had fallen through, and that Criterion Capital Partners had failed to provide the committed funding.
Alternatives to SeeSaw
There are lots of players in the field already, including:
Some useful links: