Getting British TV outside the UK
One of our top questions – how can I watch UK TV overseas? Some information for travellers and ex-pats.
British TV outside the UK?
We often get messages to this site from ex-pats looking to find out how to get British TV from outside of the UK, but as with many things in life, it's not that easy.
There are several reasons why UK TV is restricted to the UK, but it mostly comes down to broadcast rights, copyright and territories.
UK TV content producers arrange for their shows to be broadcast in certain regions, and broadcasters pay to show content in those territories… if that content could be freely viewed in other countries, then the content creators can't charge broadcasters in other countries.
Then there's the BBC. In the UK, we pay the licence fee for BBC TV and radio programmes to be made and broadcast. As we have to pay in the UK, licence-fee payers aren't overly happy about people outside the UK getting those shows for free.
The same is true of satellite TV from the UK, where subscription channels are encrypted and not available to non-UK residents.
Content and copyright management is a nightmare for broadcasters, and that's why it's so hard getting UK TV outside the UK.
On this page, we look at some of the options open to those outside the UK looking for access to UK content from outside the British Isles.
UK Satellite TV:
In the UK, Sky Digital provides subscription TV service via satellite. There's also a free-to-view service from the BBC and ITV, called Freesat.

Sky Digital: You can only allowed to watch Sky subscription channels if you're living in the UK (including the Isle of Man and Channel Islands) or the Republic of Ireland. Sky will not accept subscriptions from outside of these areas. You need a UK postal address for billing reasons, and your set-top box needs to be connected to a UK phone line.
The main reason that Sky Digital does not sell subscriptions to non-UK residents relates to content usage… If Sky buys a hit show from the US to be shown in the UK, that's for UK only – overseas broadcasters make their own arrangements.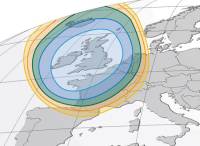 The Sky signal is available outside the UK though. The nature of satellite broadcasting means that a signal from the satellites that distribute Sky Digital can be accessed outside of the UK.
Sky Digital is transmitted on SES Astra satellites located at 28.2°E and Eutelsat's Eurobird 1 satellite located at 28.5°E – these have "footprints" that cover parts of Europe. To the right is a picture of the 'footprint' of the Astra 2D satellite, which provides the BBC Free-to-view channels. Many of the free-to-view channels from the satellites used for Sky can be accessed in parts of Europe, with a suitably-sized satellite dish. We have a page of information on what satellite channels are available without a subscription on our Free Satellite TV page.
The Radio and Telly website is intended for UK residents, and we aren't able to provide any information on how to access Sky Digital outside the UK and Ireland. If you need help on how to access UK satellite TV outside of the UK and Ireland, perhaps try asking a question in our Sky forum.
UK Internet TV:
You'd be forgiven for assuming that with so many UK TV services available online, with services like the BBC iPlayer, that accessing British TV over the Internet should be easy.
Unfortunately, it's not that easy, and access to UK content is restricted by IP address, so can only be watched over a UK Internet connection.
Here's some information on what is available online outside of the UK:
iTunes, the software from Apple, now has a good collection of BBC shows available to purchase and download. Go to www.apple.com/itunes to see what's on offer.
There's also a service called JumpTV. This offers TV from over 60 countries to provide live broadcasting of TV stations from around the world. More details at www.jumptv.com.
For more on Internet TV services, see our dedicated Internet TV page.
The Slingbox Solution:
Slingbox is a clever solution for anyone looking to access TV from the UK over the Internet anywhere in the world.
The Slingbox connects to a home TV setup – via a TV aerial for UK Freeview, or to a satellite receiver or cable box in the UK. It also connects to Broadband via an Ethernet lead.
The practical upshot is that if you connect one of these to a TV aerial or a satellite box in the UK, then you can connect to Slingbox from any Broadband connection and watch UK TV remotely. Slingbox lets you change channels and control a recorder too.
By default, the Slingbox solution lets you watch TV on a PC or laptop, but you can use a product called a Sling Catcher to watch the output of a Slingbox on a TV.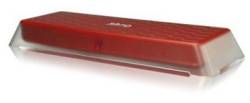 The Slingbox Pro
You can get a Slingbox online from PC World and Amazon.
More information can be found on the Slingbox solution on our Slingbox page.
Other options
In the US? – BBC America may be your best bet – they are jointly owned by Discovery and the BBC, and import a number of UK shows. Also, check out the PBS channels, as these tend to that have a lot of British stuff.
Republic of Ireland? See our Sky in Ireland page
Other links: