YouView TV Service Explored
The digital TV service YouView, originally known as Project Canvas, launched in July 2012, and set-top boxes are now available. Here, we explore what the service offers, and give you the YouView basics.

What is YouView?
YouView, formerly known under the codename "Project Canvas", offers live TV from Freeview, and on-demand TV content over the Internet.
The service is a joint venture with partners including BBC, ITV, Channel 4, Channel 5, BT, TalkTalk and Arqiva. Special set-top boxes are now available that allow viewers to get live TV from Freeview, catch-up TV (BBC iPlayer, 4oD, etc) and a huge back-catalogue of free and pay-to-view TV shows.
YouView Humax DTR T1010 availability:
Don't want to pay £250?

The YouView Basics
The set-top boxes needed to use the service costs £299, and became available in late July 2012 at Amazon, Curry, Argos, John Lewis and Comet.


The Humax DTR-1000T YouView box
How to get YouView
The service launched in July 2012. You'll need the following to get YouView:
A broadband connection of 3Mbp/s or more
To be in a good Freeview coverage area
A YouView set-top box
YouView Review
For this review, we've been looking at the first YouView box on the market, and that's the Humax DTR-T1000. This is an attractive-looking box that does a good job of delivering YouView.
Setting it up
The YouView box need to be connected to a TV aerial, a broadband connection and to your TV. Setting up the service is pretty straightforward – the only complication for some is going to be the challenge of connecting the YouView box to the Internet. As Internet routers typically aren't close to the TV, then you'll normally need to use a pair of Powerline adapters to get a connection into your lounge. We've more on this on our Connecting to the Internet page.
Using the service:
The YouView team has done a very good job of creating an on-screen programme guide that is easy to navigate. Access to the guide is quick and easy, and the on-screen layout is very clear.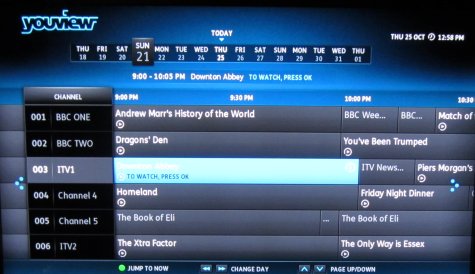 YouView EPG
Scrollback:
A key feature of YouView is the ability to scroll not only forward in time on the programme guide, but backwards… The EPG (Electronic Programme Guide) screen has a bar at the top that lets you


Scrollback on YouView
Content:
Apart from the Freeview channels, there's the catch-up and on-demand content. One of the ways to access this content, is through the various "players", pictured here. There are portals into the various TV services:
Apart from the Freeview channels,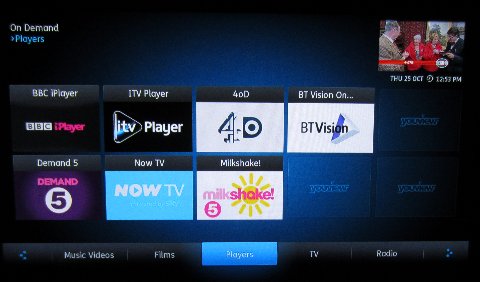 YouView Players
Pay TV services:
The Freeview, Freeview HD and On-demand content on YouView is free. You can optionally pay to get more content. Of of the first pay services to launch was the movie service from Sky, Now TV. For a monthly subscription of £8.99, you can watch blockbuster movies via YouView: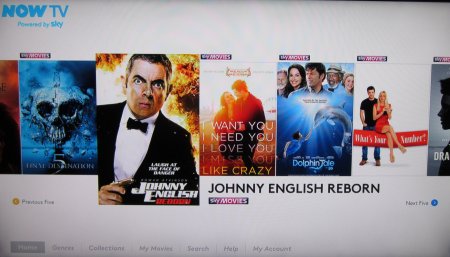 Now TV on YouView
Search:
With so much content available – Freeview shows, recordings, on-demand, catch-up, YouView has given you several ways to find the content – such as via a Player, or the EPG. We're particularly impressed with the YouView search feature, which lets you enter part of a programme's name or details, to see a scrollbar of available shows:


Searching on YouView
Other Services
Both BT and TalkTalk are partners on the YouView project, and that means that they are able to offer extra services. We've been testing YouView with BT, and if you get your box from them, you also get access to the BT Vision Portal, which offers thousands of hours of shows and movies. You can either get to content on a pay-as-you-go basis, or take out a subscription. At the time of writing, the basic TV service is just £4 a month. Details of what BT's offering can be found here: youview.bt.com or on our BT YouView Review.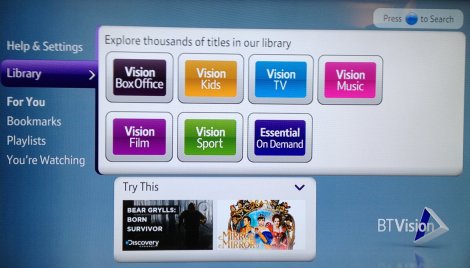 BT Vision on YouView – Screen 1
Summary:
We were initially sceptical of YouView. The service has come-to-market quite late, and seemed not to offer much that the likes of BT Vision weren't already offering. Since having played with YouView for a while, we're now quite impressed. The interface is very easy to use, the box behaves itself well (if not a little slow to boot), and there's a decent collection of content around.
the box is well-built, and the picture and sound quality is as expected. If you're interested in getting more than just the basic Freeview, but don;t fancy Sky's prices, then YouView could be for you.
YouView History
Prior to launching, the service was hit by numerous delays (See: YouView Delayed), and called in the help of Lord Sugar as Chairman to get the product pushed to the market (More: YouView Hires Sir Alan)
Get a box

Free YouView box with Sky Sports & Sky Movies?

Get a free BT YouView box with your BT Broadband

Want to get YouView without subscription?
YouView Help and Advice
Got a question about YouView? Please contact us and we'll be happy to help.
Alternatively, please ask in our YouView Help Forum
Useful links: