Your Own Radio Station – How to Get Started
Looking to start your own radio station in the UK? Information advice on how to get started with an FM or Internet radio station
Your own radio station?
We're occasionally asked what's involved in setting up a radio station here in the UK, so we've created this page of information.
The page is split into two sections:
FM / DAB / Satellite Radio stations, and
Internet Radio / Podcasts
Setting up an FM, Satellite or DAB Station
Some information for those considering starting up an FM, DAB or satellite radio station in the UK:
Licensing – UK commercial radio stations are regulated by OfCom. If you want to run a radio station, you need to get a broadcasting licence from OfCom. This includes FM, AM, community, restricted-service and DAB digital stations. For more on licensing, see http://www.ofcom.org.uk/radio/ifi/
Studios – You'll need to look at equipping a broadcast studio. This involves getting at least one or two soundproofed rooms with equipment including a mixing desk, computer playout systems, music servers, CD players, mics, headphones, recording equipment, telephone lines, etc. Then there's news, travel and sports equipment if required, production facilities, an office computer network, and a link from the studio complex to the transmitter site or satellite uplink. In the UK, talk to Veale Associates.
Transmission – You have to have a technical plan in place to get your signal broadcast. For FM and AM stations, you need a transmitter – Try: Arqiva (formerly NTL Broadcast / NGW). Those looking to broadcast on DAB will need to reach an agreement with a Multiplex operator covering the required area. If you want to broadcast on Sky satellite, you'll need to negotiate for space on their satellite transponder. OfCom offers some guidance on this on their website.
Business plan – To run a radio station, you need a sound business plan to make sure that you can pay the bills, recoup the setup costs, and generate revenue.
Music – To broadcast music, you'll need to reach agreement with the UK copyright bodies PRS, PPL and MCPS – see boxout
Costs – Vary depending on the type of station and the length of the licence period. Costs include transmitter rental, music copyright licence, broadcast licence, premises, studio equipment, broadcast circuits, promotion budgets, news/travel services, production equipment and staff salaries, as well as the standard costs of running a business.
The above gives a general idea of what's involved in setting up a UK station. There are a couple of books on the subject, which may be worth considering. The OfCom site also carries information on the licensing process and what's involved. For non-UK stations, contact the appropriate regulator in your country for guidance.
Music Royalties in the UK
If you're planning to run a radio station or podcast broadcasting to the UK, and you're planning to play music, you'll need to talk to three bodies that look after music copyright and royalties to obtain a music licence:
PRS (Performing Right Society). PRS represents the artists and composers, and they collect the royalties from broadcasters for music that's played on TV, radio and online. www.prsformusic.com
PPL ( Phonographic Performance Ltd). PPL collects royalties in respect of music played by radio stations on behalf of record companies. www.ppluk.com
MCPS (Mechanical Copyright Protection Society). MCPS collects royalties
in respect of music reproduced for use by radio stations. Much of the backing music used on radio or in radio promos and commercials comes from MCPS "library music". www.prsformusic.com
Most UK music radio stations own a 'blanket' licence, that allows them to play whatever music they wish, in return for an annual licence fee (based on audience size and revenue). Stations are required to undertake "sample days" to help apportion the licence fees out to the artists and composers.
Setting up an Internet Radio Station
If the idea of running your own radio station appeals, but you don't want to go through the processes involved in setting up an FM station, consider broadcasting over the Internet. Here's some information on how to start an Internet radio station:
There are three main categories:
Live streaming service: This would typically involve having a studio (mixing desk, CD, mic, computer system, headphones), connected to an Internet Streaming Server. The Streaming Server converts the output of your studio into an Internet stream that's then made available over the Internet. If this is the option for you, take a look at www.shoutcast.com for information on the software needed, and how to get your station streaming online. There's also icecast, free streaming software for the more technically-minded. You will also need a streaming radio server – you can host this yourself, or use a third party streaming radio server.
Part-live or Pre-recorded: Rather than running a 24 a day live service, you could run a part-live, or fully recorded radio station streamed over the Internet.Here are Radio and Telly, we run a 24 hour station using Shoutcast and a streaming server provided by Wavestreaming. The station is automated using clips from recent editions of our podcast scheduled using a podcast and streamed to listeners around the world. You can listen to us here: FrequencyCast Streaming Station
Podcasting: Record a series of radio shows and distribute them as podcasts. Listeners around the world can download shows automatically and listen to them at a time of their choosing. Growing in popularity, and a great way to get your voice out there. Check out our podcast, FrequencyCast. For details of how to make your own podcast, see the Podcast Advice.
Internet Radio Stations – Things to consider
Hardware: If you're running a streaming radio station, you will need a streaming server, plus a decent Internet connection. Think about the number of simultaneous connections coming into your streaming server. Also think about a backup server and your ongoing Internet costs
Podcast Bandwidth: You need to host your podcasts somewhere. We're in the UK and our podcasts are hosted at Simply.com. If you're getting lots of downloads, watch your download bandwidth, as hosting providers charge extra for lots of downloads.
Music Royalties: Looking to run a streaming station or a podcast in the UK or for a UK audience? If your station or show uses music that you don't own the copyright to, or that you don't have permission from the artist to play, you'll probably need a music licence. Go to the Online and Mobile section at PRS For Music.
For more, see our Guide to starting an Internet Radio Station
Setting up a station with Live365.com
This is probably the easiest way of setting up an Internet radio station, to get you started.
Create a free account at www.live365.com,
and enter a name and description for your station.
Download their Studio 365 application, which will let you upload MP3 files to Live365
Record your show on your PC as MP3 files (Detail on how to do this our Voice Recording page)
Upload the MP3 files
that will be used on your station, then set up your playlist by dragging your clips into an order you're happy with
Once you're
happy, select "Start broadcast", and your station should be live.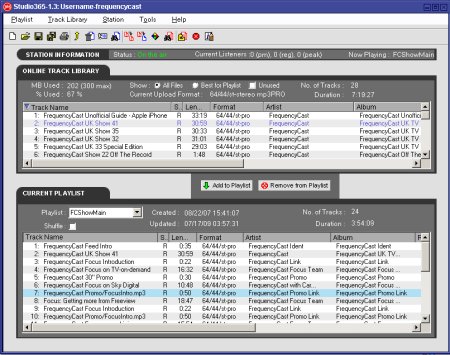 Live 365 Studio Software
Is Live 365 Legal? Broadcasting material that you don't own the copyright
for (including over the Internet) is not legal, but Live365
do send a percentage of their fees to the music industry, and provided
you follow the rules laid out clearly on their site, you may be in the
clear. Worldwide copyright laws differ, so you should check the legality
of broadcasting over the Internet carefully. See our Music Royalties boxout
Starting your own podcast
To create your own podcast, all you need is software to create an MP3 file and some webspace to host your podcast. Some useful links:
Links