Freesat – Digital Satellite TV Without Subscription
Information about Freesat, the subscription-free satellite TV service in the UK. Details of what Freesat offers, how to get it, and help to existing users.
What is Freesat?
Freesat is a digital TV service that's backed by both the BBC and ITV. As the name suggests, it offers a number of TV channels using a satellite dish, and there's no subscription (unlike Sky's satellite offering).
Freesat launched on the 6th May 2008, and currently offers over 130 channels.
To get Freesat, you will need a Freesat receiver, and to have a satellite dish pointing in the general direction of the Astra satellite. Some High Definition content is available on Freesat, including the BBC, ITV and Channel 4 HD channels.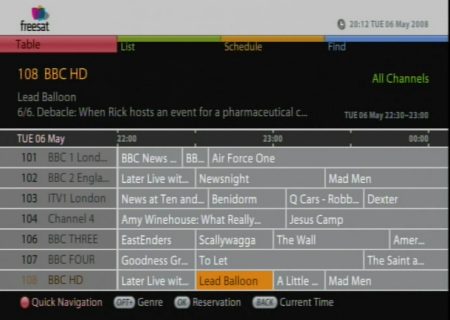 Freesat EPG on a Humax FoxSat  
What's on Freesat
Around 130 channels of TV and 30 radio stations.
The Freesat Channels are all subscription-free. Mainstream channels include BBC1, BBC2, ITV1, Channel 4, Channel 5, E4, More 4, ITV2, ITV3, BBC Three, BBC Four, the BBC News channel, CBBC and CBeebies for the kids.
Other channels on offer include Film 4, True Movies, Movies4Men, Euronews, Men & Motors, Wedding TV, Chart Show TV and Al-Jazeera News. See our full Freesat channel list
HD: Freesat is currently offering five HD channels, BBC One HD, BBC Two HD, ITV 1 HD, Channel 4 HD and HNK World HD
How to get Freesat
To be able to watch Freesat, you need the following:
A satellite dish: You need a dish pointing in the right direction (towards the Astra satellites). If you have an old Sky dish, this will do fine. You can install a dish yourself with a DIY kit, or go for a professional installation by contacting a local satellite TV installation firm.
A Freesat Receiver: Freesat boxes are available for a one-off payment of £50 or more. We have a list of boxes here: UK Freesat Boxes. Some TV sets also have Freesat receivers built-in.
Freesat Set-top boxes
We have a page listing the available Freesat satellite receiver boxes – See our Freesat boxes section.
Here are the Freesat boxes we recommend:

Bush BFSAT02SD


Basic Freesat receiver. Doesn't support High Definition – No built-in recorderConnectors: 1 x SCART, LNB in/Out, Ethernet£30 – from Argos (Cat no: 532/1557)


Humax Foxsat HD


Supports High Definition Freesat channels. No built-in recorderConnectors: 2 x SCART, HDMI, Component, USB, Ethernet

Review:

Humax Foxsat Review


Humax Foxsat HDR



Supports High Definition Freesat and can record 200 hours of Freesat

320GB built-in hard-disk (up to 200 hours recording)
High Definition satellite TV recorder
Twin Tuner
Series link, pause live TV and 8 day EPG

Connectors: 2 x SCART, HDMI

More on our Humax Foxsat HDR page

Available for £249.99 from Play.com
Useful Links