BT Vision+ Box Specification
This page contains details of the standards supported by the BT Vision box, for those looking for detailed technical information.
Note that this page applies to the first version of the BT Vision box (colour grey), not the black version released in December 2009.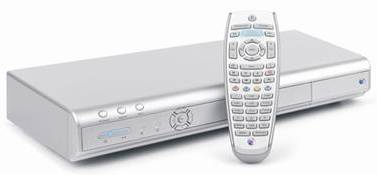 The BT Vision+ Box
The BT Vision service offers live TV from Freeview, plus downloaded content over Broadband. For details of the service, please see our BT Vision Review.
BT Vision+ Box Specifications:
Dimensions: 360 x 220 x 55 mm
Weight: 1.9g
Disk capacity: 160 gigabytes
Software: Microsoft WinCE, using Microsoft Electronic Programme Guide
More details on our BT Vision V-Box Explored page.
Technical Specifications
Thanks to forum visitor 'justsomebloke' for extracting the following key facts from the BT Vision+ box documentation:
Video decoding
Microsoft Windows Media VC1
MPEG4 pt10 (H.264) in MPEG TS
MPEG1 Video
MPEG-2 DVB compliant up to MP@ML
Video Formats
PAL (interlaced)
4:3 & 16:9
Audio Decoding
Audio MPEG 1 Layer I, II, III (MP3)
Dolby Digital (downmix to stereo)
MPEG4 Audio AAC HE mono/stereo
High Definition
Video Decoders:
MPEG4 AVC HP@L4 for 50Hz
MPEG-2 MP@HL for 50Hz
Audio decoders:
MPEG1 Layer II (2.0)
Dolby Digital
System Resources
300MHz Processor
4Mbytes Flash Memory
128Mbytes RAM
160Gbyte Hard Disk
Terrestrial Aerial Interface
RF input – IEC169-2 Female connector, 75 Ohm impedance RF output – IEC169-2 Male connector, 75 Ohm impedance (Modulated output)
Reception – Demodulation
UHF operation
Supports 2K and 8K FFT modes
Modulation types QPSK, 16QAM 64QAM
Connections
TV SCART:
Out – RGB or Y/C, CVBS + Audio L/R, WSS
In – CVBS + Audio L/R
Blanking / fast switch
Slow switch/4:3 & 16:9 (WSS)
Aux SCART:
Pass-through to TV SCART
RGB (inc. FB and synch), or Y/C
CVBS
Audio L&R
Pin8 (if configured as input)
Output – CVBS
Audio L&R
Pin8 (if configured as output) including Wide Screen Signalling (4:3 & 16:9)
Blanking / fast switch (pass through only)
Slow switch/4:3 & 16:9 (WSS)
Audio
L & R audio outputs
S/PDIF
Optical
Phone
RJ11 connector
REN of not greater than 1
Caller Display Modem compliant with SIN 227, SIN 242, Sin 350 compliant
Svideo
4-pins S-Video
Smart Card
EMV 2000
ISO 7816-1,2,3
protocols T=1 and T=0
Ethernet
RJ45 connector
10/100 Base T auto sensing IEEE802.3 Compliant
USB (2 on rear panel, 1 on front panel)
USB 2.0 standard (bus master) compliant
HDMI
HDMI 1.1 output (High Definition Multi-Media Interface) with HDCP copy protection
Thanks to 'justsomebloke' for the above info


Rear of the original BT Vision V+ Box (thanks to justsomebloke)
BT Vision Links: