UK Comedy Coupling
This page looks at the hit BBC comedy 'Coupling', and contains some useful information on the various series, DVD and video releases. Please visit our Coupling Forum and get talking about the series.
About Coupling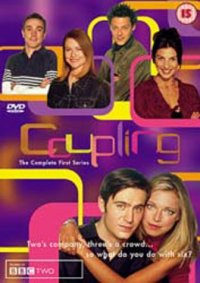 "Coupling" first hit screens in the UK on the 12th of March 2000, being transmitted at 9:30pm on BBC2. The first episode, 'Flushed', was watched by 2.6 million people. As the series contains a mix of observed comedy, and adult humour, the show fast became a success, having struck a chord with many TV viewer who can relate to at least one of the characters.
Coupling ran for four series in the UK, and was later taken up by NBC in the US in 2003. This page is dedicated to the original UK episodes.
What is Coupling?
If you don't know the series… find a copy and watch it! A description doesn't do it justice. If we had to categorise the show, it's semi-fair to say that the show is a sort of Friends-with-attitude. Like the US series Friends, Coupling covers the lives of six thirty-somethings. There's also an element of the UK series Game On (notably the sexual themes only skimmed over in Friends), and there's also an element of the male attitudes you'd see covered in the BBC's Men Behaving Badly.
Coupling focuses on the successes and failures of the six main character's sex lives. Each character has a well-defined character, and we get to know them well as the four series progress. A few new concepts get introduced to us early on in Coupling… In the first episode, we learn about the 'Porn Buddy' – a friend who, on hearing of your death, will clear the porn out of your house before your parents get round. We also learn the meaning of 'Unflushable' – an ex-girlfriend that you just can't get rid of. As the series progresses, we learn of the sock-gap (when to get your socks off before sex), and the 'Giggle Loop' (the harder you try not to laugh, the more you want to burst out laughing). We've all been there!
For me, one of the funniest scenes in Coupling revolves around a dinner party. Steve, the lead male character, is forced to justify his favourite porn film as art. The title, "Lesbian Spank Inferno", is a hard one to explain away. Then, there's Steve's views on cushions – "chubby sofa parasites". I'm with you on that one Steve – what's the point of cushions? Oh, then there's Jeff, the nervous character, trying to score with a cute Israeli girl. After insulting her interpreter, he struggles with the language barrier, and has to explain that we doesn't really collect girl's ears in a bucket.
Coupling is written by Steven Moffat (who's now working on the new series of Doctor Who), and produced by his wife, Sue Vertue. The fact that the two lead characters in Coupling, Steve and Susan, share the same name, may indicate something about the origins of some of the situations that come up in the series. As Steven said in a BBC press release about Coupling:
"Like most writers, I write about what has recently happened to me. I wanted to explore the idea that when two people get together they bring all sorts of other people with them – their exes, their best friends. A little community forms around the couple. That was happening to me, so I wrote about it. The result is a post-watershed sitcom about chatting in bars and kitchens and getting close to just the sort of people you think you ought to hate… all the characters are a little bit of me – although I like to think I'm a little more successful with the opposite sex than Jeff is – and, in fact, I've got a baby son to prove it!".
Coupling started its fourth series in 2004, and at the time the fanbase was still growing. More and more people were becoming aware of the series through the various repeats, and hopes were high for a fifth series. Richard Coyle, the actor playing Jeff, opted to leave after Series 3, and a new character, Oliver (a love interest for Jane) subsequently appeared in Coupling Series 4.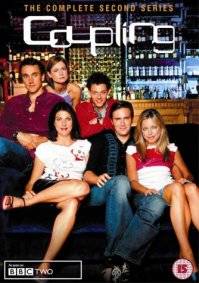 Coupling's Cast:
Steve Taylor (Jack Davenport, "This Life", "The Boat That Rocked")
Susan Walker (Sarah Alexander, "The Strangerers", "Smack the Pony", "Green Wing" )
Jane Christie (Gina Bellman, "Silent Trigger")
Sally Harper (Kate Isitt, "Is it Legal?")
Patrick Maitland (Ben Miles, "Peak Practice", "Cold Feet")
Jeff Murdock (Richard Coyle, "Lorna Doone", "Strange") Series 1 – 3
Oliver Morris (Richard Mylan) Series 4 onwards
The Team
Writer: Steven Moffat ("Joking Apart", "Chalk", "Press Gang")
Producer: Sue Vertue (Vicar of Dibley, Mr Bean)
Director: Martin Dennis (Men Behaving Badly)
Executive Producer: Beryl Vertue (Men Behaving Badly)
Coupling was produced by: Hartswood Films, Twickenham, UK
Coupling News
Please take a look at our Coupling forum
| | |
| --- | --- |
| Aug 04 | Series 4 DVD and Video |
Released on the 16th August 2004. DVD available for £13.99 from Amazon. Includes a 40 minute "Behind the scenes" feature, and ten minutes of outtakesMay 04Series 4 to show on digital TV channel BBC3 starting on Monday 10th May 2004, with a run on BBC2 expected in July. BBC3 is available on Sky and FreeviewJan 04Series 4 recording in Feb/Mar 2003. The new series is being recorded on Wednesdays evenings in February and March 2004 in front of a studio audience. Tickets are free, and the recording will be at the Teddington Studios, Broom Road, Teddington, Middlesex. Standing Room Only Ltd are handling ticket bookings – see www.sroaudiences.com/ for details.Dec 03Award winning: Coupling scooped the award for Best TV Comedy at the 14th annual British Comedy Awards on the 10th December. See the BBC Entertainment site for more, plus a snap of the team receiving the award.Nov 03No more Jeff!

It's been confirmed that Richard Coyle(Jeff) won't be appearing in Series 4. In a posting from the writer, Steven Moffat, we're told that Jeff is not keen to do a fourth, or even an on-screen goodbye. A new character, Oliver, will be appearing in Series 4, to be played by Welshman Richard Mylan (pictured).Nov 03US Series cancelled?
NBC has apparently announced that the US version has been cancelled. Of the 11 episodes recorded, only 4 have been transmitted…
Pilot (As UK "Flushed")
Size Matters (As UK)
Sex, Death, and Nudity (As UK)
Present Tense (US only)
A Foreign Affair (As UK "The Girl With Two Breasts")
Check/Mate (US only)
Nipple Effect (US only)
Episode 8: The Man With Two Legs (As UK)
Episode 9: Dressed (As UK)
Object Lessons (US only)
Holiday (US only)
Sep 03Series 4 news: Recording to begin in Feb 04, for transmission in the summer of 2004Jul 03Series 3 DVD news : The DVD and video of Series 3 are planned for release on 22nd September 2003. More detailsSep 02Series 3 started 23rd September 2002: The first episode, 'Split' was transmitted at 9:30pm, on BBC2. Plot synopsis: "Following an argument, Steve and Susan split up and make their separate ways to the Temple of Woman"Sep 02Coupling in the USA: NBC is considering the US version of Coupling as a potential successor to "Friends". Cast is expected to be Breckin Meyer ("Inside Schwartz" and "Road Trip"), Melissa George ("Thieves"), Lindsay Price ("Beverly Hills 90210" ), Jay Harrington ("The Division"), Colin Ferguson ("Then Came You") and Emily Rutherfurd ("The Ellen Show").The show is expected to air in the US in 2003-04.Sep 02Series 2 DVD was released on 23rd September 2002.: It is available now from Amazon.Jul 02Series 3 recording in July/August 2002: The show is being recorded on Wednesdays evenings in July and August 2002, at the Teddington Studios, Broom Road, Teddington, Middlesex. Tickets for audience showing are no longer available, as of 29/07/02. The new series is scheduled for transmission in Oct/Nov 2002.
I saw the first episode of Series 3 recorded on the 17th July. It's a GREAT episode… Beware of photocopiers!
Series summary
Below is a short guide to the various series of Coupling showing in the UK:
Series 1


(May 2000)

1. Flushed – The classic dilemma… how to dump the 'unflushable' girlfriend. The gang meet up for the first time in a restaurant for the date from hell… a six-some including best friends, an ex-girlfriend, and two ex-boyfriends.
2. Size Matters – Steve discovers the terror of phoning a girl and not knowing what to say, Jeff explains about the sock gap, and we find out why Susan's remote controls never work.
3. Sex, Death and Nudity – The friends encounter the 'giggle loop' at Jane's Aunt's funeral
4. Inferno – A classic. After Susan discovers some of Steve's porn, he's cornered at a dinner party to explain that "Lesbian Spank Inferno" is a work of art.
5. The Girl with Two Breasts – We've all been there… chatting up a girl in a bar, telling her how you collect girls ears in a bucket. Lucky then, that she can't speak a word of English. Thanks to a recent site visitor for providing the correct spelling of the Hebrew word for breast… 'Shadayim'.
6. The Cupboard of Patrick's Love – Patrick's a cunning chap… he's managed to videotape his conquests, and his cupboard is bulging. Sally wants to get into the cupboard collection, and Susan wants to get out…Series 2
(Sep 2001)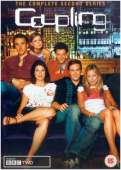 1. The Man with Two Legs – Classic Jeff in action. After plucking up the courage to talk to a girl on the train, he fakes a leg amputation. Implausible? Maybe, but without it, we'd never have heard the best line ever… "I've got the keys to paradise, but I've got too many legs".
2. My Dinner in Hell – Patrick discovers he's been reproduced in plastic, and Susan's parents discover that Steve's a whistler.
3. Her Best Friend's Bottom – Steve gets a glimpse at naked Sally, and "little Patrick" has some performance issues
4. The Melty Man Cometh – Continued from the last episode… impotence advice from the boys eventually solves the problem
5. Jane and the Truth Snake – Jane goes 'odd' after getting sacked (socked?) from her job in a traffic helicopter, and Patrick manages to convince his new girlfriend that a threesome is the way to go
6. Gotcha – One year on, Susan's expecting a proposal. Will telling Steve that she'd like to eat lesbians in their uniforms do the trick?
7. Dressed – Jane discovers what to do when you arrive naked at a dinner party, and Patrick's pretend wife Sally just isn't blonde enough. Jeff's too busy with his torch to get involved
8. Naked – Jeff finally finds love, in the form of work boss Julia (Lou Gish). When she lures him into the boardroom for a Birthday surprise, it's not what he expected. "Oh Jeffrey…"
9. The End of the Line – A clever, clever end to the last series. An episode full of French bitches, and an Australia full of Susan's ex-lovers. Swapping phone numbers is never a good idea.Series 3
(Sep 2002)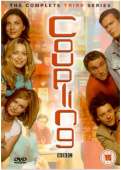 1. Split – Steve and Susan split up, and make their way to the Temple of Woman
2. Faithless – Jeff encounters Wilma (Emilia Fox) in the stationery cupboard, and hopes she's forgotten about the photocopier incident, while Jane tries to get lucky with the deeply religious James (Lloyd Owen)
3. Unconditional Sex – Wilma wants to "borrow" Jeff for some fun. Sally tells Susan about "Man Test" and Steve compares his relationship to the Cold War
4. Remember this? – How Patrick (aka Spiderman) and Sally first met. Will they get it together?5. The Freckle, the Key and the Couple Who Weren't – Steve worries about a mysterious freckle, and Susan's concerned that Jane's aware of it.
6. The Girl with one heart – Jane has her heart set on the new pizza guy, and Sally receives an unexpected advance.
7. Perhaps, Perhaps, Perhaps – Patrick and Sally get their feelings out in the open, and can we hear a tiny patter? Last in the series, transmitted 4th Nov 2002Series 4
(May 2004)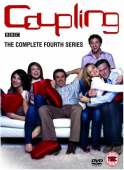 Series 4 started on digital TV channel BBC3 on Monday 10th May 2004, with a run on BBC2 expected in July. BBC3 is available on Sky and Freeview. Sadly, the series doesn't feature Jeff (as Richard Coyle has decided not to be a part of the 4th series), but features a new character, Oliver
1. Nine and a half minutes – Jeff's off the scene, and we're introduced to Jane's date Oliver
2. Night Lines – Steve's execution nightmares are getting worse (firing squad and jelly babies!) – we're also introduced to the phone call that never dies, and get another peek into Patrick's cupboard
3. Bed time – Answering the two eternal questions… Why do women like to snuggle like hairy inquisitive sex octopuses, and why isn't Patrick allowed to go home?
4. Circus of the Epidurals – A surprise reunion at the ante-natal class brings the spank inferno dinner from hell flooding back to Steve. Bring on the string quartet…
5. The Naked Living Room – Oliver's living room has lost the battle with pornography. Will Jane disapprove
6. Nine and a half months – Jeff makes a reappearance (well, in a way), to help Steve through the joys of childbirth, and Sally's determined to find out if Jane's on tape in Patrick's cupboard…
Series 5
In early February 2005, series creator Steven Moffat recently posted in GallifreyOne, a Doctor Who forum, stating that the BBC had asked him to work on a fifth series, but getting the cast together "just got too difficult". He also stated that he felt that he'd "finished the story with the last one" and "that it was a good note to go out on". One small ray of hope – he mentioned that the team would be working on a Christmas Special.
Discuss in our forum…

Coupling on DVD and video
Series 1: The DVD and video of Series 1 were released in September 2001. You can order the DVD or the video from Amazon, or from the BBC shop. Read the Reviews.
Series 2: The DVD and video of Series 2 was released on 23rd September 2002. Order the DVD or the video from Amazon, or from the BBC shop.
Series 3: The DVD and video of Series 3 was released on 22nd September 2003. As well as all seven episodes, the Series 3 DVD contains the following:
Audio commentary from Jack Davenport (Steve) and writer Steven Moffat
Compilation of a couple of dozen outtakes from the recording of Series 3
A feature including interviews with the cast.
Unfilmed script extracts
Order the DVD (containing two discs) or the video from Amazon, or from the BBC shop .
Series 4: Now available. The DVD of Series 4 was released on the 16th August 2004. As well as all six episodes (no Jeff!), the Series 4 DVD contains the following:
"From Script to Screen" – Behind the scenes of Series 4 (40 mins)
Compilation of ten minutes of outtakes from the recording of Series 3
Order the DVD from Amazon, or from the BBC shop.
Coupling links:
Coupling FAQ:

The theme tune, "Perhaps, Perhaps, Perhaps", is by Simon Brint and is performed by Mari Wilson. Thanks to a site visitor for adding that the theme is in fact a Latin Jazz standard, originally "Quizas, Quizas, Quizas" and popularized by Nat King Cole.
The Coupling theme tune is available on CD, on the Mari Wilson Platinum collection – available from Amazon.co.uk.