FM Radio to be switched off by 2015?
In June 2009, it was announced that FM and AM in the UK would "Go Digital". What exactly does this mean? We look at how these plans may affect you.
Digital Radio Upgrade?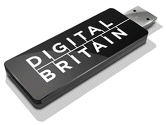 In June 2009, the Government's "Digital Britain" report was published. This reported, commissioned by the Department for Culture, Media and Sport outlined a number of proposed changes , including some that will have a huge impact on radio listening.
The headline of the Digital Britain report is that there is a proposed "Digital Radio Upgrade" set for the end of 2015.
What does this mean to me?
If the proposals of the Digital Britain report were to go ahead, this would mean that:
In order for this to happen, the following two things need to happen by 2013:
50% of listening needs to be on digital radio
National DAB coverage needs to be comparable to FM coverage, and local DAB needs to reach 90% of the population and all major roads
Not happy? Have Your Say
When the report was published, we started hearing from our regular readers that they're not happy about the proposed turning off of FM services, forcing listeners to move over to DAB.
Digital Radio?

There are a number ways that you can listen to digital radio:
FM Radio Switchoff FAQ:
Car Radios: I read in the Sunday Mail that existing car radios will become obsolete when the Government turns off the analogue signal and changes over to digital in 5 years time, but this won't affect radios at home? Why? (Rod F)
Got a question or comment on the FM Switch-off? Please ask us!
Other Links