Virgin Media Digital TV Explored
Our look at cable TV, from Virgin Media
What does Virgin Media offer?
Virgin Media makes use of underground fibre-optic cable to deliver digital TV, Internet and home phone.
If you're in a cable TV area, getting your TV, Broadband and phone from Virgin can offer some serious cost savings.
As we're a digital TV site, we're only looking at the TV offering. If you want the full story on what Virgin offers, go to allyours.virginmedia.com
Digital TV from Virgin Media?
Virgin Media offers three TV packages, "M+", "L" and "XL". The top package, "XL", has over 230 channels, including Sky 1, Dave, Comedy Central, Eurosport, G.O.L.D, 5*, ITV2, BBC3, Living, History, SyFy and Watch.
For the full list of channels, go here: Virgin Media TV Channels

You can add extra channels, such as Sky Sports, Sky Movies, Disney Cinemagic and MUTV, as well as adult channels such as Television X and the Playboy Channel.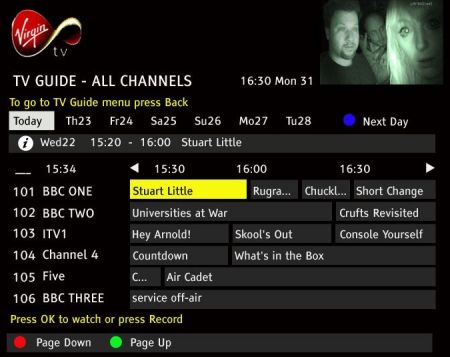 Virgin Media Onscreen Guide
On-demand library: Virgin Media's digital TV service includes TV On Demand service. This offers instant access to a huge collection of TV shows, music videos and over 500 movies to watch on-demand. Films start from 99p
Catch-up TV: Missed a TV show in the last 7 days? With Virgin, you can watch shows you've missed on-demand from the BBC with BBC iPlayer, ITV Player, Channel 4's 4oD and Five. Catch-up TV options

Hard-disk recorder: Get the Virgin Media TiVo box for a box that records up to 80 hours of TV, supports HD and lets you pause and rewind TV.

HD TV: With a Virgin Media TiVo HD box, you can watch on-demand or live HD content – Over 26 HD channels are now available. Virgin Media customers with a TiVo box can get BBC One HD, BBC Two HD, ITV 1 HD, Channel 4 HD, Film 4, Living HD, Sky One HD, SyFy HD, Eurosport HD, Discovery HD, E4 HD, Fox HD, National Geographic HD and music channel MTVN HD. Unlike Sky, there's no subscription charge for the HD service. Details at allyours.virginmedia.com
How to get Virgin Media TV
Not everyone in the UK can get Virgin Media's TV service. You have to be in an area that connected to their cable service. Before Virgin Media, the cable companies NTL and Telewest provided cable services – now it's all Virgin.

To find out if you're in a cable area, and to check out the options, go to allyours.virginmedia.com
To get connected to Virgin Media's TV service, a Virgin Media engineer will call to hook you up to cable, and provide you with a Virgin Media set-top box.
If you're getting cable, consider getting Virgin's Internet service, as they offer speeds of up to 100 Meg – much faster than the likes of BT.
Virgin Media TiVo Box
The Virgin Media TiVo box is a hard-disc recorder (PVR) that records TV shows onto an internal drive. It offers:
Record up to 250 hours of live TV.
Lets you pause and rewind live TV
Offers 'Series Link' – don't miss an episode of your favourite series
Supports HD programming and on-demand content.
Record two TV channels, while watching a third.


The Virgin Media TiVo box
There's no purchase cost for the Virgin Media TiVo box – you pay a monthly subscription of £5 a month – installation is normally free.

For more information on Virgin's TiVi boxes, go to www.virginmedia.com
Other Virgin Media Services
Virgin Media also offers Broadband Internet and home phone packages, which can save you money when combined with your digital TV service.
If you live in a part of the UK served by Virgin Media, sign up to Broadband or Phone and one of their team will get you connected.
To find out more, or to check coverage, go to www.virginmedia.com