Free-to-View Satellite TV in the UK
Information on the ways that you can watch subscription-free satellite television, including Freesat and the free Sky channels available with a dish and decoder.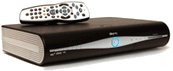 Sky Digital is the largest provider of digital satellite television for the UK, but you don't need to be a Sky Digital subscriber to receive satellite telly.
Some of the channels available on Sky Digital's satellite system can be watched free-of-charge, without a Sky subscription. On this page, we look at what free-to-view satellite TV services are available in the UK, and we see how they compare to the Sky Digital subscription service.
Here's our summary of your satellite TV options, which we explore further down the page:
Already got a Sky box and dish?
Your options:

Subscribe to Sky (from £21.50 a month) to get over 250 channels. Sky Package Information
If you don't want to subscribe to Sky, your existing Sky box and dish should still be able to tune in to over 200 free-to-view channels after you cancel your subscription. Free-to-air advice

Got a dish?
Assuming your dish is pointing at the Sky satellites:

Subscribe to Sky (from £21.50 a month), get a free box from Sky and get over 250 channels. Sky Packages
Get a Freesat box and get 130 TV channels without subscription. Boxes cost from £50. More on Freesat
Get a satellite decoder to get 220 free-to-view channels. Try Maplin Electronics for a decent range of cheap receivers.

Not got a dish yet?
Your options:

Subscribe to Sky (from £21.50 a month) to get over 250 channels. Free box and dish. Sky information
Go for Freesat – 130 channels without subscription. Box costs from £50, installation is £80. More on Freesat
Consider Sky's Freesat service, and get 220 free-to-view channels plus box and dish. Sky Freesat Info
Install your own dish with a satellite kit. DIY satellite help

Don't want a dish?
Consider the other options:
Paying too much for satellite TV?
If you feel you might be paying too much, but want more than the basic free channels, consider YouView.
70 channels of live TV and radio, plus hundreds of hours of on-demand TV shows, movies, music and kids content. A free a high-spec digital recorder with series link is also available, and it'll cost you less than Sky. Details on our YouView Explored section.

Free to air satellite TV with a Sky box
Got a Sky box and dish already? Watch over 200 channels for free…

A large number of digital TV channels can be viewed on a Sky Digibox without a Sky subscription or a viewing card, as the signal is not encrypted – see Sky's Free to Air channel list. Over 200 TV and radio channels are available, including the BBC channels, some of the news channels, and most of the shopping channels and radio stations.

If you have an old Sky box and a satellite dish, you should be able to watch these free-to-air channels.
For a list of the free channels that can be viewed on a Sky dish and decoder without subscription, see Sky's Free TV channel list.

A small number of channels are available "Free-to-view", which means they can be viewed on a Sky box for free, but they require a viewing card. These are the Channel 4 and Five channels. Sky used to supply cards originally known as Solus Cards, as part of Sky Freesat. If you need a card, but don't want to take out a subscription, give Sky a call and ask for a Sky Freesat viewing card.
Sky Freesat (Pay Once, Watch Forever)
Get a dish and Sky box for £175 – Over 240 channels, no subscription!

As well as offering their pay-TV service, Sky also offers a subscription-free option. You don't get access to any of the subscription channels, but you get a dish and installation for a one-off fee, then access to over 240 free-to-view channels (see Sky's Free to Air channel list).

Full details on our Sky Freesat page.
BBC/ITV Freesat
Dish and box installed from £130 – Over 100 channels

In May 2008, Freesat launched in the UK – This is a joint venture between the BBC and ITV, and offers over 170 channels of TV and radio, without subscription. This includes BBC, ITV and Channel 4 High Definition TV.

This option offers less channels than with Sky's Freesat service – see the Freesat channel list

Freesat boxes cost from £50, with installation costing £80.

See our Freesat page for more information on what Freesat has to offer.
Freeview

TV via an aerial, not a satellite dish

This is nothing to do with the Sky or satellite TV. The Freeview TV service is received on suitable set-top boxes or TV sets via a TV aerial, and not via a Sky box or satellite dish. of TV and radio, with no subscription. Although the channel lineup is quite small compared to Sky, the no-contract, easy-installation, no-ties option appeals to many and is increasingly popular.

See our Freeview information page for more on getting subscription-free TV for a one-off equipment cost of about £25.
Satellite channels compared
DIY Dish installation
If you want a wide choice of free TV channels via satellite, consider getting a DIY Free to Air Digital Satellite Kit. This includes 80cm satellite dish, digital TV receiver, and LNB.

No subscription, no cards, no recurring fees – Available from Maplin from £99.99

The Sky satellites are positioned at 28.2 degrees East of South. The exact direction and angle of elevation depend on where you are in the UK. You may need a satellite finder to locate the satellites. More on satellite dish installation.
Full channels: If you'd rather go for a Sky installation and subscription, to get channels such as Sky 1, Comedy Central, SyFy channel and Sky Sport/ Sky Movies, you'll save money by ordering online. Go to www.sky.com , choose a package and an installation date (including weekends).

The basic Sky service is available for £21.50 a month for the 'Entertainment' pack. . An installation fee may apply (either £30 or £60, depending on package).

For more, go to www.sky.com/shop
Links