High Definition TV in the UK Explored
Looking to get HD on your telly? We offer information on High Definition TV services available in the UK
What is HDTV?
High Definition (HD) represents the latest in TV picture quality. HD offers a higher quality picture: more vibrant colours, greater detail and crisp picture clarity. You'll also benefit from improved sound quality (5.1 surround sound).
How does it work? Well, a standard UK TV picture is made up of 576 horizontal lines of pixels, but a high-definition TV screen uses either 720 or 1080 lines (offering up to 4 times the number of pixels used to create a standard definition TV picture).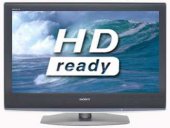 High Definition Digital LCD TV
HD in the UK
The BBC started trials of HD in May 2006. Now, a growing number of high-definition TV channels are coming on-stream, notably from Sky Digital. Sky currently leads the way in UK HD, offering over 50 channels of TV in stunning high definition.
As well as Sky's HD service, High Definition is on offer from Virgin Media, Freesat and Freeview HD service. For a comparison, see our HD Providers list below, or our HD channel comparison chart.
What do I need to know about HD TV?
Equipment
To watch High-definition TV, you'll need an "HD Ready" TV set. Even if you're not planning to sign up to an HD service just yet, consider getting a TV with the "HD READY" logo
when buying a new TV.Your LCD, Plasma or DLP TV set will need to have a minimum resolution of 720 lines in wide aspect ratio. (More: HD Resolution)

Your HD TV will need a different type of connector for connecting to an HD set-top box, Blu-ray player or games console – the connector will either be a DVI (Digital Video Interface) or more commonly, an HDMI (High Definition Multimedia Interface) connection.

You'll also need an HD TV decoder (such as a Sky+HD set-top box) to watch hi-definition TV.


Sky+HD Box – High Definition receiver

Digital Switchover
The UK's analogue TV service was finally switched off in October 2012. You now need a digital TV receiver to continue getting telly.

It's important to note that High Definition is nothing to do with the Digital Switchover. You don't need an HD TV to get digital TV.

Programming
Programmes have to be recorded in the HDTV format, so that viewers can benefit from the improved experience of HD.

More and more content is now being recorded in an HD format, so we can expect the available content to increase over the coming months and years.
How do I get HD programmes?
You need a digital TV service that supports HD, and an HD receiver. The HD receiver connects to your TV (normally using an HDMI cable). Here is a summary of the main HD TV services in the UK:
Sky Digital
Sky Digital is currently leading the field in HDTV in the UK. Here are some facts:

Sky Digital launched its High Definition satellite TV service in May 2006.
Channels: 65 channels. Largest number of HD channels in the UK. The following High Definition channels are available: BBC One HD, BBC Two HD, ITV 1 HD, Channel 4 HD, Sky 1 HD, Fox HD, E4 HD, Biography HD, Sky Arts HD, Luxury Life TV, SyFy HD, Sky Real Lives, nine Sky HD Movies channels, 4 Sky Sports HD channels, Sky Atlantic HD, Sky News HD, Eurosport HD, Discovery HD, National Geographic, History HD, Crime HD plus Sky Box Office HD movie channels. See the full Sky HD Channel List.
The Sky+HD box records up to 180 hours standard or 60 hours of HD, and the box supports the 720p and 1080i HD formats
How to get it: You'll need a Sky+HD Box (currently free), to pay the monthly HD subscription, and to have an HD-Ready TV set.

OFFER: Check out the latest offer for new customers looking to sign up to Sky+HD at www.sky.com/hd

Virgin Media Cable
HD is being offered by cable TV firm Virgin Media. Originally under Telewest, the High Definition service launched in March 2006.

Content: Over 28 channels available, including – BBC One HD, BBC Two HD, ITV 1 HD, Channel 4, National Geographic HD, Fox HD, Living HD, Sky 1 HD, Film 4 HD, SyFy HD, Eurosport HD, Discovery HD, E4 HD and MTVN HD. For an additional subscription fee, there's Sky Sports 1 and 2 HD, plus ESPN HD.
On-demand HD content is available though, including Movies on Demand and TV choice
How to get it: You'll need the Virgin Media V+ box. Installation of the V+ box costs £49. Additionally, there's a monthly subscription for the V+ service (£5 a month, or free if you're on the XL package)More on Virgin Media's site

Freesat

Freesat launched in May 2008 and is operated by the BBC and ITV. It offers a range of free channels, plus HD content without a subscription. Freesat information

Channels: The following channels are available in HD on Freesat: BBC One HD, BBC Two HD, ITV 1 HD and Channel 4 HD. See the full Freesat channel list.
How to get it: To get Freesat, you'll need a High Definition receiver (from £120) and a satellite dish (installation typically £80). See our Freesat box list. More on our Freesat Explained page.

YouView
YouView launched in 2012 and combines Freeview and on-demand TV content.

You can get a free YouView box from BT, and get access to 4 Freeview HD channels, plus a decent collection of movies in HD to watch via Broadband on your TV.

More details at get.youview.bt.com

Freeview
There will be four high-definition digital TV channels to be delivered via a TV aerial on Freeview by 2012. The service launched in parts of the UK on 2nd December 2009, and is now available across most of the UK.

Channels: BBC One HD, BBC Two HD, ITV 1 HD (STV HD in Scotland) and Channel 4 HD.
How to get it: You'll need a special Freeview HD set-top box or TV set. See our Freeview HD Boxes page

More on Freeview HD.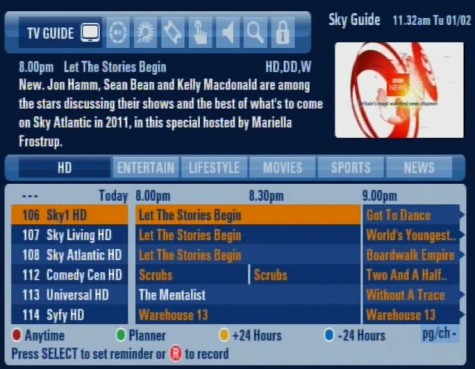 Sky's Electronic Programme Guide showing HD content
HD FAQ
Here, we'll try to answer your high-definition questions:
HD connectors
The most common connector for High Definition equipment is the HDMI connector, pictured below.

An alternative, is the slightly older DVI connector (Digital Visual Interface), pictured below:

You also get high definition using component cables – note that this is analogue, and component does not carry the audio.

Looking for high-definition cables and adapters, such as HDMI leads, or HDMI to DVI cables? Try TV Cables or Maplin Electronics

We recommend the Nikkai Pure range (high-quality, oxygen-free copper) for minimal signal loss.

720 vs 1080 formats
High definition TV is transmitted in two different hi-def formats:

720 progressive – Each image is made up of 1280 pixels on 720 horizontal lines. The 'progressive' bit refers to the fact that each line is drawn individually to build up the picture.
1080 interlaced – Each image is made up of 1920 pixels on 1080 lines. 'Interlaced' refers to the fact that the image is split into two 'fields' that are scanned separately, odd-numbered lines, then even-numbered lines.

1080i offers more detail than 720p, but interlaced images aren't as smooth as images that are rendered progressively. The format of an HD picture depends on how the programme maker recorded the programme.

Set-top boxes such as the Sky+HD box support both 720p or 1080i HD formats, switching according to the programme's format, and a high percentage of HD-Ready TV sets support 720p and 1080i (but check before you buy).

The highest quality HD format is 1080p (progressive), and this is known as "Full HD" – However note that no UK broadcaster is currently offering 1080p content, so TV services don't use this standard. For 1080p content, look at Blu-Ray discs or the output of some games consoles.

"HD Ready"
For a TV or HD product to be certified as "HD Ready", it has to meet the following requirements:

Have a minimum native display resolution of 720 physical lines in wide aspect ratio.
Accept HD input via: Analogue YPbPr1, and DVI or HDMI
Have HD capable inputs that accept 1280×720 @ 50 and 60Hz progressive ("720p"), and 1920×1080 @ 50 and 60Hz interlaced ("1080i")
The DVI or HDMI input must support content protection (HDCP)

No HD TV yet?
About to get a Sky+HD box, Freeview HD Box or Virgin Media V+ box, but do not have an HD TV set yet?

Yes, you can use an HD set-top box even if you don't yet have an HD-Ready TV set. Obviously, you won't be able to watch HD content until you get an HD channel, but you will be able to watch the Standard Definition channels. Typically, you'll connect from the HD box to the TV using a SCART lead.

TV aerial

Question from a site visitor: "Do I need a special aerial for LCD HD ready TV sets?"

If you're looking to get HD via your TV aerial, you'll need Freeview HD. If your aerial s able to let you receive Freeview channels, it should be fine for Freeview HD when it comes to your area.

Variable HD quality
Here's a quality question from site visitor Peter Denton: "Please can you tell me why some programmes transmitted in HD are sometimes fantastic, and other times you would never know it was HD. Sky football matches are a good example…. sometimes great , other times not."

Note that HD denotes the number of horizontal lines a picture has (minimum 720, compared with 576 for standard definition). Just because content is "in HD", there's no guarantee that it's pin-sharp and perfect. A number of factors can affect HD quality:

Sky HD boxes support two different HD formats 720p and 1080i. More.
Compression – HD uses a lot more bandwidth than standard definition, and the signal is compressed (Sky use MPEG-4 compression for their HD service). Different compression ratios can be used. Fast-moving images (common with sporting events) make compression artifacts more visible.
Not all content on HD TV channels is true HD. Some content is standard definition that's been 'upscaled' to the larger number of horizontal lines used on HD.
Recording techniques – Different broadcasters record, edit and transmit their content differently, and it's not always perfect.

HDMI vs Component

You may find that your HD set-top box has both an HDMI socket and a set of Component sockets – but which is best?

Well, they both are capable of transmitting High Definition. HDMI is 'digital', so is less prone to interference over long distances. HDMI also carries the audio. Component is analogue and doesn't carry audio. For more on this, read this article.

Not enough HDMI sockets?

If your TV set doesn't have enough HDMI sockets – you can get various adapters and switch boxes.

At the basic end is a 2-into-one selector lead (the HDMI Selector from Maplin, and there are various other 2-way, 3-way and 4-way selectors available from TV Cables or Maplin Electronics. See our HDMI Help and Advice page for more.

Contrast ratio

When looking for a TV, you may see Contrast ratios quoted at you. The contrast ratio is the difference between black and white. Basically, the higher the ratio, the more difference between black and white the TV supports.

In Show 15 of our podcast, we heard from forum visitor Linus, who pointed out the following… "sales folk are keen to push 'bigger is better', but unless you watch your telly in a pitch-black room, you could be wasting your money going for big-number ratios. In a living room with moderate ambient light, anything higher than a 500:1 ratio wouldn't be perceivable by the eye."

For more on choosing a telly, see our podcast's How to choose a digital TV page, and listen to our audio guide in Show 25.

HD Media Player

We can't pass up the opportunity to mention the WD TV HD Media Player. A cheap and tiny box that plugs into your TV and lets you play back HD video on your telly (as well as photos and audio files).

Supports many different video, audio and image files and with two USB sockets for memory sticks and hard drives, this is a great and cheap option for watching HD content on your telly.

See our full review, photos and screenshots on our WD TV HD Media Player Review.
More questions?
Got a question about Hi Def TV in the UK, or have a comment on HD? Please post a message in our forum

Also, check out our online radio show for more on HD – High Definition featured in our Show 23 of FrequencyCast!