Freesat from Sky – Pay Once Watch Forever
Sky is the largest provider of pay-TV in the UK, but they also offer a subscription-free service. We look at this in more depth
Freesat from Sky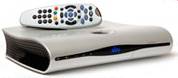 Over 240 channels with no subscription, installed for a one-off fee
Sky launched this service in 2004. For a one-off fee, Sky will install a satellite dish and a basic Sky digibox, and you'll be able to watch around 240 channels without paying a subscription.
Channels available include the BBC and ITV channels, Channel 4, Channel 5, E4, Sky 3, BBC News, Sky News, Film 4, Film 24, Euronews, Zone Reality, Life, and Wedding TV. For a list of the free channels that can be viewed on a Sky dish and decoder without subscription, see Sky's Free TV channel list.
A number of channels that are available on Freeview are not available on Sky Freesat, including Yesterday and Dave.
Freesat from Sky costs £175 to new customers, including box and installation. To get Freesat from Sky, call 08442 410 595, or go to www.sky.com/shop/freesat.
Answers to your Sky Freesat questions:

The dish and box are yours to keep
If you have an old Sky box and a satellite dish, you can get Freesat by buying a Freesat card from Sky. These cost £20. Call Sky on 08448 244 400, or go to Sky's site.
Existing Sky Digital users can switch to Sky Freesat over the phone for no charge.
HD is not available on a Sky Freesat box. If you want HD, consider Sky+HD
If you decide to sign up to a subscription pack from Sky, you'll have all the kit you need, and a phone call will get you subscribed
Can't get ITV1, Channel 5, 5* or Five USA?

These channels are encrypted and need a Sky Viewing Card. These are free to subscribers, otherwise they cost £25. You can get a Sky Freesat viewing card by calling Sky on 08448 244 400, or go to Sky's site.
Sky Pay Once, Watch Forever
No longer offered by Sky
Pay Once, Watch Forever was launched by Sky in July 2007. It allowed you to get over 200 free-to-air TV channels without a subscription.
There was a one-off cost of £75 for the service, which included box and installation, and you got a few free months of viewing on Sky's pay-service. Pay Once, Watch Forever was a cheap way to buy a Sky box and to get a dish without a subscription.
Pay Once-Watch Forever was available from Tescos online, but the last stocks disappeared from Tesco's online store towards the end of July 2009.
As far as we know, the Pay Once, Watch Forever offering is no longer available. (Contact us if you know differently)
Alternatives: Sky's Freesat service, discussed above, or the BBC/ITV service, also called Freesat.
On our other pages: