Sony RDR-GX120 DVD Recorder Information
This page takes a look at the Sony RDRGX120S DVD Recorder – a high-specification, dual format DVD recorder / player…

Sony RDR-GX120S
The Sony RDR-GX120S is a powerful DVD recorder, offering strong functionality and the Sony name, at a lower-than-expected cost. This box is the next model up on our former favourite, the RDR-GX210. The RDR-GX120 supports the following formats:
Playback: DVD, DVD+RW , DVD+R , DVD-RW , DVD-R , VCD (video CD), CD, CD-R, CD-RW, Data CD, 8cm DVD+RW/DVD-RW/DVD-R
Recording: DVD+RW , DVD+R , DVD+R DL
Key Description & Features:
Dual Format / Dual Layer DVD Recorder
DVD recording in the following formats: DVD+RW , DVD+R , DVD+R DualLayer
Auto Programme Title Labeling
SMARTLINK interaction with supported TV sets
High Quality Recording
Squeeze up to 8 hours onto a single DVD in Super-long-play mode
Recording up to 40 events per month
Digital Audio Output and Component Video Output
MP3 Playback (CD-R / RW)
Disc navigation thumbnail chapter view
Videoplus+, PDC, & Manual Timer Programming
NiCAM audio
S-Video In and Analog AV In/Out
2 x SCART sockets
Availability:

The Sony RDR-GX120s is available from the following places:
Found a cheaper online price? Let us know
Want to get a Sony DVD Recorder at the cheapest price? Try a price comparison check at Kelkooor Pricerunner
Sony RDR-GX120 Review
This is a strong product from Sony – We reviewed this in June 2006 as a replacement to former favourite of ours, the Sony RDR GX210. This updated model improves on the earlier model, now supporting Smartlink, and being much slimmer. It's a fully-featured dual-format DVD recorder that offers impressive performance, has a good set of connectivity options, and a price-tag of less than £150 (less than you'd pay for some inferior, single-format models).
We've only had our hands on this model for a few days, and have been using it to record off-air digital TV shows, as well as dubbing over some old video tapes – so far, we're impressed – it's pretty easy to use, produces good picture quality, and works very well with our test Sony LCD TV.
Top feature for us, was Smartlink – which worked well with our test Bravia LCD set, the KDL-32S2010. Smartlink allows download of tuner preset data from a compatible TV, TV direct record, one-touch play / timer, and automatic power off.
One of the strengths of the machine, is its connectivity. It offers two SCART sockets, has a total of three line inputs, and has front-panel access to line in and S Video connectors. It also has a component video out, and a coax digital audio output.
After we connected the DVD recorder to the test TV and started it up, we had the option to use Easy Setup, which sets your preferred language, scans for TV signals, sets the clock from over-the-air signals and lets you configure some of the connectivity options. Pretty straightforward, but the we thought some of the questions could've been worded a little more simply for beginners.
Recording a DVD is pretty straightforward. We're using the DVD +RW format, with good results. On inserting a blank disc, the Sony performs a quick format, and when we're ready to start, the record button instantly kicks the machine into record, creating a new title. We like the 'Auto Chapter', which creates a chapter marker every 6 minutes. All of the title and chapter markings are editable, to help build a usable DVD menu.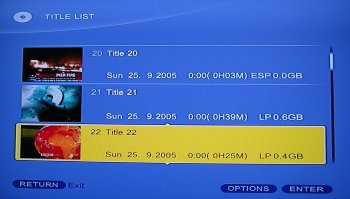 The RDR-GX120 DVD Title Menu
When recording, you have the option to chose from one of eight quality options: HQ (High quality) offers 60 minutes of recording time on a 4.7Gb disk, then there's HSP (90 minutes), Standard (120mins), LSP (2.5 hours), ESP (3 hours), LP (4 hours), EP (6 hours) and Super Long Play (8 hours). The latter, SLP, is pretty grim, but still watchable.
The player has a couple of niceties, such as the ability to go to a point using 'time search', plus a togglable on-screen counter showing time remaining on a DVD, plus a progress bar. The 120 can also play MP3 files on a disk, including support for folders.
Criticisms? Nothing too serious. The RDR-GX120 performs well, runs quietly, and produces good audio and video playback. We did find it slightly sluggish in loading and unloading disks, and in our opinion, the front display is a little hard to read from a distance – although the 'Display' button on the remote can be used to call up the display information on-screen. The remote control is OK – a little boxey, but at least it doesn't have the slide-panel found on the GX210 (which hid half of the controls). It does the job and is well laid-out.
The only real gripe we have is that a couple of editing features appear to have been descoped from the GX210 DVD recorder – there's less control of editing chapters, and there seems to be no option to divide one title into two titles – a feature that we find useful when archiving video tapes onto DVD. If using +RW discs, there is at least the option called A-B Erase, which allows removal of part of a Title (for editing adbreaks, or trimming space at the end of a recording).
In summary, a good spec recorder that's easy-to-use and had the features that most people will need from a recorder – works especially well with a Sony TV. Low-price, high spec and with Sony in friendly letters on the case. Our verdict: A good buy

Got a question?
If you have any questions about the RDR-GX120 , or are looking for advice on DVD recorders, please ask in our Digital Recorders forum
Looking for general advice on choosing or using a DVD recorder? See our DVD Recorders page, or give our DVD Recorders podcast a listen!
Sony RDR-GX120 Connectors
Aerial RF in/out
2 SCART sockets (CVBS). RGB output.
Digital Out (Coaxial)
Component video out (PB/CB,PR/CR, Y) phono sockets
Line 2 Out: Stereo audio (L/R phono), video phono
Line 2 Out: S Video
Line 2 In (on front panel): S-Video, Stereo audio (L/R phono), video phono


Shot of the rear panel
Title & Chapters

We've been asked for more information on how to create and edit Titles and Chapters. Here's some basic info:

Each time you start a recording, a Title is automatically created. There's the option to name or delete a Title, as required. You can also 'protect' a title to prevent it from being deleted. With +RW discs, you can also erase a section of a Title ("A-B Erase").

A Title can contain Chapters – there's a setting to create automatic chapters every 6 minutes. Sadly, there's no option to create chapters manually during playback.

Connecting

If you're having trouble connecting up your DVD recorder, see our Connection page for some general advice (including our interactive connection advisor), otherwise, try asking for help in our forum.
Recording
The GX120 can record content from the built-in TV tuner, or from equipment that's connected to it via SCART, S-video or composite connections. As the GX120 has a number of connectors, it's important to make sure that you set the machine to record the correct video source.
If you want to record from an external source, such as a digital TV set-top box, or a VHS recorder, first, make sure you've connected the hardware to the DVD recorder, e.g. using a SCART lead (there's general help on our Connection page).
Next, set your TV so that you can see the output of the DVD recorder (as if you're watching a DVD).
Then, on the DVD recorder's remote control, press the 'Input Select' button until you see the appropriate source that you want to record. You should now be on the correct channel to record from the external source, and pressing the Record button will start the recording onto a formatted blank disk.

You can also set a timed record from something like a Sky box – When entering the recording details into the DVD recorder, you select the appropriate Line In feed (assuming a SCART connection), then as long as the Sky box is left on the correct channel, the DVD recorder will record the output of the Sky box.

Timed recordings
As with a standard video recorder, you can set the RDR-GX120 to record a specific channel at a specific time, with using a Videoplus code from a listings magazine, or by manually entering date, time and channel. Here's how to set up a manual recording:

Press the Timer button on the remote.
Go to the "Day and Time" line , and press 'Enter'
Use the right key to move between Day, Start time, End time and channel. With each of these fields, you can use the up/down buttons to change the selection. The Channel field scrolls through the TV channels and the three Line In feeds.

When complete, press Enter, then select the 'OK' button on the screen to set the recording. See page 38 of the manual if you need more help.

Subtitles
For our review of the older GX210, we were asked if that model could be used to can be used to record subtitles from TV broadcasts, specifically analogue TV "888" subtitles. For the GX120, the same answer applies – Our TV couldn't output analogue teletext via its SCART socket (we guess this is quite common), and so the answer for us was "no" to analogue subtitles…. however…
We had much more luck with Freeview (Digital TV) subtitles though. We connected a BT iPlayer+ Freeview set-top box to the Sony RDR-GX120 via a SCART socket, and set the set-top box to generate subtitles. We found that the subtitles on the Freeview channels recorded onto DVD as expected – it seems that if your digital TV receiver is capable of outputting subtitles via its SCART socket, then this Sony DVD Recorder will record them via the Line In SCART socket.

Multi-region?
The standard RDR-GX120 DVD recorder is region-coded. The region code is printed on the rear of the unit. Please do not contact us regarding chipping / hacking of this unit's region protection.

Update: We've discovered that there is a multi-region version (the Sony RDRGX120MR) available in the UK. Try at Pricerunner or Kelkoo

PDC / VPS
PDC / VPS is supported on the RDR-GX120. Here's what the UK manual for the GX120 has to say on the subject of PDC /VPS: "PDC/VPS signals are transmitted with TV programmes in some broadcast systems. These signals ensure that timer recordings are made regardless of any broadcast delays, early starts or broadcast interruptions. To use PDC/VPS: Set [PDC/VPS] to [On] in the Timer List."
We've been asked whether this works through a Line In feed, but the manual doesn't mention this.
Manual
Need a manual / user guide for this model? This can be downloaded from SonyDigital in PDF format in a range of languages
Sky / Sky+
We've been asked how easy it is to use this DVD recorder with Sky and Sky+ … The good news is that if you want to record shows from Sky, or download recordings from your Sky+ box, this DVD recorder works well.

You need to connect a SCART lead from the Sky or Sky+ box into a spare SCART socket at the back of the DVD recorder. There's no automatic synchronised dubbing option, and you can't use the DVD recorder to switch Sky channels – but for basic recording from Sky, or transferring of shows recorded onto Sky+, this works nicely. You use the DVD recorder remote control to select the correct Line Input, press 'record' on the DVD player remote, then the output of the Sky box is recorded onto DVD. If required, you can pause the recording onto DVD, perhaps to edit out an ad-break.

Sky+ users can use the 'Copy' option from the EPG to dub off multiple programmes onto DVD

Discs
The RDR-GX120 supports recording onto the following recordable DVD formats: DVD+RW , DVD+R and DVD+R DL (Double Layer).

The following formats are not supported: DVD-R, DVD-R DL (Dual Layer) and DVD-RW

Our disc of choice for this player is the Philips DVD+RW. These re-recordable 4.7GB DVD discs take 120 minutes of standard-quality DVD recordings (or more if you select a lower recording rate)

These are available from outlets such as Currys . You can also get blank DVDs from online retailers Misco, Maplin and Amazon.co.uk

In answer to a recent question from a site visitor, yes, this DVD recorder lets you write, and later re-record on the same re-writeable DVD

JPG Support
There's no mention in the manual of support for JPG files, and the manual explicitly states that Photo CDs cannot be played in the RDR-GX120.
SECAM / PAL
Here's what the UK manual for the GX120 has to say on the subject of compatible colour systems: "This recorder is designed to record using the PAL colour system, and play back using the PAL or NTSC colour systems."
Front panel
We've been asked what controls are available on the front panel. Most of the navigation and operation is handled by the remote control, but there are a couple of controls available from the front panel. Here's a photo of the front panel controls

Sound

The RDR-GX120 has a digital audio out jack, so can be connected to a home cinema system that supports Dolby Digital (5.1 ch), DTS (5.1ch) and MPEG audio (5.1ch) surround. The Audio menu gives you control over the digital audio output types and settings.

The GX120 supports NICAM stereo sound (stereo phono outputs)

Other
A few quick answers to questions we've received:

Box dimensions are: 430 x 291 x 58 mm
The GX120 supports the VCD (video CD) format
The GX120 has 8 recording modes: HQ (High quality) offers 60 minutes of recording time on a 4.7Gb disk, then there's HSP (90 minutes), Standard (120mins), LSP (2.5 hours), ESP (3 hours), LP (4 hours), EP (6 hours) and Super Long Play (8 hours)
The GX120 can record onto double-layer DVD+R DL discs (up to 14 hrs 28 mins at Super Long Play)
The GX120 doesn't have a Freeview recorder built-in, but can record from a Freeview set-top box