Sony RDR-GX210 DVD Recorder Information
This page takes a look at the Sony RDRGX210S DVD Recorder – a high-specification, dual format DVD recorder / player…

Sony RDR-GX210S
The Sony RDR-GX210S is a powerful DVD recorder, offering strong functionality and the Sony name, at a lower-than-expected cost. It supports the following formats:
Playback: DVD, DVD+R/RW, DVD -RW , DVD-R , MP3 , VCD (video CD), CD, CD-R, CD-RW, SVCD, JPEG Image CD
Recording: Dual format 12cm 4.7GB discs, in the following formats: DVD+RW , DVD-RWVR, DVD+R , DVD-R , DVD -RW
The discussion about the best format for recordable DVDs continues, and for that reason, we believe it makes sense to play it safe, and to go for a dual format recordable machine.

Key Description & Features:
Dual format – Records on DVD-RW, DVD-R, DVD+R, DVD+RW Blank Media
DVD, CD, MP3, JPEG Photo CD, CD-R & CD-RW Playback
Video mode for recording discs that will play in most existing DVD players
Records in real-time using MPEGII compression-Up to 6 hours per DVD-RW disc
Quick recording end search function automatically finds the blank part of the disc
Variable bit-rate MPEG encoding for maximum efficiency and recording time for all types of DVD media
Motion Adaptive Field Noise Reduction, Block Noise Reduction and Video Equalizer technologies
Progressive Scan (Component Video Output jacks)
2 Channel Dolby Digital Encoding
Disc navigation thumbnail chapter view
MD Style Non-linear editing and recording (VR Mode on DVD-RW)
Store timer settings on individual discs
Videoplus+, PDC, & Manual Timer Programming
NiCAM Decoding
DV-Input ( i.LINK )
Dimensions: 430 x 293 x 75 mm
Availability:

The Sony RDR-GX210s is available from the following places:
Update: The GX210 is no longer available, and has been superseded by a new model, the Sony RDR-GX120
Found a cheaper online price? Let us know
Want to get a Sony DVD Recorder at the cheapest price? Try a price comparison check at Kelkoo or Pricerunner
Mini Review
This is a strong product from Sony – a fully-featured dual-format DVD recorder that has a good stack of features, great connectivity, and a price-tag of less than £150 (less than you'd pay for some inferior, single-format models)
Firstly, it's important to say that this machine does perform well. We've been trialling this model for the last few weeks, transferring our aging video collection onto DVD, as some of our tapes are wearing a bit thin. We've been putting this through its paces leaving it running for long dubbing sessions, and have been pretty impressed – it's not only easy to use, but initial impressions show this to be a reliable workhorse – as we'd expect from audio-visual hardware with the Sony label on the front.
One of the strengths of the machine, is its connectivity. It offers two SCART sockets, has a total of four line in points, and has front-panel access to line in, S Video and iLink for Camcorder users. Add both optical and coax Dolby Digital surround outputs, and you have an awful lot of connectivity.
On first connection, the Sony scans for TV signals and sets the clock from over-the-air signals. Our machine is primarily being used for dubbing tapes to DVD, so we tend to forget that this has all the functions of a video recorder – timed record, VideoPlus, etc.
Recording a DVD is pretty straightforward. We're using the DVD +RW format, with good results. On inserting a blank disc, the Sony performs a quick format, and when we're ready to start, the record button instantly kicks the machine into record, creating a new title. We like the 'Auto Chapter', which creates a chapter marker every 5, 10 or 15 minutes into a recording, depending on your preference. All of the title and chapter markings are editable, to help build a usable DVD menu.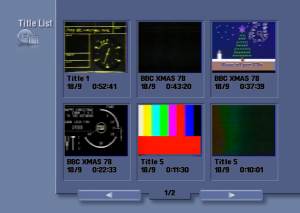 When recording, you have the option to chose from one of four quality options: from a HQ (High quality) offers 60 minutes of recording time on a 4.7Gb disk, then there's Standard (120mins), Extended (240mins) and Super Long Play (360 mins).
Picture and sound quality on the RDR-GX210s is very impressive, although we're transferring from video to DVD, which isn't really making the most of its capabilities. On the few occasions we've performed transfers from our Sky Plus box, the results have been faultless.
Criticisms? None so far… We were a little surprised at first to see a fan on the rear of the unit, but fortunately, it's not noisy. We found that the front display is possibly a little dim, and hard to read from a distance, especially when in standby, although the 'Display' button on the remote can be used to call up the display information on-screen, so it's not much bother. On the subject of the remote – this isn't one of the greatest – a little too square and bulky, with a lot of buttons – does the job though, and is quite well laid out – a sliding panel protects the recording functions from accidental pressing, which we guess you'll either love or hate.
In summary, a pretty impressive machine… low-price, high spec and with Sony in friendly letters on the case. Our verdict: Great Buy

Rear connectors
Aerial RF in/out
2 SCART sockets (CVBS). RGB output.
Digital Out ( Coaxial )
Digital Out (Optical)
Component video out (PB/CB,PR/CR, Y) phono sockets
Line 2 Out: Stereo audio (L/R phono), video phono
Line 2 Out: S Video
Line 4 In: Audio L/R, video phono
DV IN (Front panel), supporting i.Link

Shot of the rear panel
Title & Chapters

We've been asked for more information on how to create and edit Titles and Chapters. Here's some basic info:

Each time you start a recording, a Title is automatically created. There's the option to name, delete or divide a Title, as required. You can also 'protect' a title to prevent it from being edited or deleted, and erase a section of a Title (A-B Erase)

A Title can contain Chapters – there's a setting to create automatic chapters every 5, 10 or 15 minutes. You can create chapters manually during playback by pressing the 'Chapter mark' button on the remote control. You can also erase, combine, move (change the chapter order) or hide chapters. There doesn't seem to be a way of adding chapter marks 'on-the-fly' whilst making a recording… only on playback.

Additionally, there's a Playlist feature that allows you to edit or re-edit without changing the actual recordings. You can create a Playlist Title and add contents (chapters) to this. You can name the playlist and rearrange chapters within it.

Connecting

If you're having trouble connecting up your DVD recorder, see our Connection page for some general advice (including our interactive connection advisor), otherwise, try asking for help in our forum.
Subtitles
We've recently been asked if the GX210 can be used to record subtitles from TV broadcasts, specifically analogue TV "888" subtitles. It seemed that our TV couldn't output analogue teletext via its SCART socket (we guess this is quite common), and so the answer for us was "no". We had much more luck with Freeview though, as you'll see from this screenshot – Here we connected the BT iPlayer+ to the Sony RDR-GX210, and found that the subtitles on the Freeview channels recorded onto DVD as expected.
Multi-region?
The RDR-GX210 is region-coded – this means that it can only play DVDs designed to be played in certain parts of the world. Machines purchased in the UK will support Region 2 (Europe, including France, Greece, Turkey, Egypt, Arabia, Japan and South Africa).
The Sony's region code is printed on a label on the rear of the unit (a number inside a globe). We are not aware of any UK suppliers that supply a multi-region variant of this machine. Please do not contact us regarding chipping / hacking of this unit's region protection.
PDC / VPS
PDC / VPS is supported on the RDR-GX210. Here's what the UK manual for the GX210 has to say on the subject of PDC /VPS: "PDC/VPS signals are transmitted with TV programmes in some broadcast systems. These signals ensure that timer recordings are made regardless of any broadcast delays, early starts or broadcast interruptions. To use PDC/VPS: Set [PDC/VPS] to [On] in the Timer List."
We've been asked whether this works through a Line In feed, but the manual doesn't mention this.
Sky / Sky+
We've been asked how easy it is to use this DVD recorder with Sky and Sky+ … The good news is that if you want to record shows from Sky, or download recordings from your Sky+ box, this DVD recorder works well.

You need to connect a SCART lead from the Sky or Sky+ box into a spare SCART socket at the back of the DVD recorder. There's no automatic synchronised dubbing option, and you can't use the DVD recorder to switch Sky channels – but for basic recording from Sky, or transferring of shows recorded onto Sky+, this works nicely. You use the DVD recorder remote control to select the correct Line Input, press 'record' on the DVD player remote, then the output of the Sky box is recorded onto DVD. If required, you can pause the recording onto DVD, perhaps to edit out an ad-break.

Sky+ users can use the 'Copy' option from the EPG to dub off multiple programmes onto DVD

Discs
The GX120 supports recording onto the following recordable DVD formats: DVD+RW , DVD-RWVR, DVD+R , DVD-R , DVD -RW

Our disc of choice for this player is the Philips DVD+RW. These re-recordable 4.7GB DVD discs take 120 minutes of standard-quality DVD recordings (or more if you select a lower recording rate)

These are available from outlets such as Currys . You can also get blank DVDs from online retailers Misco, Maplin and Amazon.co.uk

Manual
Need a manual / user guide for this model? This can be downloaded from SonyDigital in PDF format in a range of languages
GX210 vs GX210s

We've been asked a couple of times what the difference is between the GX210 and the GX210s. We weren't sure either – We ordered the GX210s from Currys, and got a GX210. The manual says GX210, and there's no GX210s listed on the Sony Digital site, so we're not clear on the difference if any. Update – Thanks for Bryan N and Peter H for confirming that the "s" is for silver.

Recording
You can use the GX210 to record from external sources, such as a Freeview box or a video recorder. As the GX210 has a number of connectors, it's important to make sure that you set the machine to record the correct source.
First, make sure you've connected the hardware to the DVD recorder using a SCART lead (there's general help on our Connection page). Next, set your TV so that you can see the Output of the DVD recorder (as if you're watching a DVD). Then, on the DVD recorder's remote control, press the 'Input Select' button until you see the appropriate source that you want to record. You should now be on the correct channel to record from the external source, and pressing the Record button will start the recording onto a formatted blank disk.

You can also set a timed record from something like a Sky box – When entering the recording details into the DVD recorder, you select the appropriate Line In feed (assuming a SCART connection), then as long as the Sky box is left on the correct channel, the DVD recorder will record the output of the Sky box.

SECAM / PAL
Here's what the UK manual for the GX210 has to say on the subject of compatible colour systems: "This recorder is designed to record and play using the PAL colour system. The signals of the SECAM colour system can be received or recorded but played back in the PAL colour system only. Recordings of video sources based on other colour systems cannot be guaranteed."
Front panel
We've been asked what controls are available on the front panel. Most of the navigation and operation is handled by the remote control, but there are a couple of controls available from the front panel. Click here for a photo of the front panel controls
Other
A few quick answers to questions we've received:

Box dimensions are: 430 x 293 x 75 mm
The GX210 supports NICAM (stereo phono outputs)
The GX210 has a DV In jack on the front panel for recording from a camcorder (Thanks to Brad for pointing out that it appears this connector can't be used connect a computer outputting DV to it)
The GX210 supports the VCD (video CD) format
The GX210 has 4 recording modes: HQ (High quality) offers 60 minutes of recording time on a 4.7Gb disk, then there's Standard (120mins), Extended (240mins) and Super Long Play (360 mins)
The GX210 can't record onto double-layer discs
Disc speeds supported: 16x DVD-R, 8 x DVD+R SL, 4x DVD-RW, 4 x DVD+RW is supported. See Sony's site
The GX210 supports 16:9 on DVD-RW (VR mode) discs only
The GX210 doesn't have a Freeview receiver built-in, but can record onto DVD from a correctly connected Freeview set-top box
The GX210 is not a twin-tuner model – it has a single analogue (not Freeview) receiver built-in.