iPlayer and iPlayer+ Freeview Boxes Explored
This page contains information on the NetGem iPlayer and BT iPlayer set-top boxes. These boxes are no longer on sale. Information on this page is provided as a service to existing NetGem iPlayer users / owners.
Looking for information on the BBC iPlayer? See our BBC iPlayer page
What is the NetGem iPlayer?
The iPlayer is a high-spec interactive digital TV set-top box that can receive over 50 free digital TV and radio channels. It provides on-screen access to email and the Internet, and has a host of other powerful features.

As the iPlayer was our favourite receiver in 2004/2005, we added a little more detail than you'll find on our other set-top box review pages, including:
iPlayer Availability:

The iPlayer is no longer available to buy. Here's the latest availability info we have:
BT iPlayer+ sold via the BT Shop. Stocks ran out in January 2007, and this is now discontinued.
iPlayers often appear on Ebay.co.uk.
iPlayer 6640 (with hard disk recorder) was available for a time, priced £199 from Simply.com, but these are now no longer available (More)
A customised version of the NetGem iPlayer+ intended for partially-sighted and blind users was available from NetGem's iPlayer site. This version includes an Audio Description Tool (describing the on-screen action)

NEW:

A similar box from NetGem, the NetGem 7680, is in use for the Fetch TV service, which launched in 2008. Fetch TV overview
iPlayer+ Features:
Access to over 30 Freeview TV channels, 20 radio stations, plus interactive services
Surf the Internet on your TV screen via a built-in 56k modem (or optional broadband)
Full 7 day electronic programme guide (EPG) with reminders
Read and write emails via an optional infrared QWERTY keyboard
Widescreen (with automatic switching for 16:9 programming)
Caller ID display, to see who's calling, with a call log
The ability to send and receive SMS text messages over a BT landline
Plays mp3 audio files
View your photo collection on screen (with slideshow mode)
Timers for use with your video recorder
Two SCART sockets plus a digital audio output
Four built-in games
Parental lock
Card slot, ready for subscription services such as Top Up TV
USB socket for external storage, webcam, printer, broadband or wi-fi
Audio output (2 x phono, or digital optical for Dolby 5.1 sound)
Software upgradeable over the Internet, as and when new features become available
Dimensions: 310 x 160 x 50mm
The iPlayer set-top box was first launched in the UK in November 2002, by French company NetGem. Due to the iPlayer's high specifications and connectivity options, it quickly became a hit.
In 2004, BT released an improved version of the original iPlayer, offering caller display (to see who's phoning you), and a card slot ready for the subscription services offered by Top Up TV. The original BT box bundled
in a free infrared keyboard, making a very attractive package, at a much lower price than the original NetGem-branded iPlayer.
In 2005, BT started selling the iPlayer+, adding even more features such as a 7 day electronic programme guide, the facility to send and receive text messages
over a phone line, and a log of who's called you. In late May 2005, an upgrade was made available to provide iPlayer+ functionality to the original BT version.
iPlayer news:
Review of BT's iPlayer:
We reviewed the BT-branded version of the iPlayer, known as the "BT Interactive" and are very impressed with this little piece of kit. Installation was a breeze – plug into the TV SCART socket, plug in the TV aerial, plug into the mains, and switch it on. The box asks you if you want widescreen, takes a few minutes to scan for channels (showing you the logos of the channels it finds), and then gives you the option to dial the net (if you have a phone line plugged in), to check for software updates.
Using the box for watching Freeview channels is flawless – you can browse a now-and-next listing of all of the channels, and see a small picture of the channel you're watching while you do this. You can set reminders, view subtitles, see a programme description and even freeze the on-screen image. Picture and sound quality are great, and navigating around the Freeview menus and interactive services is a doddle.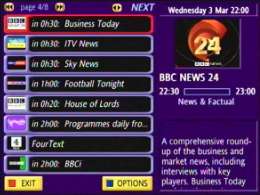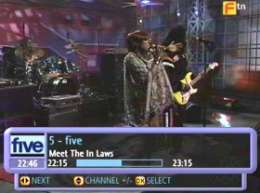 The Now-and-next screen, and the Info bar

The remote control is a little bit of an odd shape, but it's a comfortable hold nonetheless, and although the remote can be used for Internet and email, the optional keyboard can make all the difference.
The BT iPlayer+ supports a seven day electronic programme guide (EPG), which is a huge improvement over the 'Now & Next' facility found on many Freeview receivers, and it allows you to highlight programmes to view or record.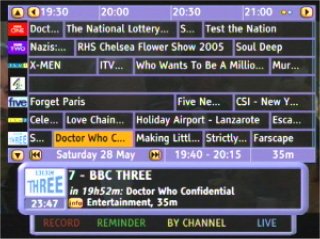 The Electronic Programme Guide
We were initially skeptical about accessing the web and email via the TV screen and the built-in modem (after some bad experiences with On Mail some years back), but setup and access was very straightforward. We opted to use an existing Tiscali dialup account, rather than taking advantage of the free account that BT offer. Before we could do this, we had to connect to the phone line and wait for a couple of minutes while the box dialled a magic number to download some new settings to the box, and check that we were running the latest version of the built-in software.
Once this was done, we could set up our ISP account and get surfing. The browser is remarkably well specified, supporting HTTP1.1, and secure browsing (using SSL2 and SSL3). The iPlayer can't cope with some web services, such as file download, flash/shockwave or Active X, all of which would require a drive on which to download files onto, but for general browsing, this shouldn't present much of a problem.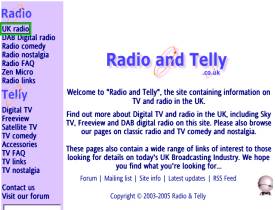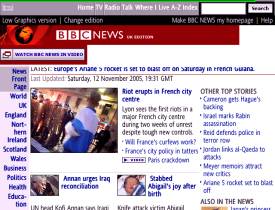 Web browsing
Access to email (POP3 and SMTP) works well (up to ten accounts are supported), and the email application supports viewing and sending of attachments (including JPG). FTP file access is also supported as standard (for use with images and audio files).
For more on connectivity, see our sister site's Connecting the NetGem page.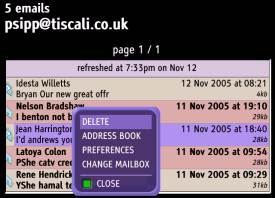 Email on the iPlayer
The USB port allows connection of hardware such as printers, hard disk/memory cards, webcams and broadband or wi-fi adapters. Pictured below is a screenshot of the NetGem iPlayer playing an MP3 file from a USB memory stick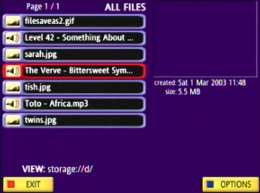 Media player – browsing a USB memory card
Caller Display is only supported on the BT version of the iPlayer. If your BT line has caller ID enabled (a subscription service from BT), you'll be able to see the number of the person calling you in the top right of the screen. You can add the name and a photo via the built-in address book, to see a picture of a caller, as per the screenshot below. For more on how CLI works, see our sister site's CLI page.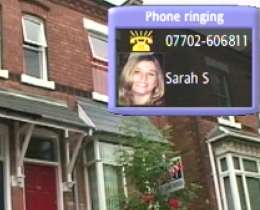 Caller Display (BT iPlayer/iPlayer+)
The iPlayer comes with a small selection of built-in games: These are Block (a Tetris clone), Solo (marble Solitaire), Tello (marble strategy) and Memo (memory game). Nothing special, but quite diverting, and a nice free extra not found on other boxes. These don't require an Internet connection, and are separate from any games services transmitted over Freeview.




Free built-in games
Rounding off the package, the box comes with built-in help, and for those having issues with Freeview reception, a useful signal strength meter.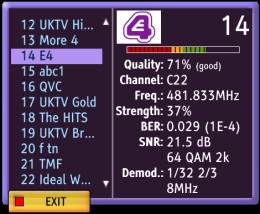 Diagnostics, including signal strength
In summary, it's very difficult to fault this box, especially at the price – this box is cheaper than many of the more basic models). The only small down-side is that the box doesn't have an RF modulator – this means that users without a SCART socket on their TV can't connect directly (although they can loop through a video recorder with a SCART). Aside from that, we wouldn't hesitate to recommend this bargain!
Output & Input connectors:
Digital optical audio out (S/PDIF) for connection to home cinema systems
RF in and out (pass-through)
2 x SCART sockets (output and pass-through)
Jack stereo line out
Telephone jack (RJ11) for Internet access
USB port (for digital accessories such as a network adapter, printer or webcam) – on the left-hand side.
Can be used with broadband / wi-fi for faster internet connectivity by connecting an ethernet adapter to the USB port and connecting (via cable or wi-fi) to your router or PC.
Smartcard socket (BT version) or DVBCI socket (NetGem version) ready for use with a subscription services card.

Rear view of the NetGem iPlayer
iPlayer Frequently asked questions
What is the latest software version number?
You can check the version number from Menu > My Adapter > Help > Diagnostics > My Adapter.Latest version numbers are as follows:

BT box: v4.6.23c (Released 23 Sept 2005)
Netgem box: v4.6.23c (Released 23 Sept 2005)

How
do I update the box software?
If you connect to the 'net regularly, your box will check in the background to see if a new version is available and a menu option will appear to let you apply the update. To connect and get the latest version without waiting for auto-detection, it's a case of going to Services > Internet, and in the "Enter your destination" field, typing "

http://www.netgem.com/upgrade

", and then pressing 'OK'. The box will connect and start downloading the update.We've got more on how to upgrade your iPlayer later on this page: How to upgrade the iPlayer

Note that software updates are only made available over the Internet, and not over-the-air as with some other boxes – this means that users don't have to wait for scheduled updates to get to the latest version.

How
do I add more channels?

You can set the NetGem to scan for new channels automatically when the box is in standby, or do a manual scan for new channels. To do either of these actions, go to Menu > My Adapter > Preferences > Television > Tuning in

How
do I access the Net?
We've created a page of information on this on our sister site – See the NetGem connectivity page
What do I need?
The basics you'll need to use the iPlayer, are as follows:

A feed from your TV aerial (you must be in a Freeview area, with a suitable aerial – reception help)
The ability to connect the iPlayer to a SCART socket on your TV.

If you want to use Internet or email, you'll need to connect to a phone line via box phone socket, or use the box USB port to connect a network adapter. You don't need a phone line to use the iPlayer for TV and radio.

There's no subscription to access the 50 Freeview TV and radio channels, but the Top UP TV channels such as UK Gold, require a subscription

The different models
NetGem / iPlayer / iPlayer+… what are the differences?

The original NetGem iPlayer, released in 2002. Now replaced by the iPlayer+
BT Interactive Adapter (a BT-branded version of the NetGem iPlayer with caller display support). Now replaced by the BT iPlayer+
NetGem iPlayer+ (Model 5600) – Improved version of the iPlayer released in 2004. This adds support for subscription services and an electronic programme guide
BT iPlayer+ is a BT branded version of the NetGem iPlayer+. This offers the same functionality (Internet, Email, USB, subscription services, CLI and EPG) and cheaper. As of December 2006, no longer available from the BT
Shop
Evesham iPlayer HDTV PVR – 80gig hard disk with HDTV upscaler. Ceased to be available in July 2007

How do I install the iPlayer?
The iPlayer has two SCART sockets and supports looping an aerial connection on to other equipment. This means that, if wired to your video and TV correctly, it should be possible to record a digital channel whilst watching normal TV (or vice versa).
For help getting your iPlayer connected, please see our connection advisor for the recommended setup.
What
Internet sites can I access?
The browser is remarkably well specified, supporting the following:

HTTP1.1
Secure browsing/shopping (using SSL2 and SSL3)
HTML 4.1
JavaScript v1.5 (with exception of area and link objects)
ECMAScript 262 Third edition
CSS1 and CSS2
DOM Level 1, DOM Level
2 events

The iPlayer can't cope with some web services, such as file download, flash/shockwave or Active X, all of which would require a drive on which to download files onto.

Browsing
To browse the Internet on an iPlayer, you scroll around webpages using the remote control's 5-way navigation key, and press the handset OK button to select a highlighted link – for those used to a full keyboard and mouse, this navigation method obviously isn't ideal, but it's quite usable, and most sites are easy to navigate. If you want more control of your browsing, consider getting the optional infrared keyboard, which allows faster typing of web addresses, and has a Page Up / Page Down key. The keyboard is available directly from www.iplayer.co.uk.
Sadly, there's no mouse for the iPlayer.You can create a bookmark list, and you can also assign your favourite sites to a channel number (channel 900 to 949) for fast access to common sites
Top
Up TV?
TopUp TV offers a small number of extra channels on a monthly subscription basis. Here's how to use it on an iPlayer:BT versions: A software upgrade was released in May 2005 to allow access to TopUp TV for users with the BT version – a CAM slot won't be required.

Non-BT versions: The original version of the NetGem (Not the BT version), can be used with subscription services but you'll need to buy a CAM (Conditional Access Module).
This plugs into the CAM slot and lets you plug a TopUp TV subscription card into the CAM adapter slot. For more details, see our CAM page.

SMS
on iPlayer
The BT iPlayer+ (from software version 4.6.22) and iPlayer support sending and receiving of SMS text messages from your TV screen using the built-in modem. You need to have Caller
Display (a BT service) enabled on your phone line.We discovered a problem with incoming text messages on our iPlayer+: The symptom was that instead of getting new text messages, we were seeing a call from the number "08005-875290" – but no text messages. After checking with other users, it seemed to be a problem with the number formatting – the number stored in the iPlayer didn't have a dash in the number, and so the box wasn't detecting the incoming number correctly. This may not affect all users, but if you have the same problem, try this easy fix – go to menu > my player > Preferences > Internet > Text settings, and change "08005875290" to "08005-875290", then select save…

Remote controls
If you're looking for a replacement remote control for your iPlayer, there are a couple of options: you can purchase a replacement from NetGem's online store , or try one of the firms stocking replacement remotes. Another option is to consider tidying up your remote control collection by getting a universal controller that can control your TV, video, DVD and hi-fi as well as your iPlayer.If you have a universal remote control, see below for the code for the iPlayer:

One-for-all Kameleon 6: Code 1322
Nevo for Pocket PC: 1322 (You may need to download the update from www.mynevo.com)

Parental
lock / PIN
It's possible to set a Parental control on your iPlayer, to prevent other members of the family from fiddling with your settings, or accessing channels you'd rather they didn't. To set this, do the following:Go to 'My adapter > Preferences > Parental lock', enter the four-digit PIN number, and press OK.

The default PIN code is 0000. If you've forgotten your PIN – there is a backup code, which is listed in the iPlayer manual as 35832417 . Using this will prompt you to enter a new PIN code.

iPlayer
Manual
Your iPlayer should have been supplied with a user guide. If you've misplaced this, an online version used to be available on NetGem's site as a PDF file, but last time we looked, we couldn't find it.
We didn't also a copy at the following Yahoo Group: tv.groups.yahoo.com/group/Netgem/files/Note that the PDF version of the user manual can only be read with a PDF reader (such as the free Adobe Acrobat Reader). The iPlayer's browser can't read PDF files, but if you want to access the iPlayer manual from your iPlayer, a few readable image files of the manual can be accessed on your iPlayer via this link.
Expanding the iPlayer
The iPlayer supports a fair amount of expansion, in the form of hardware that can be connected through the USB port, but there are some limits to what the box can do – for instance:

The box doesn't have a built-in hard-disk, so can't be used to capture video – consider a PVR
The USB port can't be used to stream video to a PC – consider a PC TV card
The iPlayer isn't a Windows PC – It runs a custom-developed embedded Linux operating system, so you can't connect a USB disk drive and transfer PC apps onto it – you're limited to the built-in apps, and to any extra functionality that the manufacturers decide to add via over-the-air updates
The web browser isn't fully featured – if you're expecting to be able to get the full multimedia web experience on the iPlayer, you may be disappointed. The browser is good, but it's basic – not expect to be able to download Java, Flash, Shockwave and the Google toolbar – see above

PC Share
If you have a connection from your NetGem to a PC (via ethernet or wi-fi), you can now use your NetGem to play MP3 files and view pictures – You'll need to download the special software, which was available from the netgemplatform.co.uk site, until August 2006. Fortunately, a copy is available on the Yahoo NetGem Group site (you'll need to register)
USB Port
The iPlayer's USB port allows connection of hardware such as a wi-fi or ethernet adapter (for broadband), printers, USB drives (for accessing files), memory card readers and webcams. A series of built-in drivers support a wide number of USB devices, but as it is not possible to install new drivers, not all USB devices are supported.
Note that it is not possible to use the USB port to stream video onto a disk drive or network – the port is to connect add-ons to the iPlayer. See below for recording onto a VCR from the SCART, or our On your PC page for some ideas about recording Freeview onto a PC
Recording
with an iPlayer
Assuming you've wired up your system correctly, you can record the output of your iPlayer onto your video recorder via a SCART lead. If you're looking to record your programmes unattended, it's a case of setting the video timer to record your AV / Line in feed at the right time, and leaving your iPlayer on the right channel.
For a more elegant solution, consider the PhantomPLUS, that plugs into your iPlayer, works with the 7-day programme guide, and sends signals that your VCR can pick up. More on our Phantom page.
Audio outputs
The iPlayer has two types of audio output connectors:

Two RCA phono output sockets (Left and Right), for connection to a hi-fi's AUX input
A digital optical audio output (S/PDIF), that can be connected to a home cinema system. This connector supports Dolby 5.1 digital sound (where suitable programme content is provided by a Freeview broadcaster).

What about Wi-Fi?
It's possible to use the iPlayer to connect to the Internet via a Wi-Fi connection (also known as wireless networking / 802.11b). For information on this, see the NetGem connectivity page
Technical Specs
The technical specs of the NetGem box:Video: MPEG2 MP@ML
Audio: MPEG1 Layer1-2
Teletext: Digital MHEG5
Demodulation: DVB-T ETSI COFDM 2K/8K
Audio formats: MP3, AU, WAV, AIFF
Image formats: GIF, JPEG, PNG, TIFF
Video formats: MPEG1, MPEG2
Modem: PSTN v90 56kbps
USB: 1.1
Dimensions: 315 x 154 x 44mm
Weight: 0.7kg
Power consumption: Maximum 18W, standby 5W, nominal 8W
Upgrading the BT interactive adapter to the iPlayer+ software
This section explains how to upgrade the BT Interactive Freeview receiver, so that it can get access to new features such as the seven day programme guide and subscription services.


Here's the process for upgrading
1. Connect to the Internet (If you need details on how to do this, see iPlayer Connection Help). From the web browser, go to www.netgem.com/tutv

2. You see a Welcome screen. Press the Blue button to continue…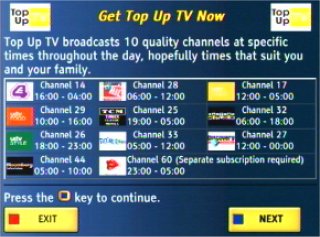 3. Next, you're prompted for your name and phone number. We entered ours – doesn't seem to have done anything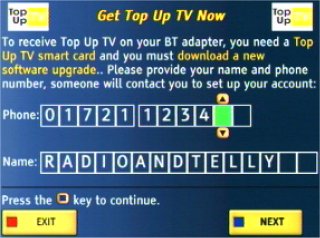 4. After this, the download starts – took about 5 minutes over our broadband connection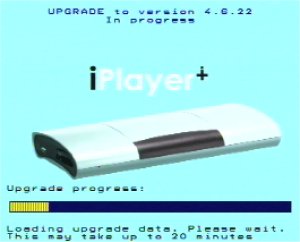 5. Then, the box rebooted. Update complete!
The new software adds the long-awaited seven day electronic programme guide – here's a screenshot…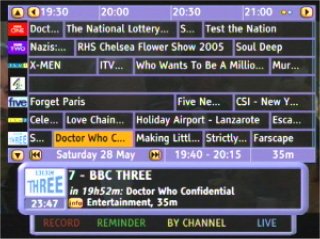 Using TopUp TV.
Straight after the upgrade, we inserted our existing card (chip facing up). Message says "please wait", but nothing happened. We checked the following: Menu > My player > Help > Diagnostics > My player > Smart card, and the player successfully picked up the card.
We waited – nothing happened. It transpires that if you've been using your card with a different make of box, you have to call TopUp TV and get them to update their records and send a special over-the-air signal. Call 08444 159159 – They'll tell you to switch over to Channel 5, and wait for 30 minutes.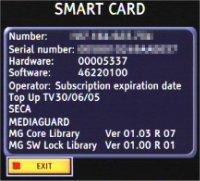 Links: