WKRP in Cincinnati Remembered
We looks at the classic US sitcom, WKRP, shown on UK TV screens in the 1980s, plus details of how to watch the show in Britain

What was WKRP?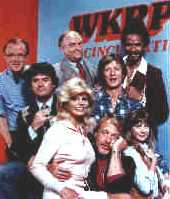 WKRP was a US comedy loved by many – especially by those working in the radio industry. The series charted the lives of the staff behind AM rock station WKRP.
The series appeared in September 1978, running to four series and 90 episodes.
WKRP History
The team consisted of morning man Doctor Johnny Fever, Programme controller Andy Travis, station owner Arthur Carlson, receptionist Jennifer Marlowe, journalist Les Nessman (always pictured with a plaster!), late night 'Venus Flytrap', Herb Tarlek the salesman, and the sexy backroom babe, Bailey Quarters.
The story charts the arrival of a new Programme Director who's looking to revamp the station's format from elevator music to good ol' Rock and Roll. The station suffers a number of highs and lows along the way.
An attempt at reviving the series came in 1991, with the start of the "New WKRP in Cincinnati", with a small selection of the original cast, but this wasn't a patch on the old series.
Serious fans may want to check out WKRP:, a book looking behind the scenes of the making of WKRP.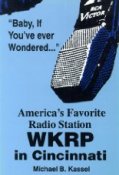 Making of WKRP Book
WKRP Availability in the UK
Will the series ever be released on DVD? Apparently the key reason for the fact that this show doesn't get repeated or released on DVD in the UK, is one of copyright. The show played a lot of rock-n-roll music, and getting permission to use it, costs money. Royalties is cited as one of the key reasons why the series is so hard to get.
Series 1-3 is available in the US, but not the UK. It's available from Amazon.com
.
LATEST:

WKRP Series 1 now available to download in the UK! –
WKRP on iTunes.

WKRP Links
For more on WKRP, try these links:
Handy UK TV Links: