What channels do I get on BT Vision?
This is one of our most frequently asked questions from those considering getting BT Vision. Here, we explain how BT Vision works.
Radio & Telly Recommended Offer: Save £299 with a Youview box from BT

BT Vision – What you need to know:

First, the five things you need to know about BT Vision:
To get BT Vision, you need to get your broadband from BT
With BT Vision, you get a special box called the Vision+ box
Your Vision+ box is connected to the Internet, for on-demand content
Your Vision+ box also needs to be connected to a TV aerial
You can choose to get BT Vision on subscription, or go subscription-free
What channels are available?
With BT Vision, you get over 50 channels of live TV, plus a number of radio stations. The live TV channels are actually provided using Freeview (via your TV aerial). Channels include:
The BBC channels (BBC 1,2,3,4, CBBC, Cbeebies, BBC News Channel)
The ITV channels (ITV 1,2,3,4)
Channel 4's channels (Channel 4, E4, More 4, Film 4, 4Music)
Channel 5's channels (Channel 5, 5*, 5 USA)
Dave, Quest, Pick TV, Sky News, Yesterday, CNN
Various gaming and shopping channels.

Some of the top TV Vision channels
For the full list of Freeview channels available on BT Vision, see our Freeview channel list
BT Vision's extra content…
So, if the live channels are all on Freeview… what's special about BT Vision? That's easy – the extra content.
The BT Vision V+ box is connected to the Internet, and a huge library of TV shows, movies, sporting content, kids TV shows, documentaries and music videos, all available on-demand.
Catch-up TV: Missed a show in the last 7 days? BT Vision has content from BBC, ITV, Channel 4 and Channel 5
TV Shows: A large back-catalogue of shows to keep serious telly addicts hooked – Content from the BBC, ITV, 4 on Demand, ABC, E!, HBO, National Geographic, The History Channel, Warner TV, MTV, Sony Entertainment, Discovery on Demand, TV Box, CBS, TX, Chanimal, Battlefield Channel, Comedy Central, Discovery and Adult Swim.
Movies: Over 600 of on-demand films, from £1.99 – Action, comedy, drama, family, horror, musicals, sci-fi, thriller, war and world cinema.
Sports: As well as live sporting action from Sky Sports and ESPN (including Premier League football action), there's an archive of classic sporting moments and documentaries. FREE ESPN subscription with any value pack.
Kids: Hundreds of kids shows from the BBC and Channel 5, including Bob the Builder, Power Rangers, Noddy, Thomas, Rupert, Spongebob and a bucketload more.
Music: Videos, concerts and documentaries on demand
Adult: Pin-protected adult movies are also available on BT Vision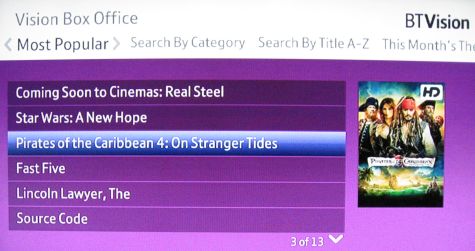 Screenshot of BT Vision's on demand screen



The BT Vision+ Box, with remote control
Want more info on BT Vision?
Other BT Vision links: