BT Vision Content and Channels
Details of the channels and on-demand TV shows, movies, sport, music and kids content available with BT Vision.
Radio & Telly Recommended Offer: Save £299 with a Youview box from BT

What is BT Vision?
BT Vision is a digital TV service. You get a special BT Vision+ box which will let you watch and record live digital TV channels, as well as watch a huge selection of extra TV shows, movies and sporting events on your telly over the Internet.
More details at btvision.bt.com


The BT Vision v-box
Getting BT Vision
BT Vision is available across the UK. If you want get BT Vision, you need to sign up or switch to BT Total Broadband if you haven't already. (How to switch provider)
Cost: There are two choices: Subscription-free (pay for any on demand content you watch), or a package that lets you view over 5000 TV shows on-demand, as well as Catch-up TV shows from £12.50 a month. You can sign up at btvision.bt.com.
Installation: You can install the service yourself – no engineer needs to visit, and no satellite dish.
Requirements: BT Vision requires a BT Total Broadband connection and a BT Home Hub (available free with BT Total Broadband). For the video-on-demand content, you need a line speed of 2Mb or over. To check your line speed, go to www.bt.com/btbroadband
BT Vision Channels:

What channels do you get on BT Vision? The live channels you get on BT Vision are the ones that you find on Freeview (via a TV aerial) – see our Freeview channel list. Additionally, you can get ESPN and Sky Sports 1 and 2.
The rest of the content is available "on demand" – this extra content isn't available as a TV channel, but as a library of programmes to download and watch on demand.
The rest of this page outlines what's available on demand.
BT Vision On Demand Content:
BT Vision offers a huge collection on TV shows and films on-demand. You can get to this content either by taking out a TV viewing pack, or paying per-show / per-film.
The top question we're asked, is "what on demand content is available on BT Vision". On this page, we take a look at what content is on offer with BT Vision:
On Demand TV Programmes
Live TV is supplied using Freeview – see our Freeview channel list.
Extra 'on-demand' content is available for download. This isn't like a traditional TV channel… there's a huge store of TV shows from a range of TV content providers that you watch via BT Vision over the 'net.
TV content is available from a number of content providers, including: the BBC, ITV Net Player, 4 on Demand, Demand Five, History, Warner TV, CBS, National Geographic, ABC, Sony Entertainment, Chanimal, E!, Living, HBO, MTV, TX, Comedy Central (formerly Paramount Comedy), Discovery on Demand, Battlefield Channel, and Adult Swim.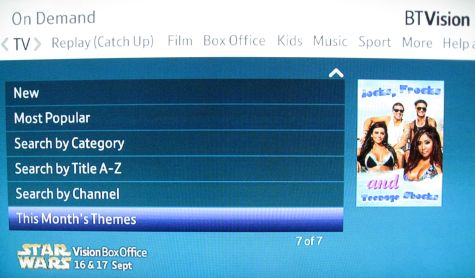 You can access TV content by category, channel, 'TV Replay' and 'Premium TV' categories. Prices on average £0.99 per episode, or for £6 a month for the TV Package. Here's a summary of the TV shows and series on offer:
Comedy: Series include Black Books, Spaced, Red Dwarf, Big Bang Theory, Two and a half Men, IT Crowd, Free Agents, Green Wing, Father Ted, Gavin and Stacey, Absolute Power, Little Britain, Lead Balloon, Trigger Happy TV, Peep Show , South Park as well as classics like Porridge and Open All Hours. There's also animated comedy and stand-up
Drama: Nip Tuck, CSI, Lost, Greys Anatomy, West Wing, 24, Shameless, Queer as Folk, Doc Martin, Doctor Who Series 1, Bleak House, Oliver Twist, ER, Spooks, Waking the Dead, Ugly Betty, Elizabeth
Documentaries: Battlefield Britain, History of Britain Series 1, Blue Planet, Planet Earth, Monarchy, Conspiracy
Sci-Fi: Including: Living with the Dead, Andromeda, Babylon 5, Alias, X-Files, Doctor Who, Survivors, Torchwood
Late Night: Real Sex, Girls of the Playboy Mansion, Cathouse
TV Replay 4 on Demand: Programmes from Channel 4's on demand service 4oD, including Countdown, Hollyoaks, Dispatches, Deal or No Deal, Relocation, Relocation, Relocation, Skins, The Daily Show, The Hustlers, The Market.
Premium TV: Desperate Housewives Series 3, ER Series 3, The O.C Series 4, Ugly Betty Series 1
HD Series: Michael Palin's New Europe, Lost Cities of the Ancients, Secret Life of Elephants, Ant Attack
Catch-up TV
Missed a programme in the last few days? Play it again Sam with the TV Replay catch-up TV service. With BT Vision you can access recent programmes on-demand from the following services:

BBC iPlayer
ITV Net Player
4 on Demand
Demand 5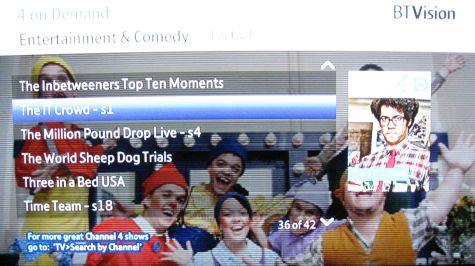 On Demand Movies
Films priced from £1.99 for a 24 hour rental. Last time we reviewed BT Vision, we went through, category-by-category. Here's what we found:
Action & Adventure: 147 films – Including: Watchmen, The Abyss, Batman Forever, Day the Earth Stood Still, Jaws, The Matrix, Hunt for Red October, Hulk, Bourne Identity, Harry Potter, Pirates of the Caribbean
Bollywood – With Vision's "Bolly and Beyond"
Classics: 11 films including Rocky, Seven Year Itch, Tootsie and Rear Window
Comedy: 176 films – Including: 50 First Dates, Four Weddings, Lesbian Vampire Killers, Marley and Me, Office Space, East is East, Lost in Translation, Love Actually, Planes, Trains and Automobiles, The Break Up, Withnail & I
Documentaries: 10 films – Including: Double Dare, Fog of Ware, Going to Pieces, Gumball 3000
Drama: 227 films – Including: Curious Case of Benjamin Button, Gran Torino, Slumdog Millionaire, 1984, A Clockwork Orange, Calendar Girls, Cruel Intentions, Dirty Dancing, Forrest Gump, United 93
Family: 79 films – Including: Doctor Dolittle, Harry Potter, Addams Family Values, Babe, Cats and Dogs, E.T, The Grinch
Horror: 28 films – Including: Candyman, Carrie, Friday the 13th (2009), The Others, Scream 3, The Unborn
Musicals: 8 films – Including: Annie, Blues Brothers, Chicago, Grease, Moulin Rouge and The producers (2005)
Romance: 47 films – Including: Australia, My Best Friend's Wedding, Pretty in Pink, Sliding Doors, Vicky Cristina Barcelona
Sci-Fi & Fantasy: 37 films – Including: Armageddon, Alien Raiders, Outlander, Star Trek Nemesis, Starship Troopers, Face Off, I Robot
Thriller: 83 films – Including: The Broken, Die Hard, Enemy of the State, Flawless, Unbreakable, Flawless, Hannibal
War: 5 films – Including: Black Hawk Down, Platoon, Pearl Harbour, Schindler's List
Westerns: 4 films – Including: Blazing Saddles, Butch Cassidy and the Sundance Kid, Wyatt Earp
World Cinema: 32 films – Including: Amelie, District 13, Kama Sutra, L'Ennui, Water Lillies


High Definition: From September 2008, a number of HD films became available for download over Broadband with BT Vision, and now, a number of HD TV shows are also available.
We checked in March 2010, and found 18 HD films, including District 9, The Hurt Locker, The Taking of Pelham 123, Chronicles of Riddick, Monster vs Aliens, Star Trek and Terminator Salvation

New HD film releases cost £4.99 per download, with older titles for £2.99.
More details at btvision.bt.com
Kids content on BT Vision
Content from BBC Hits, Disney, Disney Playhouse, Cartoon Network, Jetix, Baby TV, Nat Geo Junior, Five Milkshake! and Nickelodeon. Prices for most items are 49p. Here's a summary of what we found:
Pre-school – Shows and series include: Balamory, Barney & Friends, Bob The Builder, Mr Men, Paddington Bear , Wombles, Thomas and Friends and Postman Pat
Action & Adventure – Shows and series include: Avatar, Ben 10, Dark Oracle, Fantastic Four, Monster Buster Club, Power Rangers, Storm Hawks, Transformers Cybertron
Animals and Nature – Shows and series include: Animal Patrol, Brilliant Beats, Bug Attack, Last of the dragons
Funnies – Shows and series include: Basil Brush, Cow and Chicken, Johnny Bravo, Rugrats, Spongebob SquarePants, Ren & Stimpy
Movies: Including Bee Movie, E.T, Flubber and Muppet Treasure Island
High School – Shows and series include: 6teen, Drake & Josh, Clarissa explains it all, Unfabulous
See what's on offer for kids: Kids TV on BT Vision
Sport on BT Vision
BT Vision Sport offers sporting content to BT Vision customers, including content from Sky Sports and ESPN.
With BT Vision, you can get ESPN for free (on the Vision Unlimited pack).
BT Vision started offering Sky Sports 1 and Sky Sports 2 cheaper than Sky in 2010.
Other sport available on BT Vision includes Clydesdale Bank Scottish Premier League action, as well as Live Italian Serie A, Live German Bundesliga, Dutch Eredivisie, Russian and Portuguese football, Orange French Rugby, UFC, Major League Baseball, NHL Hockey, Deutsche Tourenwagen Masters touring cars, FIBA European Basketball Championships and NCAA Basketball.
You can access ESPN Replay, for Premier League, UFC, Boxing and more. There's also a huge archive of classic sporting action available on demand, including classic football matches, boxing, cricket and rugby.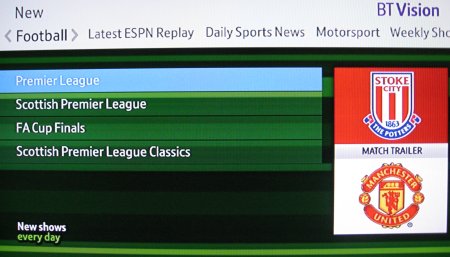 ESPN is free to BT Vision Unlimited subscribers! – Free ESPN Offer
Full details of how to get Sky Sports 1, Sky Sports 2, ESPN Sport and BT Vision Sport can be found here: BT Vision Sport
Music content on BT Vision
The BT Vision Music service includes music videos, concerts and Music Extras. Categories include "Back to Back Videos","Legends Live", "Classic Albums" and Music from the BBC".
Music videos: Hundreds, mostly priced 29p.
Concerts: around 30 concerts priced around £1.45, including ELO, Heart, Joe Jackson, Madness, Oasis, Prince, Simply Red and The Who
The Karaoke Channel
Bollywood
BT Vision launched "Bolly and Beyond" in September 2009, offering Bollywood Movies, TV, Music, Kids and Regional content (Gujarat, Punjabi, Bengali), for lovers of music and entertainment from the Asian Subcontinent.
Adult Content on BT Vision
There is a section for Adult video-on-demand content – Vision ADULT Exposed. You need to get an Adult PIN by calling 0800 0270 148 (10am to 2am). You can also get a PIN online
Brands include: Playboy, Spice Extreme, Adult Channel, Trade, Red Hot and Television X
BT Vision: Games
15 games including Pub Quiz, Hangman, Solitaire, Patience, Sudoku. Typically £0.50 for a 30 minute rental

BT Vision Questions
Please see our BT Vision FAQ for answers to frequently-asked questions.
More details…