BT Vision – The Basics
What BT Vision offers, how to sign up, and how to make the most of the service
What is BT Vision?
Radio & Telly Recommended Offer: Save £299 with a Youview box from BT

BT Vision is a digital TV service – here's what it offers:
You're supplied with a BT Vision set-top box, called the BT Vision+ Box
The BT Vision box is capable of receiving over 40 Freeview digital TV channels (via your TV aerial)
As well as the live TV channels, you have access to extra TV programmes, films, sport (from Sky Sport and ESPN), plus 'catch-up TV'. This on-demand content includes films, music, sports and kids programming, and is delivered over the Internet to your Vision+ box.
The BT Vision box is a digital recorder that contains a hard-disk capable of storing up to 80 hours of TV programming. The box supports Live Pause and TV rewind.
The BT Vision box has a 14 day electronic programme guide (with series link), plus access to the extra on-demand content via an on-screen guide.


The BT Vision+ Box, with remote control
What you need to get BT Vision:
To get BT Vision, here's what you need:
You need to get your broadband from BT Total Broadband. You must be able to get a download speed of at least 2mbps. Check line speed here (How to Switch your Broadband)
You will need a BT Vision set-top box – these are supplied to BT Vision subscribers. You connect it yourself – no engineer visit needed.
A BT Home Hub (pictured) – This is a wireless Broadband router, supplied free to BT Broadband customers
A TV aerial capable of receiving Freeview
More details at btvision.bt.com
How much does it cost?
There are two packages – The Essentials Pack, for £4 a month, or the Unlimited package for £12.50 a month. Details of the Vision packs.
Here's how BT Vision works:
The BT Vision set-top box plugs into your TV
You plug a TV aerial into your BT Vision set-top box. The box is able to tune in to Freeview TV and radio channels, and uses these to let you watch and record live digital TV
The BT Vision+ box has a hard-disk built-in that lets you record live TV to be watched later. You can also pause and rewind live TV
The BT Vision set-top box is connected to the Internet via the BT Home Hub. Once connected to the Internet, you can use the remote control to access "on demand" films, TV shows, kid's telly, music videos and sporting events. You can pay per-view, or subscribe to viewing "packages.
The BT Vision "on demand" service uses the Internet to get programmes that aren't being broadcast live – think of it as a rental service, where you get TV shows and movies over the Internet delivered to your telly when you want them.
The BT Vision Set-top Box
Philips are manufacturing the BT Vision set-top box. The box can receive Freeview, holds up to 80 hours of TV, is HD-ready, and has a 14 day on-screen EPG (electronic programme guide).
There's more on our BT Vision V Box page
More details please!
We have a review of BT Vision, if you're interested in learning more about the service. We've also put together an audio review, that you can listen to online or on your MP3 player – You can find this on Show 12 of our Podcast.
We also have a newsletter for existing BT Vision users to be kept up-to-date.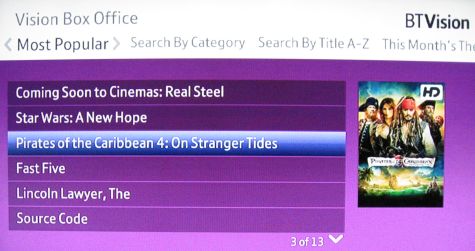 BT Vision's Movies-on-Demand screen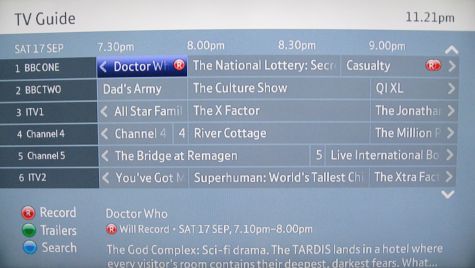 The BT Vision Electronic Programme Guide
Your BT Vision questions:
Please see our BT Vision FAQ for answers to frequently-asked questions. If you have a question, please ask in our BT Vision forum.
Ordering a BT Vision Box

To use BT Vision, you need to be signed up BT Broadband – Prices start at

£7.99 a month

(for the first three months). Packages also include the BT Home Hub – this is a wireless router that's needed for Broadband and to get the BT Vision service.

Not got BT Broadband? Go to www.bt.com/btbroadband.

Already with BT Broadband? Go to get.btvision.bt.com

Hints and Tips

The Shortcut key at the bottom of the remote opens up the 14 day EPG
If you want to check the quality of the Video On Demand service before you order content, some of the On Demand movies have a free-to-view preview – At the time of writing, "Mummy Returns" had such a trailer

Contacting BT Vision
Here are the contact details we have for BT Vision:

Customer Services: 0800 800 900 (free)
Technical Helpdesk: 0800 111 4567 (free)
More help: