Get Freeview – The Basics

Freeview is a Digital TV service that allows you to watch over 40 extra channels via your TV aerial. You don't need a satellite dish, and there's no subscription charge – all you need is a Freeview set-top box, or a telly that has a built-in Freeview receiver.
This page is aimed at people looking to switch over to Freeview, and provides a basic guide on how to get and start watching Freeview.
As long as you're in a good reception area, you should be able to view over 40 TV channels and around 20 radio channels.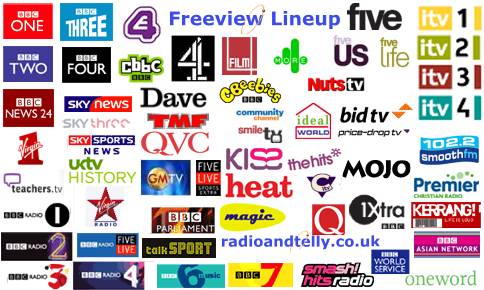 For information on what channels are available on Freeview, see our Freeview Channels List
How to get Freeview:
Freeview is transmitted over the air in a similar way to the standard five TV channels, but uses newer technology to offer more channels. You receive the signals via a TV aerial that's pointing at a TV transmitter.
To get Freeview, you have to be in a coverage area. As of 2009, over 75% of the UK can get Freeview. To check if you can, enter your postcode at www.digitaluk.co.uk/postcodechecker.
Step 2 – Get a Set-top box
If you are in a coverage area, you'll need to get a Freeview box (or a TV with Freeview built in). Boxes are the cheaper option. These connect to your existing TV set or video recorder, and you'll need to plug your normal TV aerial.

Boxes can be purchased for a one-off fee, starting from around £20 for a basic box. They can be bought from high-street stores such as Currys, but shopping online for a set-top box is often the best route, as there are some good bargains to be had.
Here are a few things to consider when buying a Freeview box:
Price:
Prices start from around £20 – no subscription, installation or ongoing costs (apart from the standard UK TV licence).
Connectivity:
Almost all boxes have a single SCART socket as standard, for connection either
to a TV or video. You may want to consider improving your connection
options by getting a box with two SCART sockets that allows connection
to both a TV and video recorder.




A SCART plug

Features:
All boxes allow you to access the standard Freeview TV and radio channels.
Most boxes also support interactive
services (digital teletext, 'the red button') and subtitles. More
advanced boxes have extra features such as electronic programme guides
(EPG), support for Freeview HD, and programme
timers. Top-of-the-range boxes come with built-in hard-disk
recorders.
Consider what features you're looking for, and browse what's on offer
on our set-top box page

Radio and Telly's Freeview Quick Picks

GOODMANS GDB18FVZS2: Basic box with 2 SCART sockets. Amazon / Currys

£25

BT YouView: Freeview HD recorder plus on-demand content.
More info: get.youview.bt.com
Humax PVR-9300: Includes a hard-disk recorder that holds 160 hours of TV. Currys

£164
If you're looking to buy a Freeview receiver, see our set-top box page for the full range of UK boxes.
Step 3 – Connecting a Freeview Set-top box
Once you have got your new Freeview set-top box, you'll need to connect the
aerial. Unplug the aerial
lead (the one that runs up to your roof/loft TV aerial) from the back
of your TV or VHS recorder, and plug this lead
into the 'aerial in' socket on the Freeview box.
You now need to connect from your Freeview box to the TV. If your TV has
a SCART socket, connect from the Freeview
box to the TV via a SCART lead. If your TV doesn't have a SCART lead,
you can connect from your box to your TV using a standard aerial lead
(Note you must have a Freeview box with a 'modulator' for this configuration.
Details).
The
next step is to tune your TV into the Freeview box channel. Switch on
your TV and Freeview box. If connecting with a SCART,
then you should switch your TV to the "AV", "Aux"
or "Line in" feed. If using an aerial lead, you'll need to
tune your TV into the output of the Freeview box, in the same way you'd
tune in a standard TV station. Refer to your TV manual for details on
how to do this.
With
the box connected, you'll need to scan for Freeview channels. Go to
the Freeview box's onscreen menu, and perform a "Store channels".
The box will scan for Freeview channels (may take a couple of minutes),
and then show you what it's found.
That's
it – Happy viewing!
---
Connecting via a video recorder
If you want to connect via your
VHS video recorder, follow the same basic procedure, but go from the aerial
to the set-top-box, then from the set-top-box to the video input, then
from the video to the TV set. For more help getting connected, see our
dedicated Connection page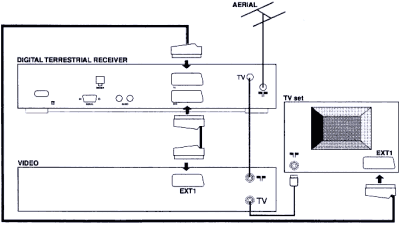 Freeview problems?
Answers to Freeview reception
difficulty and connection problems can be found on our Freeview Help page
If your question isn't answered, please leave a message in our

Freeview forum