Connecting to a TV that doesn't have a SCART socket
Got a TV set that doesn't have a SCART socket and looking to connect a set-top box? We can help…
I have an old TV – how can I get digital TV?
If you have an old TV, you can still use this to get digital TV. You'll need to buy a digital TV set-top box and connect it to your TV. Normally you'd use a SCART lead to do this, but some old TV sets don't have a SCART socket. All is not lost…
Types of connector
If you're looking to connect a piece of equipment to your TV set, chances are that connection will be made using one of the following four types of connector. There are other types, but these are the most common.
| | | | |
| --- | --- | --- | --- |
| Co-ax aerial connector | SCART connector | HDMI connector | Component video connectors |
I only have a TV aerial socket, what do I do?
You can connect most types of set-top box, DVD player, video recorder, etc, but the output of the box must be "modulated".
Need a Freeview box that can connect to a TV without a SCART socket?
Consider the Icecrypt T5000 – this connects to a TV using an aerial cable (SCART also supported). Available for around £25 from Amazon or Play.com
What does "modulated" mean?
The way that a good old analogue telly works, is that you connect an aerial, then tune in each of the presets to a channel – i.e. "BBC1 on channel 1", "ITV on channel 3, etc.
What you're actually doing is tuning in each preset to a channel that's broadcasting between 21 and 65 on the UHF band. Each of the main 5 TV channels will be on a channel from 21 to 65.
If you have a piece of equipment that you can to connect to a TV via an aerial socket – what you want it to do is "modulate" – which means to make its signal appear as a channel from 21 to 65. Once a box "modulates" its output, then you tune your TV into the channel number of the box.
Practical example: Connecting a video recorder. Most video recorders have a "modulator". Often, they used to "modulate" on channel 37, but there was normally a way of changing this. When you connected a video recorder to your TV, you would then tune a preset (like button 8) to the video recorder's channel, channel 37.
OK – I understand modulated – what next?
You need to connect whatever equipment you want to your TV set, making sure it's modulated, then tune in your TV to the equipment.
Here is some general information on equipment that has a modulator:
Sky Digital: Good news. All of Sky's set-top boxes have modulated aerial outputs. (Sky RF Modulator help)
Virgin Media: Most Virgin Media boxes have a modulated aerial output
BT Vision: BT Vision's original, grey-coloured, V+ box has an RF modulated aerial output (BT Vision Modulator help). The newer black box does not.
Freeview: Most basic boxes do not support a modulated output. If you're looking for a Freeview box that does have a modulated output, we recommend the TVonics MFR200.
Freesat: The most common Freesat boxes from Humax, the Foxsat range, do not have a modulated aerial output.
Video recorders: Most VCRs do have a modulated aerial output
DVD Player: Most DVD players do not have a modulated aerial output


The Icecrypt T5000 – Freeview box for TVs without a SCART socket.
I have a box that doesn't have a modulator!
All is not lost – there are three options:
Replace it with a box that has a modulator (not always practical, but it's an option)
Connect the box to the TV via a video recorder (see below)
Get a device called an RF modulator (see below)
Buy an RF modulator
If your TV doesn't have a SCART socket, then you can get an 'RF Modulator box' – it converts a SCART feed to an aerial feed. It creates a "Modulated" TV channel that your TV can tune into. Plug a SCART socket in one end, and an aerial lead to your TV in the other, and then tune in the TV.
We recommend the Universal RF Modulator from Maplin Electronics (Code VH89W). There's also one on offer at Tvcables.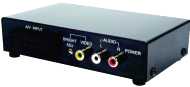 Universal RF Modulator from Maplin
Using a video recorder to modulate
If you have a piece of equipment without a modulator, you can connect it to your TV via a video recorder that has a modulator. Let's take the example of a Freeview box that only has a SCART output:
Connect the Freeview box to the video recorder using a SCART lead
Connect the video recorder to the TV using an aerial lead
Tune in one of the TV's channel presets to the video recorder's modulated aerial channel number (as if you were watching a video)
Now, set the video recorder so it's showing the input from the SCART (labeled something like Av1, Ext or AUX (possibly with the symbol on the right).
You should now be able to see the output of your Freeview box on the telly, going via the video recorder
Confused?

Help us make this page easier to understand. Contact Us
Related pages