How to connect your TV or set-top box to the Internet
Some help and advice on how to connect your TV or set-top box to the Internet for on-demand content and catch-up TV services.
Why connect to the Internet?
Many of the new digital TV sets and set-top boxes on the market come with an Internet connector as standard. There's a whole range of new services now available to connected-TV sets and set-top boxes, such as:
Watch catch-up TV services such as BBC iPlayer, ITV Player, 4oD from Channel 4 and Demand 5
Movie services such as Now TV, LoveFilm, Netflix and Blinkbox
On-demand TV shows, from providers such as BT Vision
Watch TV content from computers on your home network or wireless laptop
Watch Internet-only channels on your TV (e.g. Connect TV on Freeview)
To get these services, you'll need to have a digital TV service, and a way of connecting your hardware to the Internet. First off, here's a summary of the various services:
Virgin Media TV Service
To get Virgin's TV service, you'll need a box connected to the Virgin Media fibre optic network. As Virgin's installers do this for you, there's no help we can offer you here on how to hook it up.

If you're in a cable TV area and not yet signed up to the Virgin Media TV service, find out more at virginmedia.com
YouView
YouView combines live TV from Freeview, with on-demand content over the Internet. You can get a YouView box on the high street, or from Internet providers BT and TalkTalk


Ethernet socket on the Humax T1000 YouView box
BT Vision
BT Vision combines live TV from Freeview, with thousands of hours of TV shows and movies that can be streamed over a BT Broadband connection. BT's offering is all about being connected, and their set-top boxes require connection to a BT Home Hub. Help with this below.


BT Vision V+ Box Ethernet socket
Freeview Internet TV Service
New Freeview HD boxes, such as the Humax HD Fox T2, have a built-in Ethernet socket for connection to the Internet. This provides access to services such as BBC iPlayer and other services.
Sky Internet TV Service
Sky+ and Sky+HD boxes have an Ethernet socket on the back. This allows Sky+ customers to access on-demand services and movies via the Sky Anytime+ service, and also offers access to catch-up TV services.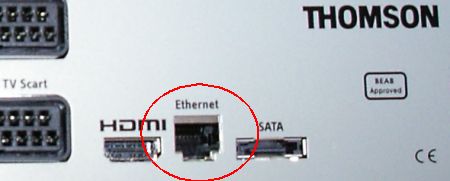 The Ethernet socket on the back of a Sky+HD box
Freesat Internet TV Service
Many of the higher-spec Freesat boxes have an Internet socket. This includes the Humax Foxsat and Humax Foxsat HDR Freesat set-top boxes.

In December 2009, Freesat launched its first Internet-based service – Owners of Freesat HD boxes could connect their boxes to the Internet and watch content from the BBC iPlayer on their TV. Want details of how to get BBC iPlayer on Freesat? See our BBC iPlayer on Freesat section.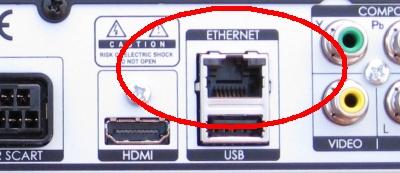 Ethernet socket on Humax-HD Freesat box
TalkTalk TV Internet Service
TalkTalk now offers a TV service using YouView. Before this, TalkTalk operated TalkTalk TV – formerly known as Tiscali TV, and before that, HomeChoice. For more details, see our TalkTalk TV section.
How to connect your TV / Set-top box to the Internet
If you have a set-top box or digital TV set that's capable of connecting to the Internet, you may need a little advice on how to do this. Let's see if we can help.
Step 1: Identify a free Ethernet socket on your Broadband router:


Ethernet sockets on the back of a BT Home Hub Router


Ethernet sockets on a TalkTalk Broadband Router
Step 2: Identify the Ethernet or LAN socket on your set-top box or TV set: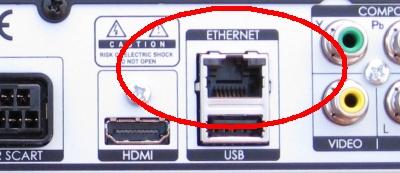 Ethernet socket on Humax-HD Freesat box
Step 3: Connect the two Ethernet sockets together:
Now this is often the tricky one, especially if your TV and Internet router are in different parts of the house.

Essentially, you have three options:
A) Run an Ethernet cable from Router to TV/Box. You need to get a CAT5 RJ45 Ethernet patch cable, with an Ethernet plug at each end. These come in lengths from half a metre to 50 metres, and you can order them online from maplin.co.uk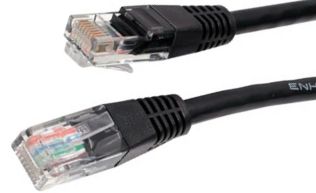 B) Move your Router to the same room as your TV / Box: If there's a phone extension point in the same room as your TV setup, then you could relocate your broadband router to the same room, and connect the two together using a short Ethernet lead

C) Use a Powerline / HomePlug adapter: For many, this will be the solution of choice, as it doesn't involve running long cables around your home, or relocating your router. These are clever little devices that send computer data safely over your home's mains wiring.

You get a kit, which has a sender and a receiver – Plug one into a mains socket near your router, and the other one into a mains socket near your TV / Box. Then run an Ethernet lead from the HomePlug unit to the Ethernet socket on the Router and TV box. As if by magic, they will start talking to each other via the mains wiring.

You can buy a set of HomePlugs from PC World , Dabs.com and Maplin.co.uk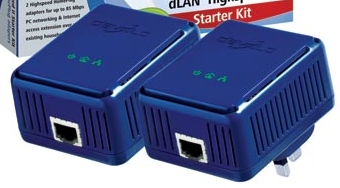 A set of HomePlugs made by Devolo
TV Wireless Connectivity
It's always surprising that set-top boxes and digital TV sets don't come with wireless built-in as standard. If you're looking to use wi-fi for your TV or box, there is an option though: The Netgear Universal Wi-fi adapter.
This little box has an Ethernet socket, and lets you convert a TV or set-top box that only has an Ethernet socket, into something that can connect to a router over wi-fi.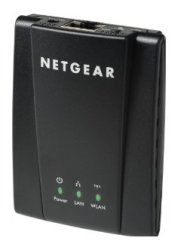 The Netgear wi-fi to Ethernet adapter is available from Amazon, Maplin.co.uk  and PC World
Connectivity Questions
Got a question we can help with? Please get in touch!
Related Links: