Humax DTR-T1000 YouView Box Reviewed
We look closely at what the high-spec YouView box from Humax, review the DTR-T1000, and show you some close-up photos and screenshots of this Freeview and on-demand recorder.
YouView launched in 2012, and the first box on the market is the Humax T1000. We got out hands on this new recorder shortly after launch, and have been putting it through its paces.


The Humax DTR-T1000 YouView Box
Humax DTR-T1000 Features:
Watch and record Freeview HD
On-demand TV shows and movies with Ethernet connection
YouView Scrollback EPG with catch-up TV
500GB built-in hard-disk (300 hours of SD TV or 125 hours of Freeview HD recording)
Twin Tuner (watch one channel while recording another)
Split recordings (handy for "two-parter" shows separated by a news break)
Subscription-free TV with access to Internet-based services
YouView Humax DTR T1000 availability:
Or… get the T1000 for free!

HumaxDTR-T1000 UK Review:
So far, we've been pretty impressed with the YouView box from Humax. The programme guide is a key selling point of the YouView TV service, and it's very good. The ability to scroll back for catch-up, as well as forward is great, and the box has an impressive and easy-to-use search, necessary to find content that's been recorder, is available online, or is coming soon.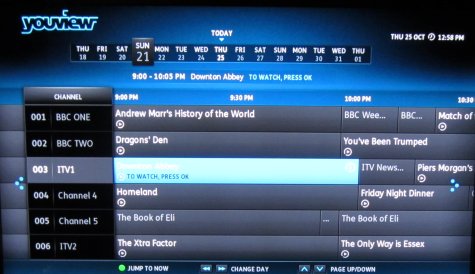 YouView on-screen programme guide


Searching on YouView
The remote is a little on the large side, but generally comfy and responsive. Buttons have a tactile click, which is nice. Most of the YouView functionality happens from the Blue YouView button. The remote can be programmed to operate your TV too – a list of codes for common makes and models is provided.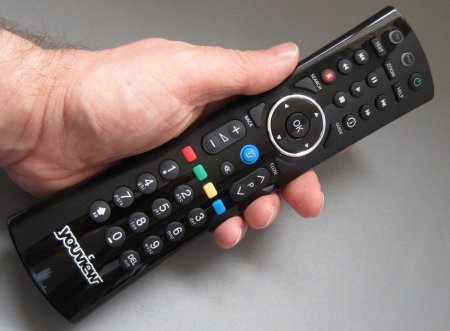 Humax DTR-T1000 Remote Control
Setting it up
Setup is straightforward. Connect to a TV aerial, the Internet and the TV (via HDMI or SCART), then you're off. There's quite a wait first time around as the box boots, asks a few questions, and downloads an updated operating system.


Humax DTR-T1000 Please Wait Screen
You then have a choice about how fast you want the box to boot in the future – either fast-but-power-hungry, or slow-and-energy-efficient. With Ecdemic, boot time is 2.5 minutes in return for jut 1 watt on standby, compared to 19 watts for a 15 second boot time.


Eco-Mode on the Humax DTR-T1000 Humax Box
Using the DTR-T1000
Accessing the on-demand movies, TV shows and catch-up is pretty intuitive, and you can do this in a number of different ways. Our box is one supplied for free on a YouView from BT contract, and as you'll see from the following screenshot, offers access to the various on-demand players, plus premium content from BT Vision and Sky's Now TV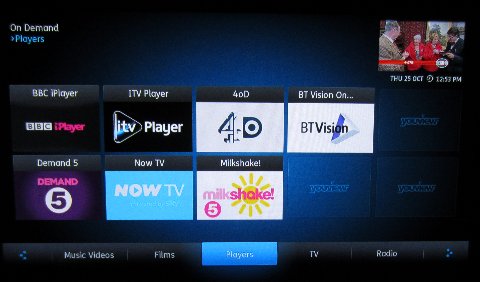 YouView Players
So far, all's looking good with the box – no crashes or major bugs, and with plans for extra TV channels and services promised with YouView, this is a pretty good option, especially if you can get it for free from your broadband provider.
Other features:
Recordings: Auto-delete if drive gets full
Auto HD: Box can bve set to search for HD versions of content if available
Automatic standby: 2, 3, 4 hours, or "never"
Eco-mode: As described in our article, option to reduce standby power consumption
Accessibility: Supports subtitles, AD, Sign Language and screen zooming
Security: PIN protection, ability to hide adult content, parental control
Humax DTR-T1000 Connectors
Here's a quick look at what's on the back of the Humax DTR-T1000 YouView box:
HDMI output
1 x SCART sockets
RF aerial input
RF aerial output (not modulated)
Ethernet network connector
Video out phono
Stereo output L/R phonos
SP/DIF socket


Humax DTR-T1000 Rear View
Humax DTR-T1000 Specification:
Power consumption: Max 27 watts. Standby: less than 0.5 watts (Eco)
Size: 380 x 246 x 55mm
Weight: 2.75kg
Humax DTR-T1000 Supplied With:
Remote control with 2 x batteries
Ethernet lead
HDMI lead
User guides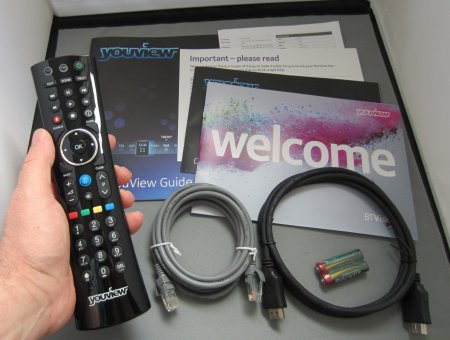 Humax DTR-T1000 Box Contents
Humax DTR-T1000 YouView FAQ
What's the PIN Number?
The default passcode is 1234.
Can I feed the output to another room?
Recording padding
"I cannot see a facility in settings to add a couple of minutes to the end of a recording, so that one does not miss the ending, as so often happens with an over run." (Peter Slater)
As far as we can tell, there's no option to add padding to the start or end of a recording. This may be something that's addressed in a future over-the-air software update.
Does this YouView box record subtitles?
Yes, it does. Here's a screenshot of subtitles playing back from a BBC One recording. The T1000 also supports Audio Description and Sign Language.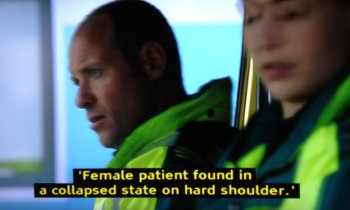 Got a question on the Humax T1000 YouView box? Ask in our Humax Forum
Useful Links: