TalkTalk TV – Now with added YouView
Here, you'll find information on the digital TV service from UK Broadband provider TalkTalk, including information on their new YouView TV offering.
What is TalkTalk TV?

TalkTalk TV is a digital TV service that lets users watch live TV and on-demand content via a broadband-enabled phone line.
TalkTalk is one of the YouView partners, and they're able to offer a free YouView box to their customers (saving £299 on a high-street box)

The YouView and TalkTalk offering became available in October 2012, and marks a re-entry into the digital TV market for TalkTalk after they closed their original TV offering to new customers some time back.
The new TV service combines live TV from Freeview, together with new services offered by the YouView service, and live sports. Unlike their rival YouView partner BT, TalkTalk is able to offer Sky Sports and Sky Movies channels on its TalkTalk service.
You can find more information about YouView on TalkTalk here: TalkTalk Plus TV

Can you get TalkTalk TV? Check at www.talktalk.co.uk/tv
Looking for an alternative to TalkTalk TV? We recommend BT's YouView service

What does TalkTalk TV offer?
Here's a summary of what's on offer with TalkTalk's TV service:
Over 70 channels of digital TV from Freeview (including Freeview HD)
Over 4,000 TV shows and movies on demand – you decide when you watch
YouView set-top box with digital recorder
Catch-up TV services from the BBC, ITV, Channel 4 and Channel 5
12 month subscription to LOVEFiLM on your iPad or laptop (offers 7,000 movies and TV shows)
Access to on-demand content from the TalkTalk Player
Access to blockbuster movies from Lovefilm Box Office and Now TV
Broadband (unlimited download)
A telephone service with free calls to UK landlines
Optional Sky Movies and Sky Sports


The TalkTalk YouView box, manufactured by Huawei
TalkTalk TV Boosts
TalkTralk's YouView offering comes with access to all of the Freeview channels, but you can take out optional "Boosts" to add more channels. TV Boosts are available for one month at a time, so you can watch, what you want, when you want to, without being tied into lengthy contracts. Here is a summary of the boosts on offer:
TV Starter Boost (£5) – Your favourite entertainment shows, culture and sport with Sky 1, Sky 2, Sky Living, Sky Arts 1, Sky Arts 2 and Sky Sports News.
Kids Boost (£5) – 13 children's channels including Nickelodeon, Disney and Cartoon Network, many available on-demand.
Music Boost (£5) – the most popular music channels in the UK including MTV Music, The Box and more.
Entertainment Boost (£10) – all channels included in the TV Starter Boost plus, Gold, Watch, Comedy Central, Fox, Discovery and much more, including some on-demand.
Entertainment Extra Boost (£15) – our biggest selection with 58 channels including all of those in the Entertainment Boost plus Kids and Music.
Other TV Boosts – Sky Movies Boosts and Sky Sports Boost are also available for 1 month at a time for £15 and £30 respectively. The ESPN Boost is £10 per month and our Asian Boost featuring the best in Bollywood blockbusters is £10 per month.
The Original Talk Talk TV Service
Originally known as Tiscali TV (until the Carphone Warehouse's takeover of Internet firm Tiscali), TalkTalk TV offered TV channels over the phone line.
The service, which as of 2012 is still running, offers over 70 channels of digital TV, over 1500 on-demand movies, over 5000 music videos, hundreds of TV series, and a TV rewind service. Digital TV channels include:
Sky One, Sky Two, Pick TV, Comedy Central, GOLD, SyFy, BBC Three, E4, More4, ITV2, ITV3, ITV4, Film4, ESPN, Discovery, National Geographic, Chelsea TV, Nickelodeon, Cartoon Network, Cbeebies, Sky Sports, Sky Movies, and more.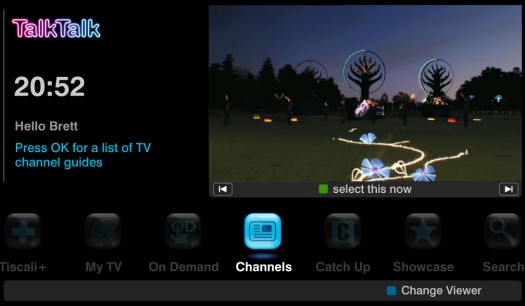 TalkTalk TV's old On-screen guide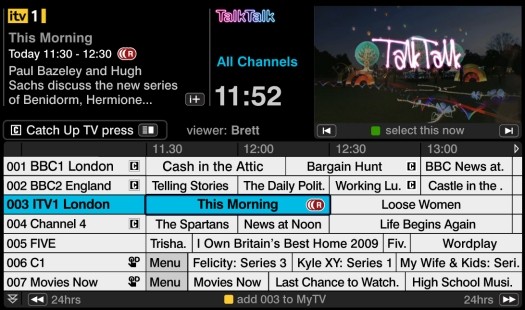 TalkTalk TV's old EPG screen
TalkTalk+ PVR
The original TalkTalk TV service came with a PVR (digital recorder) that could hold 50 hours of TV. It had the ability to record up to three things at once – a digital stream of TV-over-Internet, as well as two Freeview channels (if you connect the box to a TV aerial). Record TV-over-Internet onto the PVR and play back on your telly. The TalkTalk+ PVR was originally available on Tiscali TV for £50, on top of the monthly subscription.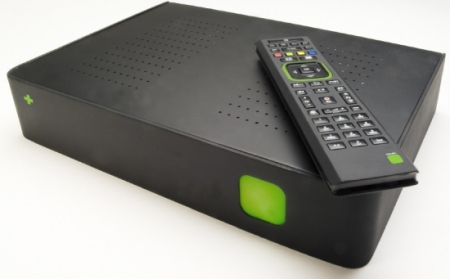 Alternatives
If you're looking for an Internet-based service that's available to a larger part of the UK – Take a look at BT Vision , YouView on BT or Virgin Media.
Useful links: