Digital TV Survey – Your views on UK digital TV
We're keen to get your opinions on digital TV, so we've been running an online survey. Here's a snapshot of the results we've had so far.
Which digital TV service do you have?
We're keen to find out which digital TV service is the most common: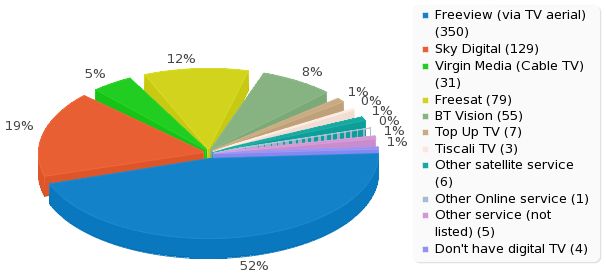 Are you ready for the Digital Switchover?
We asked how ready you are for the digital switchover: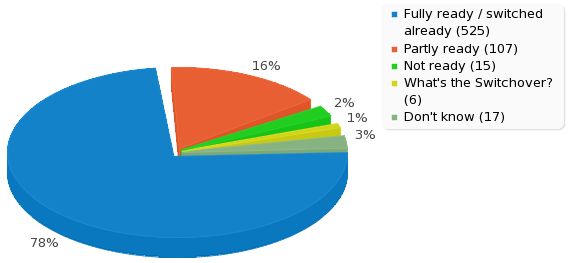 | | |
| --- | --- |
| Fully ready / switched already | 78.36% |
| Partly ready | 15.97% |
| Not ready | 2.24% |
| What's the Switchover? | 0.90% |
| Don't know | 2.54% |
How do you record digital TV?
Are video recorders really dead? Have we moved over to the PVR? Here's what our respondents have to say: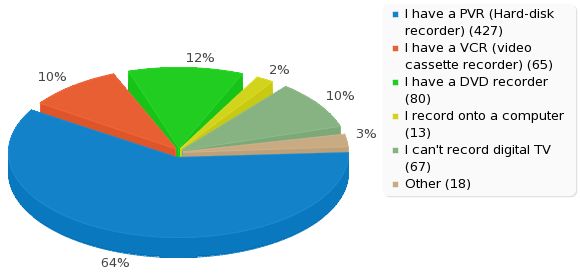 | | |
| --- | --- |
| I have a PVR (Hard-disk recorder) | 63.73% |
| I have a DVD recorder | 11.94% |
| I can't record digital TV | 10.00% |
| I have a VCR (video cassette recorder) | 9.70% |
| I record onto a computer | 1.94% |
| Other | 2.69% |
Which Digital TV services do you use often?
Apart from watching telly, what features offered by digital TV do we enjoy using most?
| | |
| --- | --- |
| On-screen programme guide (EPG) | 89.25% |
| Interactive / Red Button | 42.54% |
| Timeshift channels, i.e. ("+ 1" channels) | 42.24% |
| Live Pause | 32.99% |
| Catch-up TV (e.g. BBC iPlayer, 4oD) | 30.00% |
| On-demand content (Movies, TV, etc) | 10.60% |
| On-demand Films | 5.67% |
Your comments on digital TV:
We also asked for your general comments on digital TV. What annoys you? How could it be improved? Here are a few of the responses we've received so far:
Too much compression reducing picture quality – I would be happier with less channels to get better quality on 'main' channels. Dolby Digital audio on Freeview would be good too.
Screen logos destroy recordings. Virgin introduced its little character which interferes with the programmes even at key story moments. Red buttons on screen also ruin recordings. Get rid of nonsense quiz shows and introduce HD TV for Freeview. Get rid of useless Sky perks and reduce the subscription costs instead. Cancel the immoral TV licence. Why must I pay up to £3,000 till I die for TV?
There are many channels but not much quality. Too many repeats too many "reality" sic programmes. Even BBC is becoming derivative. More means LESS much LESS.
Intermittent reception
Wish Freeview had a dedicated sports channel, other than that I think it's fine.
Picture quality is poor compared with analogue.
Far to many ADVERTISEMENT and far to frequent,some are to stupid and unreal to any semi intelligent,or intelligent people
Reception on Freeview(trees, sunny day,wind,etc)
Cost of sky subscriptions
Hardware reliability Software reliability
The following things annoy me : 1. Removal of TV guide from BBC red button services – a serious own goal. Did someone put George W. Bush in charge the week that decision was made? 2. Poor MUX allocation post switchover – virtually guaranteeing that whatever transmitter you use, you will lose Freeview services for at least a few days a year due to high pressure. 3. Too many non-channels (quiz/shopping etc.) that take up space that could be better used on other things.
Fewer channels repeating the same material over and over again and better use of archive material of films programmes from the past.
Signal low on some channels, not watchable in summer months.
bit of a monopoly -need Virgin to fibre optic a few more streets
It's brought the computer industry's disease of frequent forced premature renewal of equipment to TV viewing apparatus, thru the mechanism of an ever-changing transmission format. e.g. large MHEG files, split-NIT, 8k mode. Picture quality inferior (lower resolution) than analogue. Has allowed the (former) limits of taste and decency to be exceeded "under the radar", by hiding such content away on (new) little-known channel numbers. Enjoyed improved reception of (the then) Channel 5 since "switching" in 2002 – analogue reception of that station was very weak/poor in this area. Five-six years after launch, BBC4 has finally started airing the promised tranche of sci-tech and humanities programmes – a much appreciated addition to BBC TV output. Initially sceptical of the value of BBC News 24. However, given the various amalgamations, improved efficiencies and cross-platform usage of BBC news production, the case for it has improved. I frequently consult and find useful the DVB-T "Now and Next" information including the synopses. Ironically doing so, has prompted me to greatly increase my use of the analogue teletext version of same, on the household's "child" TVs when viewing analogue signals! (i.e. Ceefax p606, Teletext p120).
I would have a Full pay tv service(s) similar to the original On-Digital service. I detest Sport being interrupted by BBC Scotland for the Scottish Parliament etc., and STV opting out of ITV1 Schedules. Let BBC Scotland and STV have their own channel and leave BBC1, BBC2, and ITV1 available to all U.K. viewers. The Freeview platform should have all the available pay T.V. that other platforms have. Otherwise it will continue to lose viewers more rapidly. Freeview should embrace Pay T.V. and allow viewers to choose. Not everyone in the U.K. has the option of Satellite or Cable. I am a typical example. Due to outdated and ridiculous title deed regulations Sat. Dishes are banned. Cable is not available in my area. If any of these options were available, I would sign up immediately.
On Freeview I think there is too much airtime devoted to crafting / home improvements. Also why are there 5 timeshift channels? – surely the bandwidth could be better used for a bit more variety, for example I'd like to see at least one music channel more suited to us oldies, and another movie channel.
Poor impulse noise immunity on terrestrial DTV signals (due to insufficient attention to this in system design/spec stage, done by people who are too wet behind the ears to remember "sparklies" on 405-line positive modulation analogue TV (what's that?) and why/how this was dealt with when moving to UHF
The way the DTG have handled the whole process. Poor or incorrect reception predictions, having to redirect newly erected aerials to other transmitters to receive a few digital channels, another new aerial for K mux, a new STB for HD, and redirecting the aerial again after DSO to receive the best signal available which is still only the 'main channels'. It appears the DTG is acting for the industry and not for the consumer.
low quality picture / sound poor quality programs / too many repeats Freeview has too many "pay for" channels Freeview is not free digiboxes very cheaply made and it shows receiver has to be reprogrammed too many times it should have: better programs less recent repeats Freeview should only be free channels channels should transmit place holders to prevent the need to reprogram better quality compression
What features of the Radio and Telly site do you use?
On this site, we have a number of services to help with Digital TV advice. These include a forum, a news feed, a podcast and a newsletter. Do our visitors use these?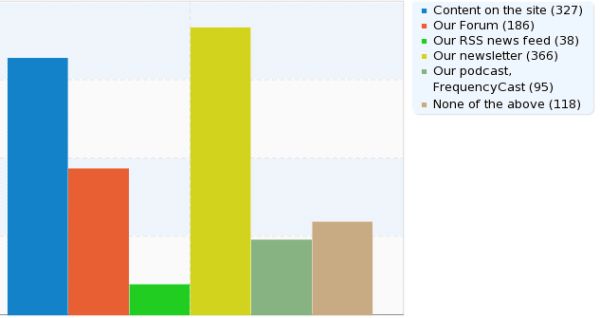 Other links: