Freeview Digital TV Receivers made by Netgem
A summary of NetGem Freeview boxes, including the i-Player Interactive Freeview Digital TV Receiver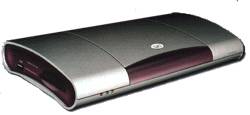 What is a NetGem Freeview box
NetGem is a France-based manufacturer of digital set-top boxes.
The NetGem iPlayer Freeview set-top box was launched in the UK in November 2002, and has proved to be one of the best value and most flexible boxes around. It provided Internet access from a connected TV set, bringing Internet into the front room.
In 2004, a re-badged version from BT became available in 2004 (adding caller display, and a card slot for subscription services).
Between 2006 and 2008, versions of the NetGem iPlayer appeared, containing hard discs and support for high definition TV.
The NetGem range of set-top boxes
The following table contains details of the digital TV set top boxes from French manufacturer NetGem.



NetGem I-Player+

Features: Internet and email access from your TV via built-in 56k modem, built-in games and optional QWERTY keyboard.
Output: 2 SCARTs and RF loopthrough. Optical audio out and USB socket.

Availability: Discontinued. Last seen at BT
Shop in Dec 2006. See our iPlayer page for updates


More details on our iPlayer page




NetGem 7680 / Fetch TV Smartbox

Fetch TV launched towards the end of 2008. The service combines Freeview, a 40 hour hard disc recorder, and video content on demand over broadband. The Fetch TV Smartbox is made by NetGem.

Box specs: 80Gig hard disk, 8 day EPG, Freeview receiver, hard-disk recorder, pause/rewind live TV, USB connector Internet browser.

Availability: Available Now!

More on our Fetch TV page.




tvMax iPlayer 6640

Broadband webhosting firm Namesco launched tvMax in April 2006. They were offering a NetGem box that's capable of receiving the 50 Freeview TV and radio channels, has an 8-day EPG, and has a built-in PVR disk recorder (up to 30 hours on the built-in 30gig hard disk).

Availability: Discontinued. The 6640 was available for £199 from Webstore at Simply.com, but it's no longer available. For more details, see our TvMax page.





Evesham iPlayer HDTV PVR

Released in November 2006, the Evesham iPlayer 80GB HD Media Centre is a revamped, powerful iPlayer that receives Freeview, has a hard-disk recorder, and gets TV content over the 'net. Here's the summary:

80 Gig Hard-drive

(PVR) for ~ 70 hours recording
Pause live TV
TV-over-Internet (IPTV)
Freeview
Onboard High-Definition upscaler
HDMI (High Def) socket
2 x SCART , 1 x USB sockets
1 x Ethernet
Supports MPEG and WMV video formats

Availability: Discontinued. As of July 2007, no longer available. Last seen for £240 from Misco.co.uk.




NetGem I-Player Mini

As far as we know, this box isn't available in the UK, but here's what we've discovered:

Aerial loop-through – standard aerial plug

Two SCART sockets – one for the TV and one for a video recorder

3.5mm Stereo Jack socket audio output

S/PDIF optical audio output

RJ-11 Telephone socket

USB1.1 master socket

Availability: Not released in UK


Sorry – No pic

NetGem NetBox HD

NetGem announced a new product believed to be called the NetBox HD, at the IPTV World Forum in London at the start of March 2006. Here's what was public knowledge:

Box spec: High-definition MPEG4-compliant ADSL (Broadband) / DTT (digital terrestrial) terminal.

Availability: Not released in UK. The product was apparently due to become available between April-June 2006 – As far as we know, it didn't materialise.
More on NetGem
NetGem is a French company. Below are the UK phone numbers we have for NetGem:
NetGem UK helpline: 0870 366 7055
NetGem UK Sales line: 0800 015 3092
NetGem Technical Enquiries: 0870 366 7030
iPlayer Review
We reviewed the NetGem iPlayer in 2004. This can be found on our NetGem iPlayer page.
Frequently asked questions
The NetGem iPlayer FAQ has been moved: See the NetGem iPlayer FAQ
Links: