Cable TV in the UK Explained
Our look at Virgin Media's Cable TV service, offering TV channels and broadband using underground fibre-optic cables
What is Cable TV?
The main supplier of cable TV services in the UK is Virgin Media. They offer a digital TV service that offers more live TV channels than you'll find on the subscription-free service Freeview, but Virgin offers less channels that their big rivals Sky Digital.
Cable TV is delivered to homes using fibre-optic cables that run below street level. Cable TV is normally combined with an Internet service, and it's only available in some parts of the UK, typically areas of high population.

Until February 2007, the two UK big players in cable TV were NTL and Telewest. The two companies are now one, and the major UK Cable TV firm is "Virgin Media".
To get Cable TV at home, you need to be in a cable coverage area – this means that one of the cable firms has run their special fibre-optic cable to your street. Assuming you're in a cable area, you can arrange to get connected to Virgin Media's cable TV, phone and Internet service.
To get connected, a Virgin Media engineer will need to call and connect their cable service from the street into a special cable TV set-top box. Once connected, you can start to watch a range of cable TV channels and video-on-demand programmes and films, as well as getting your broadband Internet and phone service over their network.
Virgin Media's Offering:
Virgin Media offers digital TV, broadband and home phone services in a number of areas around the UK.
If you're in a cable TV area, Virgin offers a number of different TV packages, the top one of which, 'Extra Large', offers over 160 channels, including ITV2, E4, MTV, Film4, Virgin Central, Eurosport and GOLD. You can add extra subscription services such as Sky Sports and Sky Movies, as well as adult services.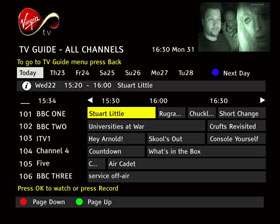 Virgin Media's EPG (Source: Vismedia)
On-demand: Virgin Media's digital TV offering also includes Virgin TV On Demand service, which offers on-demand viewing of over 500 movies, as well as instant access to 1000s of TV shows and music videos.
Catch-up TV: Virgin Media also offers a number of TV shows from the last seven day's TV available on demand, so you can catch up on any shows you may have missed. Catch-up services are available from the BBC iPlayer, ITV and Channel 4.
Virgin's digital TV offering has some other optional extras – such as the Virgin V+ hard-disk recorder, and HDTV (High definition).
How to get Virgin Media TV
You need to be in a Cable TV area. Prices depend on the package you sign up to, but you can currently get Virgin Media's TV channels for £6.50 a month if you go for Virgin's home phone service too.

To find out if you're in a cable area, and to check out the options, go to allyours.virginmedia.com
Virgin Media V+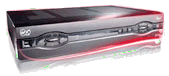 The Virgin Media V+ Box replaces the original Telewest TVDrive. It's a hard-disc recorder that can store TV shows on the built-in storage for ease of viewing. It offers the following features:
Records up to 80 hours of cable TV.
Supports HD Hi-definition (over 25 channels).
Allows recording of two TV channels, while watching a third.
Lets you pause and rewind live TV
Has a series-link, so you don't miss your favourite regular shows
Outputs: 2 x SCART sockets, 1 x modulated RF output, 2 x audio phono outputs, and 1 x HDMI (Hi-def) socket. See our Virgin Media V+ Box Review page for a picture of the v+ box connectors.
Cost: Installation of the V+ box costs £49. Additionally, there's a monthly subscription for the V+ service (£5 a month, or free if you're on the XL package). 12 month minimum contract applies. More on Virgin Media's site
Other Virgin Services
Virgin Media also offers Broadband Internet and telephone packages, which can save you money when combined with your digital TV service.
If you live in a part of the UK served by Virgin Media's cable service, you can request that Virgin's engineers call to get you connected to their services. To find out more, or to check coverage, go to www.virginmedia.com
Virgin Media FAQ
Is cable available in my area?

To find out if you're in a cable area, go to http://www.virginmedia.com and enter your postcode.

If you're not in a cable area, you can still benefit from Virgin's broadband and phone services – but you won't get the benefits of their high-speed fibre-optic connection – details on Virgin's site.

If you want the definitive answer on when (or if) cable will be coming to your area, you'll need to ask Virgin Media direct – here at Radio&Telly, we have no information about Virgin's expansion plans. You can contact Virgin via http://www.virginmedia.com.

No coverage? If you can't get Virgin, consider TV delivered via satellite, a TV aerial or over the net. Check out our Digital TV Options page.

We can also recommend YouView from BT. Like Virgin, they offer TV content and movies on-demand over the Internet.

What happened to Telewest and NTL

They are no more. Telewest and NTL were rivals in the cable market. In 2007, they joined forces under the Virgin brand to become Virgin Media.

Virgin vs Sky?

On the first of March 2007, the Sky channels Sky One, Sky Two, Sky News, Sky Travel and Sky Sports News were dropped from Virgin Media's Cable TV lineup, after Virgin failed to renew the broadcast contract.

There was lots of controversy about this at the time, something we covered in show 13 of our podcast.

From November 2008, the dispute was resolved, and the missing Sky channels finally returned to Virgin.

V+ Questions

Moved to our Virgin Media V+ FAQ page
Useful Cable TV Links