Radio and Telly News Archive 2006
Here, you'll find a list of the news headlines we covered in 2006. We offer a free news service, podcast, Twitter feed and newsletter service to keep you informed.
oono MiniDAB One MP3 Player
December 29th, 2006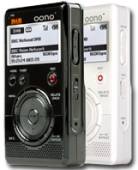 How the heck did we miss the launch of this? The oono MiniDAB One MP3 Player is a pretty powerful little gadget, which fits in with our remit to cover neat little gadgets.
This is a combined DAB radio / MP3 player / Voice Recorder / FM radio. It's small (10cm tall), has a built-in speaker, unlike many DAB radios, and can record in the MP3 format (pretty unique). It also has a "Line in" socket, which copes with recording in from a hi-fi or from a mic (supplied). Recorded radio, voice or music are all encoded to MP3 (so there's no need for conversion). It's powered by a rechargeable battery, and takes SD cards.
Impressive, and we've found a supplier offering a free 2Gig SD card too. More at www.radioandtelly.co.uk/oonominidab.html
---
National DAB Jazz station launches
December 26th, 2006
As of Christmas Day 2006, the UK now has a national digital jazz station, called "thejazz".
The station is available on DAB Digital Radio as well as on Sky Digital channel 0113, NTL cable channel 961 and online.
---
NHS Direct TV service launched
December 21st, 2006
NHS Direct Interactive TV service has launched on Freeview, offering 150 pages of interactive content.
To access NHS Direct TV, go to Freeview channel 108, and press the red Interactive button, then scroll to 'NHS Direct Interactive. .
---
Top Up TV Anytime Reviewed
December 21st, 2006
The Radio & Telly Team has now uploaded its review of the Top Up TV Anytime service, and the Thomson DTI-6300 set-top box. We'll be updating this review with extra information and answers to our regular's questions in the coming days.
For our first impressions, and some screenshots, please see www.radioandtelly.co.uk/topuptvanytime.html
---
BT Vision has launched
December 4th, 2006
Today (4th December 2006), details of the BT Vision home TV service have finally been released.
BT Vision provides you with a special set-top box, called a V-Box that connects to the BT Home Hub and BT Total Broadband, to offer the following:
Freeview – Over 35 TV channels and over 20 radio stations
On-demand content over the Internet, including a huge library of blockbuster movies and classic films, TV shows, kids TV shows and music videos
The BT Vision V-Box set-top box lets you pause and rewind live TV, record up to 80 hours on the built-in hard-disk and select live and on-demand content via the easy-to-use on-screen 14-day programme guide. You can also set the box to record your favourite series without missing an episode, just like with Sky+'s Series Link
There's no subscription for BT Vision, and all you pay for is the one-off installation/connection fee. You do need a BT Total Broadband account. For the downloadable content, you can pay in two ways:
Per-item: Films from £1.99, music videos from 29p, TV shows from 79p and kids programmes from 49p
Packages: You can subscribe to special packages, such as the TV Shows, Kids and Music packages, each one costing £6 a month. There's no annual contract, so you're not tied in
The BT Vision V-box (worth £199) is being supplied FREE to BT Total Broadband customers. There's a connection fee of £30, and as the installation requires an engineer's visit, there's an installation fee of £60 – including V-Box, Home Hub and PC/laptop adapter setup.
---
BT Vision launch date confirmed
November 29th, 2006
News is out that BT Vision is officially due to launch on Monday 4th December 2006.
BT Vision is a combined Freeview, digital hard-disk recorder, and on-demand TV service from BT. It will use a BT Broadband connection to download TV programmes and movies, and provide access to extra services via a set-top box and BT Home Hub.
More details at radioandtelly.co.uk/btvision.html.
---
Teletext Games added to EPG
November 27th, 2006
Teletext Games channel has appeared on Freeview channel 103 in November 2006. The service is displaying the on-screen message stating "Coming in the new year: Keno, Roulette and Face-Up Hold'em".
---
Quiz Call Replaced by E4+1
November 16th, 2006
Quiz Call is set to be replaced with Film 4 + 1 on Freeview channel 32 from 16th November 2006.
---
Heart FM & RadioMusicShop to join Freeview
November 12th, 2006
Two new radio stations have joined the Freeview Lineup – Heart FM (London) on 728 and RadioMusicShop on 729. It's not clear if these are temporary, or for testing reasons. No official announcement has been made.
---
BT Vision getting closer
November 10th, 2006
Announcements continue to come thick and fast regarding the new TV and video-on-demand service from BT – BT Vision. Still billed for "Autumn 2006″, this combines Freeview TV, and TV/film content downloaded over BT Broadband. Most recent addition to the lineup, is Disney / Buena Vista TV, with their huge range of TV and films.
BT Vision is set to be a very exciting offering. More on our BT Vision page
---
BBC Parliament full-screen
October 30th, 2006
BBC Parliament is set to go full-screen from 13 November 2006.
---
Top Up's Anytime delayed till 'before Christmas'
October 27th, 2006
Top Up TV Anytime's new digital PVR set-top boxes, from Thomson, seems to have been delayed by a couple of months.
Calling Top Up TV's number, 08700 543210, gives a message stating:
"Boxes will start to be dispatched towards end of November, with delivery completed by early-to-mid December. Orders placed before 31st October will be received before Christmas" (2006?)
If you're having second thoughts, and wish to cancel, call 08712 712712. You may want to consider going elsewhere for your digital telly.
---
Setanta Sports coming to Top-Up TV?
October 20th, 2006
Setanta Sport is coming to Top Up TV as a subscription channel in 2007.
---
Channel renumber
October 20th, 2006
At the start of October 2006, channel numbers for Film 4, E4+1, ITV4, ITV Play and Quiz Call changes. Also, Five US (ch.35) and Five Life (ch.36) have been added. New Freeview lineup.
---
Changes to Freeview channel numbers
October 4th, 2006
A small number of Freeview channels have been renumbered. Affected are: Film 4, ITV4, E4+1, ITV Play and Quiz Call. Also Five US (ch.35) and Five Life (ch.36) have now been added to the channel list. Current Lineup.
You may need to get your box to rescan to get the new channels.
---
Out now – DAB and TV on a mobile
October 1st, 2006
At the start of October, Virgin Mobile launched its Lobster 700TV mobile phone. This smartphone supports TV and radio on a mobile – but this isn't TV-over-Internet… this is actually TV content sent over-the-air. The phone also can receive up to 50 channels of DAB digital radio, again over-the-air.
Details and a review can be found at www.radioandtelly.co.uk/lobster700tv.html
---
Channels vanish from TopUp
September 20th, 2006
Bloomberg, Toonami, UK Food and Boomerang vanish from Top Up TV's channel lineup.
---
Top Up TV Anytime Promo and Movies
September 20th, 2006
A promotion for Top Up TV Anytime is now being screened on Freeview Channel 41, for those considering signing up.
Top Up Anytime has announced that from October, they'll be offering seven movies from Universal Pictures, that can be watched on your Anytime digital recorder, for an extra £5 (on top of the £9.99 subscription fee.
---
Changes to TopUpTV
September 18th, 2006
Big changes are afoot with TopUp TV, as they announce TopUp TV Anytime.
---
TVTV added
August 30th, 2006
TVTV has appeared on Freeview channel 304. We expect this to be a TV listing service.
---
Channel reshuffle
August 10th, 2006
News of a Freeview channel number reshuffle. Freeview radio station are reporting an EPG reshuffle, meaning their Freeview number goes from 2 to 3 digits – rumours are that all radio channels will be on the move to new numbers in mid-October 2006.
---
Film4 comes to Freeview
July 20th, 2006

On Sunday 23 July 2006 at 9pm, Film Four renamed to Film 4 and became subscription-free on Freeview.
---
YooPlay Vanishes
July 19th, 2006
Games channel YooPlay has vanished. The channel started in May 2003, and was on Freeview channel 106.
---
Virgin Radio added
July 15th, 2006
Virgin Radio was added to Freeview's radio lineup (channel 727) on 18th July 2006.
---
Changes to Top Up TV for later this year
June 25th, 2006
Changes planned for Top-Up TV. There's been an announcement about the release of a TopUp TV digital recorder (More), plus rumours of a change to Top Up's lineup. More on this when we have it.
---
Five to launch more channels
June 10th, 2006
Five to launch two new Freeview channels, Five US and Five Life, in Autumn 2006.
---
Film 4 to replace More 4
June 8th, 2006
Film Four is set to replace More 4+1 on Channel 31 from 23rd July 2006.
---
Watch and control TV over the Internet
June 6th, 2006
The UK has just seen the launch of a new TV gadget that can let you watch your TV and digital recordings over the Internet from around the world – it also means you can take control of your Sky+ box over the 'net to set recordings. Find out more about Slingbox at https://www.radioandtelly.co.uk/slingbox.html
---
Smile TV added
April 26th, 2006
Smile TV added to Freeview channel 37. On-air from 1-5am only. Another Quiz channel?
---
Radio & Telly Podcast Launched
April 9th, 2006
For a number of weeks, we've been considering dipping our toes into the world of podcasting. In case this is a new expression to you, a podcast is a downloadable audio file (in MP3 format) in the style of a mini radio programme. This can either be played on your desktop computer, or transferred to a portable MP3 file.
As a trial, we've released a Podcast, to see if you're interested in this becoming a regular feature.
Under the name FrequencyCast, we're aiming to make regular free MP3 shows available, which focus on areas covered on our site, including: Freeview, Sky TV, DAB, Hi-Def TV, UK digital broadcasting, plus products such as the iPlayer and Sky+
You can get to our first Podcast at: www.frequencycast.co.uk
We have a phone line for feedback and questions, and calls may be included in our next 'cast. We'd appreciate your feedback, so we can judge whether or not we should make more…
---
Men and Motors leaves Freeview
April 8th, 2006
Men and Motors leaves Freeview on April 12th 2006, for ITV Play, which launches on 19th April 2006.
---
ITV Play added
March 15th, 2006
ITV Play, a gaming channel, is due to launch on Freeview on 19th April 2006
---
Freeview, plus video on demand
March 10th, 2006
News of BT Vision is coming in. Due in 2006, this service offers combined Freeview, Video-on-demand over Broadband, and a PVR. See our BT Vision page for more.
---
Video & Audio on the move
March 3rd, 2006
Hot on the heels of the Zen Micro, Creative Labs has released the Creative Zen Vision:M – A media player that supports audio files, video, your photo collection, FM radio, voice recorder and organiser. An amazing piece of kit.
Check out our review at https://www.radioandtelly.co.uk/zenvisionm.html
---
Gervais Podcast is back
February 28th, 2006
The top Podcast is back!
Ricky Gervais and Stephen Merchant have teamed up with probably the funniest chap around, Mr Karl Pilkington, to put together a series of podcasts. The first season were available on the Guardian Unlimited website. What's so special about three blokes sitting in a studio chatting? Just give it a listen and find out. If you missed out – note that Series 2 is available now direct from www.audible.co.uk/ricky
You won't be disappointed!
---
Film 4 to go free
February 25th, 2006
Film 4 to go free on Freeview by the end of 2006.
---
NHS TV coming to Freeview
January 25th, 2006
Thanks to Chris K for the rumour that NHS Direct is coming to the Freeview Lineup in March 2006. Now delayed – expected 2006-7.
---
ITV Children's Channel coming soon
January 20th, 2006
ITV children's channel (CITV) to become available March 2006, during the downtime of new male offering ITV4.
---
Time4U to be launched
January 18th, 2006
Thanks to Adam A for the rumour that More4 +1 may be replaced by Time4u – this channel, due in July 2006, will show movies until 6pm and then an hour of cartoons, then comedy, with news at 11pm.
---
Nickelodeon kids channel
January 10th, 2006
Nickelodeon to launch 'Noggin', a kids service, from 7-9am on the TMF channel.
News Archives: 2004 News ; 2005 News ; 2006 News ; 2007 News ; 2008 News ; Latest News