Radio and Telly News Archive 2007
A look at the news events we covered in 2007. Digital TV and Radio news from Radio and Telly.
In-car DAB from Pure
December 23rd, 2007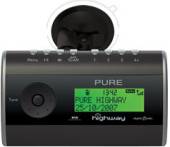 Announcing the DAB Pure Highway – a handy way of getting DAB in your car without having to replace your existing radio. The Pure Highway is a DAB radio that sticks to your windscreen much like a satnav unit – it's a DAB receiver that re-transmits DAB stations onto FM, so that your existing card radio can tune in to DAB.
You can also pause and rewind live DAB. Powered from the car's 12V socket / 2 x AA batteries, the Highway has 20 DAB station. Easy to install and remove from your car.
Available for £69.99. More on our DAB Car Radios page.
---
DAB / DAB+ / wi-fi and FM radio
December 16th, 2007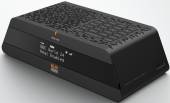 UK radio firm Revo has launched the world's first ever combined DAB, FM receiver and Internet radio, that's also ready for the new DAB+ standard. Called the Blik RadioStation, this is the first commercially available radio that provides plug-and-play reception of both existing DAB and new DAB+ broadcasts.
David Baxter, Managing Director of Revo Technologies said: "The fact that we have beaten bigger, more established names to the market with this new technology, highlights our desire and commitment to making REVO a global force in the digital radio business."
The Blik RadioStation features full DAB and DAB+ digital radio reception, FM radio coverage with RDS, Wi-Fi internet radio (easy access to over 9,000 stations from around the world), full alarm clock functionality and the ability to plug-in your iPod® and use BLIK as a loudspeaker system for MP3 playback. It's available for £150 from Revo
---
Channel 4 HD Goes Live
December 12th, 2007
Channel 4's now offering an HD service on Sky. The service has gone live on Sky's HD offering this week offering shows like Ugly Betty in HD. More shows, including Hollyoaks, are expected in HD from 4 in 2008
---
Top Up TV channel update
November 25th, 2007
Broadcasting hours for UKTV Gold on the TopUp TV service have dropped (again). This time, it's to make way for some new content. Boxes will now be able to get programming from The History Channel, Crime & Investigation and the Sci-Fi channel.
You'll have to go 'Menu'. 'Customise' to get this new content. More on our Top Up TV Anytime pages.
---
Disney to join Sky's Pay-to-view Picnic
November 25th, 2007
The Disney Channel announced it's joining the Picnic TV lineup. If you're not sure what Picnic is – this is a pay-TV service backed by Sky.
Picnic is pending approval from OfCom. If it gets the go-ahead, the service, that can be received via a TV aerial, will offer subscribers premium Sky content, including Sky Sports 1, Sky Movies, Sky One and Disney. Sky's current Freeview channels, Sky News, Sky Sports News and Sky Three, will vanish to make way for this new service. Are you pro-Sky One coming to Freeview, or anti-Sky's plans for TV dominance? OfCom are after public opinions on this. See http://www.ofcom.org.uk/consult/condocs/dtv/. Consultation ends on 14th December 2007.
---
More Freeview plus HD by 2009?
November 24th, 2007
The UK regulator OfCom announced that we can expect more channels on Freeview, including some high-definition content, as early as 2009. The extra Freeview channels can only happen when the analogue switchover happens, as there's not enough space on the system at the moment, so we could see new channels first in the Border and Granada TV regions, as they'll be the first to have gone digital by 2009.
The BBC, ITV, Channel 4 and Five and all stated their intention to launch HD services between 2009 and 2012. The Beeb is already offering HD on satellite and cable, with Channel 4 launching their service soon.
---
Channel 4 TV shows online with 4oD
November 23rd, 2007
Missed a show on Channel 4? A fan of classic comedy like Black Books, Peep Show, Father Ted or Brass Eye?
Download the free 4oD player from Channel 4. 4oD on your PC provides access to 30-days of Channel 4's schedule free of charge, plus some pay-to-view classic shows.
Available from www.channel4.com/4od.
---
Top Up TV Anytime Box patched to v2.88
November 8th, 2007
We've heard that a new version of Top Up TV Anytime software is being rolled out from 8th November 2007. This reportedly offers: EPG & VOD Search, an expanded the Synopsis window, improvements to Series link and VOD downloads, and some other user interface changes. Updates should be received on your Anytime box automatically.
www.radioandtelly.co.uk/topuptvanytime.html
---
Gems TV comes to Freeview
October 31st, 2007
Gems TV has appeared on Freeview channel 43. it looks like this is the Gems TV shopping channel.
---
Analogue Switch-off starts
October 17th, 2007
In the early hours of this morning, the 17th of October, Whitehaven in Cumbria lost it's analogue BBC2 service has part of the UK's digital switchover. The rest of the UK is set to follow suit, region-by-region, with the UK's analogue telly finally being turned off in 2012.
For more on the digital switchover and what it means to you, have a listen to our Digital Switchover Edition of our podcast.
---
Dirk Gently Radio Series
October 1st, 2007
If you're a fan of the Hitch-Hiker's Guide to the Galaxy, you might want to be listening to Radio 4 for the next few weeks. The production team behind the last three series of the Hitch-hikers radio series (2004-2005) have completed a radio version of Douglas' other creation, Dirk Gently's Holistic Detective Agency. Starts from 3rd October 2007.
---
Radio stations reshuffling on Freeview
September 21st, 2007
Some changes to the radio stations found on Freeview. Some stations will be changing frequencies for technical reasons. In September, Heat and Kerrang moved, and on the 3rd of October, BBC Radios 1, 2, 3 and 4 will be moving. They'll be on the same channels numbers, but you will need to rescan the channel lineup on your Freeview receiver to continue to get these channels.
---
Virgin 1 starts 1st October
September 21st, 2007
Virgin One starts on Freeview in the evening of 1st October 2007, replacing FTN.
---
UKG2 becomes… Dave
September 21st, 2007
From 15th October 2007, the UKTV G2 channel will be rebranded to "Dave". It's also coming to Freeview, replacing UKTV Bright Ideas. The idea behind the name is that everyone knows someone called Dave.
The channel's target audience is 16-34 males. Dave will share the Freeview bandwidth with UKTV History. A re-scan may be needed.
---
BT Vision update Wednesday 19 Sept
September 15th, 2007
BT Vision has pushed out a mail to a number of its customers to alert them of a BT Vision service update that's planned for this coming week. From midnight on the morning of Wednesday the 19th of September, until 10am on Wednesday, the BT Vision service is being upgraded. There'll be no on-demand content available during this upgrade, and the advice is not to reboot your box during this time. We have no details on what the upgrade will do. Keep an eye on our BT Vision forum for discussion of this upgrade.
---
ITV going HD
September 14th, 2007
ITV has announced plans a high-definition (HD) service in Spring 2008, initially offering two hours HD content a day at peak times. More when we get it…
---
ABC1 closes in September 2007
September 8th, 2007
ABC 1, on Freeview channel 15, closed in late September 2007. The channel, owned by Disney, originally launched in late 2004. No news on what will take its place on the Freeview platform.
---
New iPods available to pre-order
September 6th, 2007
Apple has just announced some new iPod products, and they're already available to pre-order. Here's what's new:
The new Apple Touch – a touchscreen iPod (8 or 16 Gig), with wi-fi for net surfing.
The new iPod Nano – a small one that lets you watch video on the 2-inch display (4 or 8 gig)
---
iAudio D2 Media Player Reviewed
September 5th, 2007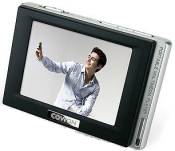 We've just got our hands on a tiny MP3 player – the Cowon iAudio D2. This is the Swiss Army Knife of MP3 players – Audio, video, images, FM radio, DAB radio, text viewer, recorder (voice and radio), plus loads more. It has a touch screen and probably the most powerful set of audio tweaking tools we've been on a portable. And did we mention it's tiny?
This is a well-made, and feature packed little device, and we've been able to secure two deals – See our review of the iAudio D2 at www.radioandtelly.co.uk/iaudiod2.html
---
Top Up TV Anytime price drop
August 18th, 2007
Top Up TV has dropped the price of its Anytime set-top box from £139.99 to just under £100. This dual-tuner Freeview hard-disk recorder downloads TV content overnight, giving you up to 100 hours of content to view on demand.
See our Top Up TV Anytime review for more.
---
Top Up TV Price Drop
August 16th, 2007
Top Up TV has dropped the price of its Anytime set-top box from £139.99 to just under £100. This dual-tuner Freeview hard-disk recorder downloads TV content overnight, giving you up to 100 hours of content to view on demand.
See our Top Up TV Anytime review for more.
---
UK G2 on Freeview?
August 12th, 2007
There are a couple of rumours out there that UKTV G2 may be coming to Freeview in the near future – reportedly replacing UKTV Bright Ideas. No confirmation or timeframe at this time.
---
Slingbox drops from £150 to £99
August 11th, 2007
The Slingbox is a box that plugs into your home Internet connection and allows you to watch your home TV from anywhere around the world (e.g. at work, or while travelling). Prices have dropped from £150 to £99.
More on the discounted Slingbox can be found on our Slingbox page.
---
Channel 4 + 1 from 20th August
August 2nd, 2007
Channel 4 +1: From 20th August 2007, Channel 4 will be the first of the five mainstream TV channels to offer a "Plus 1″ service, so you can watch again one hour later.
This will be available on Sky, will replace Film4+1 on Freeview and replaces More 4+1 on Virgin cable.
---
Traffic Radio on DAB
July 31st, 2007
Traffic Radio has just launched on DAB in the UK, offering rolling road news 24 hours a day. Get a fix of road news on DAB or online at www.trafficradio.org.uk
---
TV Show looking for talent
July 27th, 2007
We've heard of a new opening for unsigned bands looking to get some exposure. Mobile Act, is a new TV Channel 4 talent show that's looking to find the hottest unsigned band in Britain. The prize includes a major record deal, a tour and TV exposure. Unsigned band? Hop over to mobileact.co.uk before the 5th of August 2007 to register.
---
BT Movio and the Virgin Lobster bite the dust
July 27th, 2007
BT Movio has decided to ditch their mobile TV service. The service currently delivers 5 TV channels over DAB radio frequencies.
The only phone in the market, the Lobster 700TV has now been removed from sale by Virgin after less than a year. The mobile TV service is reportedly to end in January 2008.
---
Nuts Magazine coming to Freeview
July 25th, 2007
Nuts TV comes to the Freeview Lineup from 12th September 2007. Broadcasting "lads" content from 9pm to 1am, could this be the new Men and Motors?
---
New BT Vision firmware released
July 20th, 2007
BT Vision boxes updated to 1.2.14068.2 – reportedly offering a fix to the box reboot issue.
---
BT Vision Sports Package prices revealed
July 16th, 2007
News in of prices for the BT Vision Sports service, due to start in August 2007…
For the 2007/08 football season, there'll be 46 live Barclays Premier League games carried on BT Vision. There'll also be access to 242 same-day Premier League matches, which will be available hours after kick-off (from 10pm). In addition, there will be 60 live Clydesdale Bank Premier League games, 125 games from the Football League and Carling Cup, live US PGA Tour golf and access to BT Vision's library of classic sport.
There are four pricing options, as follows:
BT Vision Standard Sports (£4 a month): 242 Premier League games shown a few hours after kick off (from 10pm). 125 matches from the Coca-Cola Football League and Carling Cup. Plus access to a library of classic sport
Setanta Sports (£9.99 a month): Setanta Sports. Including 46 live Premier League games and live US PGA Tour golf.
Total Sports (£12 a month): Both Standard and Setanta packages
Pay Per View: You can watch individual Premier League games for £1.99 per game
With BT Vision Sport, there's no annual subscription fee. Pay on-demand per game, or subscribe on a monthly basis.
The BT Vision set-top box is currently free, as long as you're a BT Total Broadband subscriber
More details at www.radioandtelly.co.uk/btvision.html
---
Extra content for TopUp Anytime
July 11th, 2007
Content from car makers Audi, and Lottery company Camelot is set to be delivered to Top Up TV Anytime boxes from mid-July 2007.
---
Satellite TV without the subscription
July 11th, 2007
There's now a way to get 200 channels of Sky satellite TV, without subscription.
With Sky Pay Once, Watch Forever, you get the kit and free installation. The price is a one-off £75. More details on our Free Sky TV page.
---
Channel 4 to run 10 DAB stations
July 6th, 2007
UK regulator OfCom has OK'ed Channel 4's plans to operate a nationwide DAB multiplex of 10 radio stations.
It's expected that these stations will go online by July 2008. Disney, Sky and Chrysalis will be providing channels, and there will be three Channel 4 stations: Channel 4 Radio (the flagship station with speech and factual content), E4 Radio (15-29 year olds, music and comedy) and Pure 4 (music and cultural entertainment).
This new group of channels is set to compete with the large number of BBC national DAB radio stations. They'll be funded by advertising.
There are rumours that the signal for these new Channel 4 stations will not be available in all parts of the UK at launch – specifically South Kent and West Wales.
---
BT Vision software patch released
June 13th, 2007
Today (13th Jun 07), we started hearing reports that BT is rolling out updated software. A new version of software, 1.2.2019.22, has been reported. No news on what this fixes as yet. Software updates are 'pushed' to set-top boxes, so no action from users is required
As a reminder, you can find information on BT Vision, our review of the service, and our expanding Questions section at radioandtelly.co.uk/btvision.html
To discuss BT Vision, please visit our BT Vision forum
---
Virgin channel coming to Freeview
June 11th, 2007
Virgin has announced that it will launch a new channel, Virgin 1, on Freeview later in 2007. The channel will show drama, comedy and factual programming, and will replace FTN.
---
Capital Disney to close
May 21st, 2007
Seems that DAB radio station Capital Disney is due to close at the end of June 2007
---
DAB radio phone for under £50
April 30th, 2007
Want to get DAB radio on your phone? You can now buy the Lobster 700TV phone, with built-in DAB radio, for £49.99 (pay-as-you-go). An amazing bargain.
Details on our Lobster 700TV page
---
Peep Show returns to Channel 4
April 6th, 2007
Series 4 of Peep Show hits Channel 4 on Friday 13th April.
Mark's engaged to Sophie, and Jeremy's beautiful ex visa-wife, Nancy is back on the scene. More at www.radioandtelly.co.uk/peepshow.html
---
TCM to leave Top Up TV
April 6th, 2007
Another channel leaves the Top Up TV live lineup. Movie channel TCM is set to leave Top Up TV's live service from 16th April 07, presumably to free up space for another Freeview channel.
Movies from TCM will still be available on Top Up TV Anytime service.
---
Channel 4 Music on Freeview?
April 1st, 2007
Channel 4 and EMAP to launch a new music channel on Freeview? Reports in Variety indicate that Channel 4 may end up with a Freeview music channel soon…
---
3C goes, Clyde 1 appears
March 28th, 2007
Country music station 3C ("Continuous Cool Country") has gone from the Freeview lineup, and has been replaced by Scottish radio station Clyde 1 on Freeview channel 724.
---
Top Up Anytime Reduces Price
March 27th, 2007
Top Up TV has dropped the price of their Anytime set-top box. This PVR records TV content overnight for on-demand replay next day. Saving £70, the Top Up TV Anytime box now costs £139.99, including connection and one months viewing.
More on our TUTV Anytime page.
---
Top Up PVR price reduction
March 27th, 2007
Top Up TV has dropped the price of their Anytime set-top box.
Originally £180, plus £20 connection, the Top Up TV Anytime box is now £139.99, including connection and the first months viewing when ordered online… saving £70.
---
WKRP coming to DVD
March 14th, 2007
Classic US sitcom WKRP in Cincinnati is coming to DVD (at last). Series 1-3 on DVD is due to be released at Amazon.com
in April 2007. Sadly, only Region 1 at the moment. Will we see a UK release?
---
ITV Play to be pulled
March 14th, 2007
Games channel ITV Play is due to be pulled on 15th March 2007, to be replaced by ITV2 +1.
---
BT Vision Software Update to 1184
March 3rd, 2007
BT has started a phased release of a new version of software for the BT Vision V-box – The new version number is 1.2.1184.95
Reportedly, this upgrade will improve stability of the box, quality of Freeview picture and sound, and improve the performance of the DTR. The update will be rolled out automatically overnight between 27th Feb and 6th March. After the upgrade, you should notice the Message icon on the front of the box showing a green light. A soft-reset of the box will get rid of the green light.
To discuss this update, or BT Vision in general, visit our BT Vision forum at www.radioandtelly.co.uk/cgi-bin/forum/YaBB.pl?board=btvision
---
Virgin Media drops Sky channels
March 1st, 2007
Confirmed – as of midnight on 1st March 2007, the Sky channels, Sky One, Sky Two, Sky News, Sky Sports News and Sky Travel vanished from Virgin Media's Cable TV lineup.
This happened after Virgin Media failed to agree to Sky's terms for ongoing broadcast of the Sky channels on Virgin's Cable platform.
We covered this story on Show 12 of FrequencyCast, our podcast, which was released just after Virgin's Sky channels went dark.
If you want to continue to watch Sky One, for shows like 24 and Lost, you'll need to sign up to Sky – £26 a month gets you Broadband, Home phone, and more channels than are available to Virgin Media customers.
---
Sky+ users can control box via web
February 28th, 2007
For a few months now, Sky+ users could record TV shows from their mobile phone, but now a web interface is available. Add items to your Sky+ programme guide from your web browser.
---
Setanta Sports to launch on Top Up TV
February 18th, 2007
Setanta Sports is to launch on Top Up TV on 1st March 2007. For £10.99 a month, you can watch live and exclusive sporting action including: live Barclays Premiership football (from August 2007), US PGA TOUR Golf, as well as Scottish and European football.
---
Sky to drop channels from Freeview
February 18th, 2007
In February 2007, we heard that BSkyB is planning to drop Sky Three, Sky News and Sky Sports News from the Freeview digital TV lineup. They plan to offer a pay-to-view service on the freed space, which will include the channels Sky One, Sky Sports, Sky News and Sky Movies. Viewers will need a special set-top box to get the Sky pay-TV service via a TV aerial.
The regulators, OfCom, are said to be taking a close look at this proposal.
---
Top Up TV basic service reduces again
January 29th, 2007
Top Up TV are set to reduce their non-Anytime service even further. The Discovery channels and Cartoon Network disappearing from the live line-up in February 2007. It's rumoured that this is to make room for subscription sport channel Setanta Sport. They've also stopped selling the basic £7.99 service to new customers.
---
BT Vision – further details and photos
January 16th, 2007
We now have more details on BT Vision, plus a collection of photos, thanks to 'justsomebloke', one of our forum regulars.
Just in case you're out of the loop, in December 2006, BT Vision's service launched. This uses a special set-top box to let you watch Freeview, record shows onto a built-in hard disk, offers stacks of features, and can download movies, TV shows and sporting events over the Internet.
If you're a customer of BT Broadband, you can sign up to BT Vision and get a free V-Box set-top box.
More details on our BT Vision page.
News Archives: 2004 News ; 2005 News ; 2006 News ; 2007 News ; 2008 News ; Latest News